If you were only able to use one word to describe Dallas Stars defenceman Trevor Daley, that word would have to be reliable.
The 28 year-old Daley has effectively carved out his niche on Dallas' back end since breaking into the league with the team in 2003-2004.  Using smooth skating, great on ice vision and smart puck control, Daley has become a reliable specialist on Dallas' blueline, consistently using his skill set to skate the puck safely out of his own zone and then into enemy territory.
In each of the last five seasons, dating back to 2007-2008, Daley has played at least 75 games, scored at least 22 points and never dipped below a -1 in plus minus. On the flipside, however, in that same time frame Daley didn't deviate too far in the other direction, reaching career highs of points with 27 and plus minus with a +7, both in the 2010-2011 season.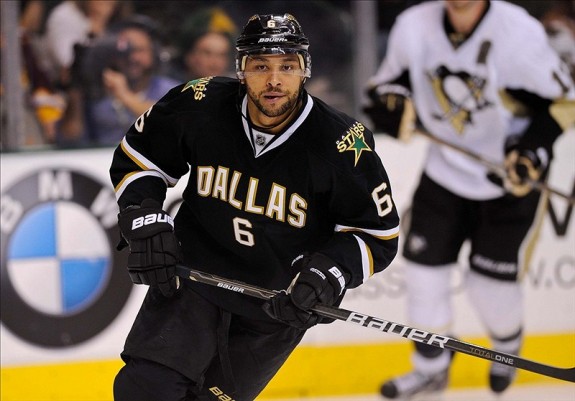 Such effective reliability is a virtue that any hockey team would be lucky to have in a player. But for the sake of the Dallas Stars, the time is now for Daley to break that mold and kick things into a higher gear. A playoff spot might even depend on it.
Earlier this summer the Stars made huge splashes in free agency, signing veteran wingers Ray Whitney and Jaromir Jagr, and then made another by trading for former Buffalo Sabres center Derek Roy. The moves had a clear intention: improve the team's offense, which sputtered for most of last season and eventually culminated in a 30th ranked powerplay. The hope is that a shot in the arm offensively will help the team reach the playoffs for the first time since 2007-2008.
The team's scoring got an extreme makeover this offseason, but the same can't be said about the defense. With the loss of veteran Sheldon Souray to free agency, the trading away of Adam Pardy in the Roy trade, and only the signing of former Vancouver Canuck Aaron Rome in return, Dallas' blueline seems to have actually taken a step backwards from where it stood last season.
Although steady, Dallas' defensive core wasn't exactly spectacular in 2011-2012, finishing 22nd in shots against but 16th in goals against (thank you, Kari Lehtonen). By not making any significant changes, it's clear that GM Joe Nieuwendyk and his staff are counting on internal improvements from the blueline to help get his team to the playoffs.
And that's exactly where Trevor Daley comes in.
At 28, Daley is now within the prime playing years of his career, a career that has been with only the Stars. And second only to captain Brenden Morrow, Daley is the longest serving drafted and developed Stars player, having been selected by the team in the 2002 draft. He knows the organization well, and they certainly know him, 577 games later.
With an aging Stephane Robidas having logged a lot of miles, youngsters Philip Larsen and Brenden Dillon not yet ready for expanded roles, Alex Goligoski having only one full season with the organization, and Mark Fistric being extended only to the end of 2013, the pressure will be on Daley to become the much-needed new leader of the defensive corps.
He has already become a leader in the community, as one of the most active Stars players at fundraisers and special appearances, but it will be at both ends of the ice that Daley will be needed most by his team.
With Souray's 2:24 minutes per game shorthanded now departed, Daley will likely see an increase over the 2:29 he played there last season. And although players like Goligoski, Robidas and Larsen can all chip in offensively, a breakout season points wise from Daley, who averaged 0.87 points per game during his junior years in the OHL, will do wonders for the team, especially on the aforementioned lackluster powerplay. His excellent skating, puck control and decision making have always signaled the potential for scoring prowess, but the numbers on the stat sheet have yet to follow suit.
Reliably good is always beneficial to have on your side. But reliably great is the stuff that dominant teams are made out of. Trevor Daley has proven himself to be reliable, and has the physical tools and junior track record to suggest that he can also be a great player. If he can combine the two and evolve himself from a reliably good player to a reliably great player, then the Stars might have the defensive leader they need to push the team back into the throngs of playoff contention for years to come.