There is much which can and should be written regarding the perpetually atrocious Toronto Maple Leafs.
However, for the sake of time and sanity, let's take a moment to address one of the Leafs' greatest deficiencies: player development.
One major issue which has come to haunt the Leafs is their inability to successfully draft, develop and dress quality, home grown roster players. The Leafs current roster features a mere four players which Toronto has drafted and developed itself (Reilly, Komarov, Kadri, Reimer), while the vast majority of the current roster has been built through free agency and various trades.
Compare that figure to a yearly contender, such as the Detroit Red Wings, who have an impressive 19 players which they have drafted and developed, including sixth and seventh round stars Pavel Datsyuk and Henrik Zetterberg.
Yet, this isn't to say that the Leafs haven't had their fair share of quality draft picks, as whether it be impatience or incompetence, Toronto has implored a tendency of trading its top draft prospects before they have time to adequately develop into quality NHL players.
It is these players, "exiles" as I like to call them, and there are many, who were never given a realistic chance to truly develop and thrive with the Toronto Maple Leafs.
Below, I list my Toronto Maple Leafs all exile team. This team is comprised of the top players at each position who were drafted by the Leafs, yet were subsequently traded before they could successfully develop and reach their true potential.
Forwards:
Brad Boyes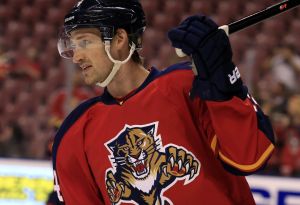 A first round pick, 24th overall by the Leafs in the 2000 NHL Entry Draft, Brad Boyes never played a game for Toronto.
After finishing second in their division in 2003 with 103 points, the Leafs attempted to upgrade their playoff roster by trading for Owen Nolan, who himself only played one season with the Leafs.
The trade saw Boyes, Alan McCauley and the Leafs' first round pick (Mark Stuart) head to the Sharks. However, the Leafs would fall in the first round to the Philadelphia Flyers in seven games.
Since his departure from Toronto, Boyes has become a reliable forward for multiple teams such as the St.Louis Blues and the Boston Bruins. He scored 43 goals for the Blues in 2008 as well as 33 in 2009.
Now in his second season with the Florida Panthers, Boyes recently scored his 200th career goal and is nearing his 500th career NHL point, production which the Leafs certainly could have enjoyed if they had considered the future rather than strictly the present.
Alexander Steen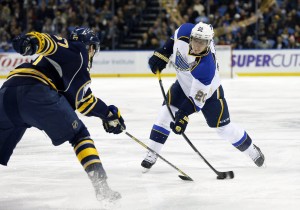 Also a first round pick, 24th overall, Steen was chosen by the Leafs in the 2002 NHL Entry Draft.
Unlike Boyes, Steen did manage to play with the Toronto Maple Leafs. Over parts of four seasons, Steen played in 253 games with the Leafs, recording 50 goals and 126 points.
However, as Steen was about to breakout as an NHL player, he was traded by the Leafs to his current team, the St. Louis Blues. The trade, which sent both Steen and defender Carlo Colaiacovo to the Blues, saw Lee Stempniak return to the Leafs.
Although Steen's first season in St. Louis was anything but spectacular, the following season, 2009-10, saw Alex set career highs in goals with 24 and points with 47. From this point on, Steen has only continued to improve, scoring 33 goals this past season. While he set a new career high in points, 62, in 2013-14, Steen is on pace to shatter that record this season.
I would have to think the Leafs regret giving up on Steen so early, as he has and is continuing to become an increasingly dominant NHL player.
Jiri Tlusty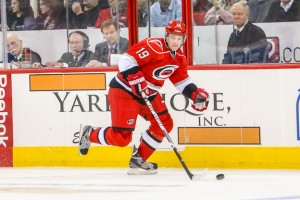 The Leafs' first round, 13th overall choice in the 2006 NHL Entry Draft, Jiri Tlusty hasn't had the success of either Boyes or Steen, yet is still another player of value with which the Leafs had no patience.
Tlusty played an insignificant 74 games with the Leafs before he was traded to the Hurricanes, straight up, for Philippe Paradis. Who? Exactly.
While Paradis was later traded, unsurprisingly, Tlusty found a home in Carolina for the next six seasons. In 322 career games with the Canes, Tlusty scored 76 goals and 145 points, including 23 goals in the lockout shortened season of 2012-13.
Recently traded to the Winnipeg Jets, Tlusty has long been a valuable player at the L level, despite being only 26 years of age. A depth scorer with skill, holding on to Tlusty wouldn't have been a game changer for the Leafs in the long run, however it once again emphasized the Leafs' refusal to adequately develop their key assets into quality, everyday Leaf players.
Defense:
Anton Stralman
Drafted by the Maple Leafs in the 7th round, 216th overall in 2005, the selection of Anton Stralman was a great pick by Toronto if they had only let him develop!
After a mere 83 games, Stralman had somehow yet to impress Leafs brass and therefore was apparently seen as expendable… He was traded to the Calgary Flames in exchange for Wayne Primeau.
Stralman never played a game for the Flames, as he was traded to the Blue Jackets and later became a staple on the Rangers' blue line during their run to the Stanley Cup Finals in 2014. When Anton hit unrestricted free agency following last season, he was one of the NHL's most coveted free agents. The Tampa Bay Lightning, among many,  understood just how valuable a player like Stralman was, and showing no signs of hesitation, signed Anton to a lucrative five year, $22.5 million dollar contract.
Thus far this season, Stralman is averaging 22 minutes of ice time per game, while he has already matched his previous career high points total with 34.
A top four defender on virtually any NHL team, the Leafs were, once again, wrong in moving yet another draft prospect before he was able to reach his full potential. As history has shown, despite the round a player is drafted in, it is impossible to truly determine a prospective players ability if he is not given ample opportunity to develop his game. Case in point: Pavel Datsyuk.
Carlo Colaiacovo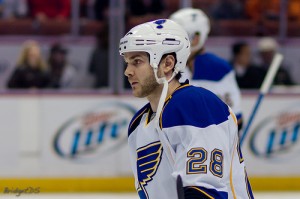 Selected by Toronto in the first round, 17th overall in the 2001 NHL Entry Draft, Carlo Colaiacovo hasn't had as successful of a career as the others listed here, however he has been able to carve out a solid NHL career after being shipped out of town by the Leafs.
Colaiacovo endured a rocky road during his time with the Leafs, as over six NHL seasons he played a mere 111 games.
Traded alongside Steen to the Blues in exchange for Lee Stempniak, Colaiacovo was finally given consistent playing time in St. Louis, where he was a solid defensive force for four consecutive seasons. Carlo played in 284 games during his tenure with the Blues, scoring 19 goals and 110 points.
Although Colaiacovo certainly didn't develop into an elite NHL defenseman, he still ascended into a reliable, every NHL player who has and continues to make solid contributions at both ends of the ice. Would the Leafs have been better off in the long run had they not traded Steen and Colaiacovo for Stempniak? Absolutely. However, a win now and sacrifice the future approach has long been implemented by the Leafs, who such as in the Brad Boyes trade, were willing to sacrifice the future in return for wins in the present.
Goaltender:
Tuukka Rask
Could it be anyone else?
Drafted by the Leafs in the first round, 21st overall in the 2005 NHL Entry Draft, Tuukka Rask has long been an elite goaltender and one which the Leafs have long struggled to find.
In fact, Rask never played a single game for the Maple Leafs, be it in the NHL, AHL or any other developmental league. Instead, he was traded to the Boston Bruins in what has become known as one of the worst trades in NHL history. In return, the Leafs acquired Andrew Raycroft. At the time, the Leafs were adding a young goaltender who had recently won the Calder Trophy, yet who had struggled heavily in his sophomore NHL season.
Raycroft spent a measly two seasons with the Leafs, recording a 39-34-14 record in 91 games with a .890 save percentage and a 3.17 goals against average.
Rask on the other hand, has moved on to become one of the league's most dominant goaltenders. Now in his sixth full NHL season with the Bruins, Rask has led Boston to two Stanley Cup Finals appearances, losing in 2013 yet winning in 2011. Rask also captured the Vezina Trophy this past season as the leagues top goaltender.
The inability of Leafs' management to allow players to adequately develop was no more devastating than in this instance. Rask certainly could have been the strong, number one NHL goaltender of the Leafs for the foreseeable future, however, Toronto chose to gamble their future and acquire a young goaltender who had had one year of NHL success.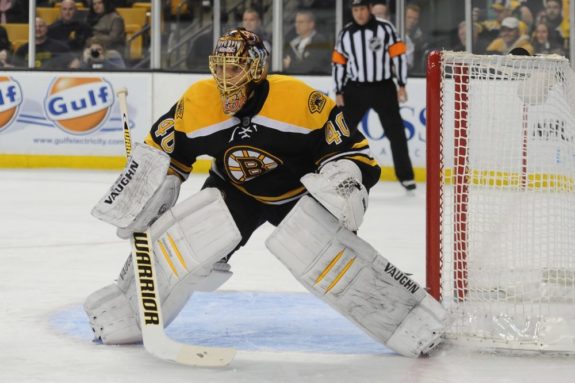 At the end of the day, the inability of Maple Leafs management to allow their draft picks to adequately develop over the years has cost Toronto a wealth of high quality NHL players. The desire to win now, rather than develop a strong team which will contend for many years has resulted in endless years of futility for the Maple Leafs, who seem to have little patience when it comes to properly drafting and developing a sound hockey team.
The Leafs' most recent and incredibly rushed re-tool, rather than re-build, has been largely unsuccessful due to Toronto's philosophy of building their team through free agency and trades rather than the annual Entry Draft. Young, talented draft picks should act strictly as the foundation for developing a team with a strong future, rather than be used as the focal point of trades.
The most recent Leafs rebuild now under way will tell whether Toronto has finally come to understand the importance of draft picks, such as the Detroit Red Wings, or whether they have learned little and will attempt to acquire more NHL roster players via trade through the use of such draft picks.
Simply put, it is extremely difficult to do a great job at a task if it is completed in a rush. If Leaf management finally come to understand the necessity of drafting and developing players, the Toronto Maple Leafs could, based on their current place in the standings and wealth of draft picks, build a terrific young team if they remain patient, both with their players and the Leafs' demanding fan base.
Brett Slawson is a four-year veteran of The Hockey Writers who covers the Toronto Maple Leafs, NHL prospects, and the OHL's Mississauga Steelheads.
Contact Brett on Twitter @brettslawson92, or by email at brett_slawson@hotmail.com.