This is the first filing in what will be a weekly column that aims to be your one-stop shop for all the notable Anaheim Ducks news that occurred over the course of a given week. Rather than just regurgitate facts and figures (although, I'll do a bit of that, too), I'll attempt to offer insight and analysis, especially as it pertains to various subject areas like prospect development, team chemistry, and what it all means going forward. Enjoy!
The Week That Was: Anaheim Ducks News (June 3rd – 9th)
With the excitement of the Stanley Cup Finals consuming Los Angeles and turning it into "Hockeywood" (or not so much…), their neighbors to the South, the Anaheim Ducks, quietly announced the re-signing of an intriguing prospect, and had another prospect win a major honor in the USHL.
Ducks Sign LW Patrick Maroon to Extension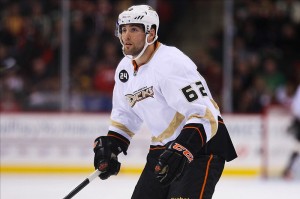 On Thursday June 7th, the Ducks announced the signing of prospect Patrick Maroon to a one-year, two-way contract extension. Originally acquired in a trade with Philadelphia that sent Danny Syvret and Rob Bordson the other way, Maroon is an intriguing prospect who presents himself as a bit of a project to Anaheim's management group, coaching staff, and farm team (wherever that may be located next season). Still very raw, he's got the size (6'3″, 231 lbs.) to play in the NHL, and if his offensive contributions to the AHL's Syracuse Crunch offer any hints, the skills, as well.
Maroon was one  of the leading scorers in the AHL during the 2011-12 season, potting 32 goals and adding 42 helpers, for a more-than-decent 74 point campaign. (He finished 3rd in scoring, tied for 5th in goals, and tied for 10th in assists.) In 289 career AHL games, Maroon has scored 92-136=228 points, and accumulated 405 PIM. So, what does this mean for Anaheim?
When Anaheim first acquired Maroon during the 2010-11 season, there were a couple of major questions surrounding him. His conditioning has always been suspect, however, judging by his latest AHL campaign, he seems to have re-dedicated himself to the sport and turned the corner with regards to his commitment. Further, the split between Maroon and the Flyers team that drafted him, was less than amicable. Although the details of the parting of ways have never been made public, it is a matter of public record that when Anaheim acquired Maroon, he had been sent home from the Adirondack Phantoms (of which he was the leading scorer at the time) by Flyer GM Paul Holmgren for what Holmgren described as "probably a pattern" of incidents.
While this might scare off most teams, Anaheim GM Bob Murray decided to take a chance on the St. Louis native Maroon, and with his 2011-12 season in Syracuse, it appears as though Maroon may wind up making Murray look awfully smart. While he's only played in 2 career NHL games over 5 professional seasons, Maroon will likely be given every chance to make the squad out of training camp, as his size and scoring touch will be sorely needed on a suddenly under-sized Anaheim forward corps. And while he may never fully stick in the NHL, at the very least, Maroon is a solid minor league signing that ought to bolster scoring for Anaheim's farm team and provide some nice competition to the Ducks' younger prospects trying to make the show.
Prospect Andy Welinski named USHL's Top Defenseman
Earlier in the week, Anaheim Duck defensive prospect Andy Welinski was honored by the USHL with its award for Top Defenseman. Drafted in the 3rd round (83rd overall) by Anaheim in the 2011 NHL Entry Draft, Welinski is a strong, fluid skating defenseman who suited up for the Green Bay Gamblers of the USHL during the 2011-12 season. With a solid 15-22=37 point season, Welinski became the fourth Green Bay Gambler to win the Top Defenseman award, and the first Duck prospect to do so.
While he may not be as sexy a defensive prospect as Cam Fowler or the likely soon-to-be-departed Justin Schultz, Welinski, who has committed to the University of Minnesota-Duluth next season, projects to be a strong Top-4 d-man with offensive upside and a nasty edge to his defensive game. One need only look at the rival Kings and their run to the Cup to understand that, while superstar defensemen (like Drew Doughty) help to put the butts in the seats, a strong supporting cast of defensemen (see: Willie Mitchell, Rob Scuderi, et al.) is absolutely vital to any team's success. And if all goes according to plan with Welinski, he ought to provide at least that, if not more.
A bit undersized at 6'0″ and only 188 lbs., Welinski still has at least a couple of seasons playing in the NCAA in front of him, and likely a few more in the AHL after that, before Anaheim's fans will see him suit up on a regular basis at the NHL level, but his recent honor is an encouraging sign that everything seems to be pointing in the right direction for this prospect.
For Anaheim fans who don't know much about Andy Welinski, take a look at the video below for a hint of what you may see in Anaheim a few years down the road.