This is our weekly look at the past seven days of Vancouver Canucks hockey. We'll try to wade through all the good, bad and wha? from the past week, and examine that age old question: "what does it all mean and what is coming up next for the ole blue and green? We can call them that right?"
The past week for the Canucks featured games against Dallas, Winnipeg and the Montreal Canadiens. This should have been an easy week with all three games at home, against inferior opponents. Well it's funny how this NHL thing works out. The Canucks lost two of those games and now find themselves five points behind the St. Louis Blues for first place in the West. Remember, just a week or so ago, when they were in first? Those were good times.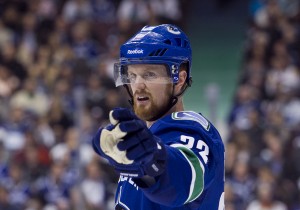 Instead of focusing on who the Canucks might want to face in the first round, we are instead left discussing a slump. That's right, we're calling it. The Canucks are officially in a slump.
They find themselves in the middle of a 2-3-2 stretch and six losses out of the last ten overall. While people in Columbus would die for a stretch like that, in Vancouver, it is cause for alarm, or at least some intense head scratching. It's not just that they have lost games, it's how and where.
Last Tuesday they looked flat and disorganized and lost 5-2 to Dallas and then after squeaking out a win against the Jets they got spanked by Montreal 4-1. Suddenly they are leaking goals while not forcing any themselves. These losses have happened in Vancouver, where they were really good, up until this last week where they looked ordinary.
Is this just fatigue at the end of a long season? We'll find out over the next 13 games, but if they don't step up their play Vancouver will have a long summer. Getting handled by teams like Buffalo and Montreal is not the way you want to play heading into the post season.
Uh Oh of the week:
Roberto Luongo has been good all season and had quieted most of his critics, which there were a lot of in the summer. However, in his last six and a half periods of hockey he has given up 12 goals. This is cause for a bit of concern.
Were those 12 goals his fault? No, the team in front of him has been pretty poor (we're looking in your direction Alex Edler) but that many goals is alarming.
Remember the Sedins?
The strange and mystical journey of Henrik and Daniel Sedin continued this week. They look off, sound off and have one assist between them in now eight games. Do they need to have their line shaken up? Are they tired? Or are they just facing good defense?
Some Good News:
With Chris Higgins finally himself again coach Alain Vigneault put the Amex line back together again and they have looked great. Ryan Kesler, David Booth and Higgins have been the best three players for Vancouver over the last week.
With Sami Pahlsson now on the club the Cancuks can give the Amex line more offensive zone starts which hopefully will lead to more goals.
Kesler scored in both the Winnipeg and Montreal game showing signs that he may be enjoying playing more offense.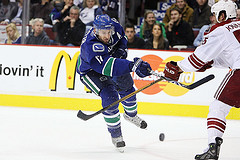 Remember that trade?
Last week Canuck nation was up in arms over the big Cody Hodgson-Zack Kassian trade. While Kassian made a big impact in his first three games he found himself relegated back to the fourth line this week and his butt firmly on the bench in the third period against Winnipeg.
In Buffalo, Hodgson has yet to pick up a point. Perhaps this trade wasn't as 'blockbuster' as we all thought.
Kassian Rumbles:
Kassian did make a mark this week though. Brought in for his toughness he finally dropped the mitts with Montreal's Brad Staubitz, who had been roughing up the Sedins.
This has to make you smile:
Despite all the poor play and hand wringing at Rogers Arena this week there was room to smile. Young Jack Milos lit up the crowd by cutting a rug during a stoppage in the game against Dallas.
What's in store this week:
The home stand continues for the Canucks as the Phoenix Coyotes come in town on Tuesday. The Coyotes are in a dog fight for the Pacific Division title and will be fired up for this game. The Canucks will need to bring their A game tomorrow night.
After that they have a few days off before hosting the lame duck Columbus Blue Jackets in a game that has 'slump buster' written all over it.
If they are still playing poorly this time next week prepare for a full scale Canucks nation panic. Until then, enjoy your:
Random Former Canuck of the Week:
Enrico Ciccone – 1997-1998