Sunday's 4-3 loss to Calgary looks to have sealed the playoff fate of the Minnesota Wild. Already struggling to stay in contention for a postseason spot, they lost to a playoff rival and are now eight points out of the all-important eighth position with just 13 games left to play. The truth is that this realization of impending doom has been coming for a while now. Schools will probably stick to teaching Macbeth and Hamlet, but the tragedy of this team during this season can match any other in classical literature. To illustrate this, this article will tell Minnesota's Story in 2011-12.
The season will probably be forever remembered as a season of two halves. One half filled with success, where it looked like this franchise might be able to challenge for a division title, or even a conference title. The second filled with frustration and a complete inability to win any games. Minnesota's story has been an emotional roller coaster all season long only missing a dramatic finish. Instead, this ride has petered out into what will likely be a fourth consecutive season without playoff hockey.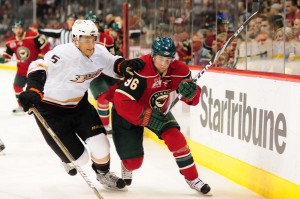 The season started with a feeling of newness for a franchise that had missed the playoffs in three straight seasons and hadn't quite managed to recreate a culture of winning that had been bred while Jacques Lemaire was the head coach, and Marian Gaborik was the face of the offense. Former Pittsburgh assistant Mike Yeo was announced as the new head coach after a successful stint as the coach of the team's AHL affiliate in Houston. High-scoring Dany Heatley had been brought in as part of a big trade with San Jose and GM Chuck Fletcher had also picked up Devin Setoguchi in a trade that had seen #1 defenseman Brent Burns traded away.
To suggest that Minnesota's story started with immediate success would be incorrect. It is often forgotten that the month of October was a mixed bag for a team whose offensive problems were apparent from the very start. The Wild went 3-3-3 in their first nine games and only scored more than three goals just once, and that one occasion was in the first game of the season at home against the woefully inept Columbus Blue Jackets.
Even through this season's travails, Yeo remained a source of authority throughout. He preached hard work on defense and speed on the attack. He wanted a team that combined the defensive attributes of the old Lemaire teams with a high-paced skating style on the counter-attack. His message seemed to catch fire from late October through to mid-December. Between October 29 and December 11, the Wild went 17-4-0 and owned the best record in the entire league. It looked like Minnesota's story in 2011-12 would be one of revival and they were very much the surprise of the first half.
However, things would soon turn south. The expected blip came as Yeo's team experienced an eight-game win-less streak (0-5-3) through most of December. Injuries to top six forwards Guillame Latendresse and Pierre-Marc Bouchard exacerbated the problems, while captain and top forward Mikko Koivu would also experience injury problems throughout the season. It was becoming apparent during this losing streak that the loss of Burns during the summer had hurt. Young blue-liners like Jared Spurgeon, Marco Scandella and Nate Prosser were unable to keep up a very high standard of play, while Clayton Stoner and Mike Lundin missed significant time with injuries. Veteran Marek Zidlicky experienced a down year and would eventually being traded after falling out of favor with Yeo completely.
A red hot start from Josh Harding had been a huge boost for this team, but the career back-up's own form has been less than stellar since early December. Since Dec 4, Harding has posted a 3-8-3 record with a .892 save percentage and a 2.88 GAA. Harding has not been an elite goaltender through most of his career and it should be clear to the Wild that while his game continues to improve, he hasn't become one overnight.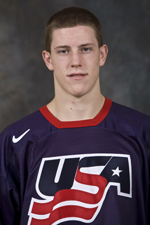 The losing streak was finally snapped by a 4-3 win over Edmonton on December 29, but hopes of a renewed winning run were quickly squashed as the team continued to stumble posting a 1-5-1 record over their next seven games. There is a common misconception that the season was over for the Wild at that point. But the story is not quite that simple. Despite injuries and dwindling belief, Yeo managed to rally his team to a hard-working 3-1-1 record over five games either side of the All-Star break. A 2-1 overtime loss to Dallas on February 5 left the team still two points ahead of the Stars for ninth place. It is their record since early February that has truly changed Minnesota's story and crushed their playoff ambitions. The Wild are 4-11-2 since that overtime loss and their playoff hopes are basically history.
Minnesota's story in 2011-12 is ultimately a tragedy. A franchise that had the opportunity to be the league's biggest surprise and be a big success story has ended up simply repeating recent performances; only in a more heart breaking way than ever.
However, even through the current gloominess, it's important to note that the season has not been a complete failure and that there is still hope on the horizon for this franchise. Young forward Mikael Granlund and Charlie Coyle could join the team next season, while Matt Hackett's development as a goaltender has been impressive. The young blue-line played its age this season, but there are signs that the Wild's defensemen are maturing into good hockey players. Heatley (20 goals) and Setoguchi (18 goals) may have failed to change the identity of this team, but there is real hope that under Yeo's guidance, a new identity can be formed in this hockey hotbed.
What does Fletcher need to do before 2012-13? He needs to make a move that excites the fans. Whether he adds a high profile blue-liner or a high profile forward, this team needs re-invigorating and an exciting summer is the best way to do it. A new top level player combined with the development of the team's young players and better luck with injuries could help Minnesota's story in 2012-13 to a more positive ending than this season's.