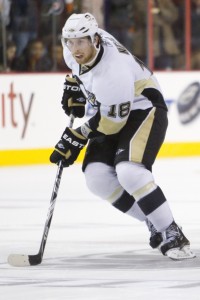 The Shawn Thornton hit was much worse than the James Neal knee to Brad Marchand's head. There isn't a debate here people. Just because you love to bash the Pittsburgh Penguins doesn't mean Neal's actions were more violent. Thornton mugged and assaulted a defenseless Brooks Orpik. The brutal actions of Thornton found Orpik unconscious, in a neck brace, and in a hospital.
Neal definitely got caught in a lie and didn't properly handle the situation following the game. Just because Neal didn't own up to his cheap shot, it doesn't mean his actions were worse than Thornton's transgressions. They weren't even close in comparison.
No one knows how hard Neal hit Marchand in the head. Neal had less than a second to react after Marchand fell to the ice. I am not in any way condoning or justifying Neal's actions, but he had a split second to make a decision. In the end, Marchand wasn't taken off on a stretcher and returned to play not long after the incident. As far as I know Marchand didn't experience a concussion.
If Orpik wasn't wheeled off the ice on a stretcher, we never would've heard an apology from Thornton. I commend Thornton for apologizing in his post-game interview, but he still lied.
"It was not my intention. I feel awful," said Thornton.
On the contrary, the assault was premeditated and definitely Thornton's intention in that moment. There was plenty of time for Thornton to think as he skated down the ice towards Orpik. Thornton slew-footed Orpik, connected with a sucker punch in succession with an elbow, and finished Orpik off with one final blow to the head. That's four cheap shots to Neal's one.
As I've maintained throughout the Neal/Thornton debate, the end result of dirty plays such as these are the most important factor. If Neal's knee would've knocked Marchand out cold, and resulted in Marchand on a stretcher, then Neal would be more at fault. If two bullies with the same violent intent punched the same victim, and only one of them knocked the victim unconscious, the bully who knocked the victim unconscious would be viewed as the worst offender.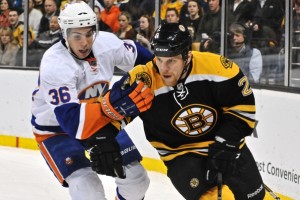 As much as the NHL and the Department of Player Safety want to sometimes pretend that all illegal offenses carry the same weight whether a victim was injured or not, that is not the case. A player performing an illegal act that injures a victim will earn more severe punishment than a player who performs an illegal act that does not injure a victim.
Anyone who's ever played hockey knows that anytime you fight or body-check an opponent, your intent is to injure or inflict pain. No one wants to admit it, but it's the truth. The only way to completely know a player's intent is if that player admits he or she wanted to injure someone. That's rarely heard from the mouths of NHL players, and that's why the end result matters more than the illegal act itself.
Some Boston Bruins' fans want to blame the Thornton incident on Orpik. Please show some objectivity and admit the truth. Orpik wasn't required to drop the gloves. If a player in Orpik's case doesn't want to fight, then a Bruins' player should try to line up Orpik for a bone crushing check like the one Orpik laid on Loui Eriksson.
In terms of suspending both players, the NHL got this correct. Thornton deserves at least 10 games and deserves more games than Neal. Thornton's actions were more severe and he needs to pay the price by sitting out–at a minimum–twice as many games as Neal.