Bad Leader? Think Again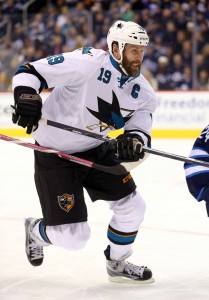 Apparently some people in the hockey world, including some on his own team, aren't fans of Joe Thornton's brand of humor. That's totally fine, if you don't find the thought of Thornton scoring four goals and celebrating with his shaft to be hilarious, that's your opinion. But enough is enough with people dogging the future hall of fame center as being a poor leader. Not only is he the best passer in the world (sorry Sid), but he fights, performs in the playoffs with a separated shoulder, and dominates the league in possession stats year after year. The guy is everything you could ask for in a No. 1 center. As a captain the last few years he nearly always met with the media after every game, it wasn't required, but he did it anyway. Not to say he hasn't ducked the media before, rare to find a player who can say they've never done it, but Thornton is generally approachable and available.
After dropping four straight games capped by a horrendous performance Saturday to the lowly Sabres, Thornton led the Sharks to a 4-1 win over the red hot Anaheim Ducks on Sunday. Midway through the first period Thornton blocks a slap shot off his toe and hobbles immediately to the bench, struggling to get off the ice. Shortly thereafter he is back out on the power-play and perfectly timing his laser shot pass for Joe Pavelski to re-direct home for a 2-0 lead. Poor leader? I don't think so. The guy back-checks his butt off. He does everything on the ice as a two-way player ever since the first round collapse to Anaheim back in 2008-09. Since then he has transformed his game into being a more defensive minded center. The video below, that is thievery on the back-check on some guy named Henrik Zetterberg.
For whatever reason, outside media have always liked to center all the Sharks blame on Thornton and Marleau. This past offseason Sharks GM Doug Wilson blamed his top players and that only fueled outside criticism of Thornton but nothing seems to bother the guy. Even with all the offseason rumors surrounding him and his no movement clause, despite getting the C removed from his jersey, Thornton is still doing all the same things on the ice that he always does. He now has nine points in his first 10 games of the season, still a point per game two-way player at 35-years-old. Even more remarkable is those nine points have come without his running mate from last season in Brent Burns and with his left wing Tomas Hertl struggling and bumped down at times to other lines. Thornton, as he showed in the 2011-12 playoff series against the St. Louis Blues, can dominate the game without any of his teammates playing at a high level. He is still San Jose's best player, and if the Sharks had any semblance of depth during his tenure, he would most likely have the Cup ring that everyone criticizes him for not having. Plus, if he wanted to, Thornton could be making eight plus million dollars a year like Ducks stars Corey Perry and Ryan Getzlaf. Instead, he signs discounts to stay in San Jose, currently making $6.75 million, nearly two million less than Sidney Crosby and three million less than Evgeni Malkin.
A stud No. 1 center playing for less than $7 million in today's NHL should be a contract the Sharks are bragging about having, not looking to trade. As colleague Dan Rice points out, he is a no doubt hall of famer, he deserves better from his bosses and the hockey world at large.
Andrew has been credentialed to cover the Sharks since 2010 and the 49ers since 2012. He graduated with his BA in Broadcast Electronic Communication Arts in 2013 from San Francisco State University.