This was not the start the Columbus Blue Jackets had envisioned.
Starting the season without the services of key contributors like Nathan Horton, Brandon Dubinsky, Boone Jenner, and Ryan Murray is one thing.  But to lose both Cam Atkinson and Nick Foligno to potentially very scary situations, is something else completely.
The Blue Jackets were hoping to make an early season statement on their California road trip.  Things started out about as well as one could hope.  The Blue Jackets pulled out a 5-4 victory over the San Jose Sharks to open the road trip, by scoring the winning goal with under a minute left in regulation.  They did so by coming back from being down both 2-0 and 4-3.  Perhaps it was a sign of things to come in Anaheim and Los Angeles.  But as it turns out, the final score in the Anaheim and Los Angeles games became secondary to the health of two of the most important members of the Blue Jackets.
Cam Atkinson
Friday night in Anaheim is when the scary stuff started.  The score was 3-1 Ducks midway through the 3rd period.  That's when Ryan Kesler inadvertently kicked Cam Atkinson in the face.  Kesler was chasing down a puck, and his follow through struck Atkinson up high, near his eye.  As it turns out, Atkinson was not struck directly in the eye, but all around it.  During the post game press conference, he said, "I can see, thank God I can see." At that point, the final result of the game didn't matter.
Thank you everyone for checking in on me. Luckily the skate just missed my eye. Really appreciate all the LOVE. pic.twitter.com/5PpcDzO6nn

— Cam Atkinson (@CamAtkinson13) October 25, 2014
Nick Foligno
Sunday afternoon in Los Angeles, Nick Foligno had to be taken off of the ice on a stretcher.  The crown of his head hit the hip of the linesman as he was trying to get out of the way near the benches.  Jeff Carter was rubbing Foligno out on the boards.  At first, Foligno lay motionless on the ice.  Staples Center was in a stunned silence.  He was taken off the ice and was evaluated in the arena.  Coach Todd Richards was informed that Foligno will be traveling back to Columbus with the team.  What a relief it is to hear that.
The Blue Jackets Resolve
One could not even begin to imagine how hard it is to continue playing after seeing a teammate in a scary situation.  For the Blue Jackets, they have had to endure that in consecutive games.  One cannot help to think about the health and well being of their fallen teammate.  They battle together.  They enjoy victories together.  They endure defeat together.  It is a unique bond that they share.
If there is anything positive that has come from these situations, it has shown us how resilient the team really is.  No matter what challenges have presented themselves, whether it is in game situations, or in this case, with serious injuries, the Blue Jackets have continued to show that nothing will phase them.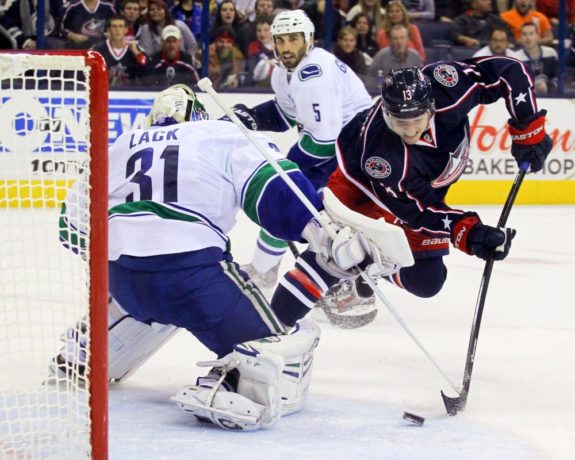 They Will Only Get Stronger
If there is one thing that you can count on, you can count on the Columbus Blue Jackets becoming a tight knit, close team.  Adversity will do that. Overcoming adversity will also make you stronger.  It may not look like a promising situation now.  But just wait until the team is healthy.  The Blue Jackets were considered an Eastern Conference contender prior to the season.  They may look like a JV team now with 5 major contributors out of the lineup.  But wait until you see them later in the year after they have overcome this start.  Not only are they good, but they will be battle tested.  It's things like this that can be the catalyst to the start of something special.  That something special, is winning the Stanley Cup.  The NHL had better take notice, Columbus is being molded into a champion right before our very eyes.