SAN JOSE, Calif. — On a night when he reached an impressive personal milestone, Joe Thornton wasn't taking stock of his career accomplishments.
The veteran San Jose Sharks centre even bristled when asked about it.
"I'm just trying to improve my game, to be honest with you," he said.
All that hard work is still paying off.
Thornton broke a third-period tie with his 400th goal, Joe Pavelski scored twice and the Sharks defeated the Nashville Predators 5-4 on Tuesday after squandering a three-goal lead.
Related: The NHL's 500 Goal Club
Marcus Sorensen and Antti Suomela also scored to help San Jose win its second straight and fourth in six games. Sorensen had two assists to give him six points (two goals, four assists) over his last three games.
The 39-year-old Thornton is anchoring a third line that includes Sorensen (26) and Kevin Labanc (22).
"I don't care who I play with, I just want to play and enjoy it and have fun. That's what you saw tonight," Thornton said. "That was the purest form of hockey you can have. It was just a bunch of kids playing hockey. Our backs were against the wall, but we came back. It was just a great hockey game."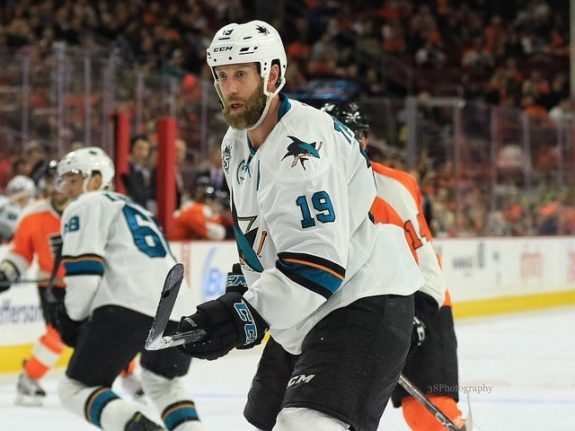 Filip Forsberg had two goals and an assist for the Predators, who dropped to 8-1-1 on the road. They lead the NHL with 27 points.
Craig Smith added a goal and an assist for Nashville, which scored four straight times after trailing 3-0. Rocco Grimaldi's breakaway goal at 2:43 of the third gave the Predators a 4-3 lead.
"It was a bad start. That's the only way to describe it," Smith said. "We gave them everything they got. In the second period we did to them what they did to us. It's unacceptable how we started. I'd rather not start 0-3."
Pavelski tied it with his second goal, 13 seconds before Thornton put the Sharks ahead 5-4 at 13:18 of the third.
"It was an interesting game," San Jose coach Pete DeBoer said. "I'm sure I've been a part of a game like that, but I don't remember it and probably don't care to remember it. The good thing is we came out on the right side."
Nashville had a six-game point streak snapped.
"The first period, there's nothing that can be said. It was abysmal," Grimaldi said. "It wasn't acceptable for the best team in the league, let alone a middle of the pack team in the league. The first period came back to bite us. No matter what happens we believe we can come back."
"The first period, I mean, nothing else can be said about our first period, abysmal. Without Juice (Juuse Saros) back there, it probably would have been four or five to nothing after one," Grimaldi said. "Instead, it was three, he gave us a chance, and after the first we knew that was not acceptable for the best team in the league, let alone a middle of the pack team in the league. We came out and showed why we are on top. We had a great second and a great third, and just because of that first period it ended up biting us in the end."
NOTES: Predators C Calle Jarnkrok (lower body) didn't play and is day to day. Grimaldi took his spot in the lineup. … Sharks D Erik Karlsson and C Tomas Hertl both reached milestones on Pavelski's first-period goal. Karlsson's assist was his 400th, and Hertl's his 100th. Hertl left in the second period with a lower-body injury. … San Jose held the Predators scoreless on three power plays. The Sharks have allowed only two goals on 42 power plays over their last 15 games going back to Oct. 11. … The Sharks have given up three or more goals in 10 of their past 11 games.
UP NEXT
Predators: Conclude a five-game road trip Thursday at Arizona.
Sharks: Host the Toronto Maple Leafs on Thursday.
___
More AP NHL: https://apnews.com/NHL and https://twitter.com/AP_Sports
Gideon Rubin, The Associated Press