There were many expectations for the St. Louis Blues entering the 2018-19 season. After an incredibly eventful offseason, the least of which was a return to the Stanley Cup Playoffs. In addition, fans expected big things from new arrivals like Ryan O'Reilly and Tyler Bozak, as well as returning stars like Brayden Schenn and Vladimir Tarasenko.
Nowhere on that list of expectations was Oskar Sundqvist's blossoming into a significant contributor. Though Sundqvist is still young (24), he's been a fringe forward both in Pittsburgh and St. Louis, and he did not have a particularly promising first season with the Blues in 2017-18. But suddenly, Sundqvist has become a regular starter in the Blues' lineup, and a point contributor at that. Let's take a look at where Sundqvist has been and where he's going to.
From Pittsburgh to St. Louis
Sundqvist was drafted by the Pittsburgh Penguins in the third round of the 2012 NHL Draft out of his native Sweden. He continued playing for Skellefteå AIK, his team in the Swedish Hockey League, until the Penguins brought him over to the AHL in 2014-15. He played one playoff game that season, but went on to play more regularly in the 2015-16 season, when he also made his NHL debut.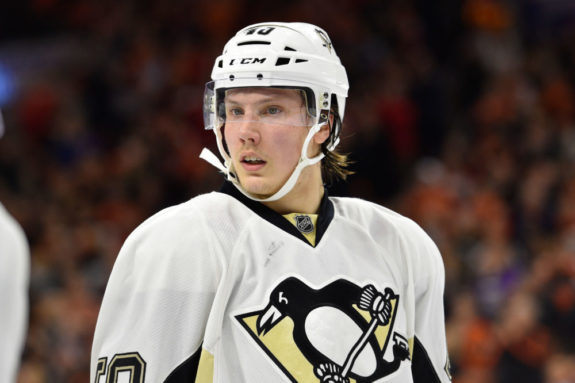 In that season, Sundqvist collected four points in 18 games. He even played in two playoff games, and though he recorded no points, the Penguins went on to win the Stanley Cup, making Sundqvist the only Stanley Cup winner on the Blues' current roster.
The next year, Sundqvist played even less in the NHL. But he quietly had a very productive season in the AHL, amassing 20 goals and 46 points in 63 games with Wilkes-Barre/Scranton. While 46 points in the AHL hardly makes one an elite scorer, it was perhaps a hint that there was more to Sundqvist's game than just the defense with which he'd been associated.
Following that season, Sundqvist was something of an afterthought in the trade that sent Ryan Reaves and a second round pick to Pittsburgh in exchange for the 31st overall pick (a first rounder), with which the Blues selected Klim Kostin. Blues fans were thrilled at the thought of adding Kostin, who fell in the draft due to injury, and began to overlook Sundqvist as soon as the trade was made.
Sundqvist's First Year with the Blues
Sundqvist did not do anything to excite fans who had underestimated him in the 2017-18 season. He played in just 42 NHL games, and while his five points was technically a career high, it was hardly anything to write home about. Sundqvist played primarily on the fourth line, and was defensively strong, starting in the defensive zone 65.1% of the time. He averaged almost a minute per game on the penalty kill as well, which was significant, considering he only played about 10:30 per game.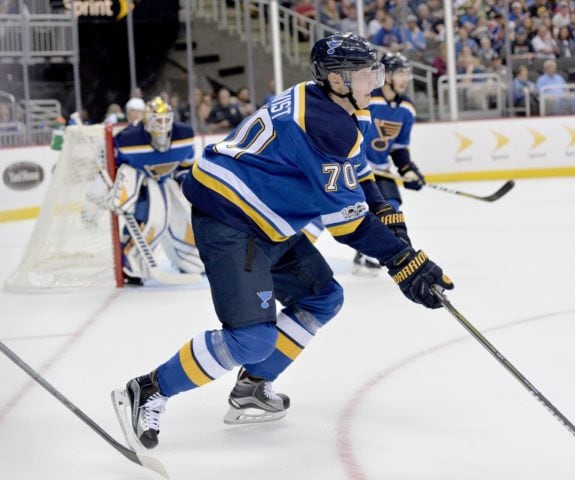 Still, nothing in Sundqvist's profile suggested he could be a significant offensive contributor. He played responsibly overall, but was not impactful in the slightest in the offensive end. Defensively responsible players are valuable, but they don't excite fan bases much, and so Sundqvist faded to the background in St. Louis, particularly as stars like O'Reilly and prospects like Robert Thomas and Jordan Kyrou arrived.
Sundqvist and Tom Wilson
Sundqvist's case for making an impact in 2018-19 became even weaker after he was the recipient of the devastating hit that Tom Wilson delivered in the preseason, for which he was initially suspended 20 games (a suspension that was reduced to 14 games on Tuesday, allowing Wilson to return to action). Sundqvist sustained significant injuries as a result of the hit, and missed the first few weeks of the season while he recovered.
Washington's Tom Wilson suspended twenty games for an Illegal Check to the Head on St. Louis' Oskar Sundqvist. https://t.co/ojQ4yN6oFN

— NHL Player Safety (@NHLPlayerSafety) October 3, 2018
Sundqvist was again an afterthought in one of the more controversial decisions in the history of the Department of Player Safety, and the Blues had to get rolling without him as any part of their plan. While their thoughts were certainly with their teammate, they got off to a rocky start and could not afford to linger on Sundqvist's ill-health. Fortunately for him, the poor play of the Blues allowed head coach Mike Yeo to insert Sundqvist directly into the lineup upon his return, and for his part, he hasn't looked back since.
A Whole New Sundqvist
Sundqvist returned to the lineup on Oct. 25, in perhaps the Blues' worst effort of the season, a 7-4 loss to the Columbus Blue Jackets on a night that kicked off a long homestead. While Sundqvist didn't score in the game, he did enough to convince Yeo to insert him in the lineup again. Next game, he registered an assist and was a plus-1, earning yet another start.
The next game was Sundqvist's breakout performance. Facing off against the Vegas Golden Knights, he scored two goals, including this laser off a drop pass from Robert Thomas. Two goals is hardly a legendary performance, but when you match your career goal total in a single night, it's something to celebrate. With another hard working goal against the Minnesota Wild this week, Sundqvist now has 4 points in 7 games, a stark improvement on his career high of 5 points in 42 games.
Oskar Sundqvist now has more goals than Alex Pietrangelo, Jaden Schwartz, or Pat Maroon. #stlblues

— 2G1C Podcast (@TwoGuysOneCup) November 11, 2018
Sundqvist's three goals have passed fellow forwards Jaden Schwartz and Patrick Maroon, both of whom were expected to be key offensive contributors, and he's now tied with Alex Pietrangelo (who scored later in the game against the Wild). While no one is expecting him to maintain what amounts to a thirty goal pace, even ten goals would be a huge achievement for a player who was a fringe member of the roster even before suffering serious injury in the preseason.
Sundqvist's Future
With that said, it will still be hard for Sundqvist to find a long term spot in the Blues' organization. They have so many talented forwards locked down for so long, and more highly valued prospects coming in through the system. Sundqvist has turned heads, to be sure, but he'll have to keep his play on this new level for an extended period for the Blues to make him a permanent fixture in their plans.
With that said, guys like Sundqvist should have no problem finding jobs in the NHL, whether or not he stays with the Blues for an extended period. He's defensively responsible, big (Sundqvist surprisingly stands 6-foot-3, and weighs 209 pounds), and now, with a little added scoring threat, he possesses more than one tool in his tool belt. If he continues to play like this, Sundqvist could become a valuable trade chip for the Blues to add to an enticing package if they choose to lure another player like they did Ryan O'Reilly. Or, better yet, he might just earn himself a spot here permanently.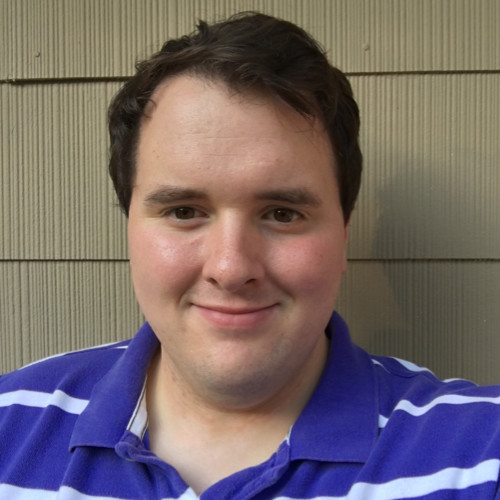 Stephen Ground is a veteran of over three years at THW, focusing on the St. Louis Blues, NHL goaltending, and the annual World Junior Championship. He is the co-host of the Two Guys One Cup Podcast, a hockey podcast focused on the Blues.