Toronto Maple Leafs hockey is finally back. It's the preseason and while the Leafs have yet to win an exhibition game, there is still an electricity in the air. The wins and losses don't mean anything in the preseason. Most educated hockey fans are fully aware of this.
The games do mean something for the players, however. Many are trying to impress their brass and coaching staff and force both parties to give them a shot on the big club. There are players on the Leafs right now who are trying to leave their mark and force their way into the lineup.
The Young Blueliner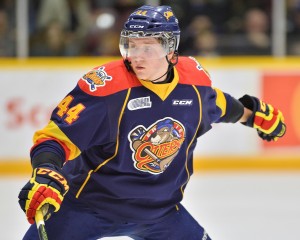 Travis Dermott is on the cusp of making the NHL. He spent last season with the AHL's Marlies and he was arguably their best and most consistent performer.
Dermott knows that there is a spot up for grabs on the blueline. By all accounts, he's already had a good training camp. His first taste of preseason action saw his squad fall to the rival Ottawa Senators, but the young defenseman played well and was singled out by Mike Babcock for praise after the game.
Dermott impressed. He looked calm, cool and collected and was vocal on the ice. He was paired with Timothy Liljegren in a pairing that could be the future of the Leafs blueline. It's still too early in the preseason to gift Dermott the spot, but another few strong showings like his first game will be extremely beneficial to his cause.
The Big Three
I'm cheating a bit with this one, but the holy trinity of Auston Matthews, William Nylander, and Mitch Marner all looked fantastic in their respective preseason games.
Matthews and Nylander will once again play together and their chemistry was on full display against Ottawa in the exhibition opener. Both scored goals off some pretty passes and there was a notable difference when they were on the ice. They are both such skilled players that this is an immediate boost that throws opponents back on their heels as the young Leafs control the play.
Marner also looked good on his line with Tyler Bozak and James van Riemsdyk. The shifty winger made a number of dangerous plays and set up a goal with a nifty pass on the man advantage.
The big three are such a huge part of the Maple Leafs makeup. It's crucial for them to be ready to perform in their second season, even though the expectations will be higher and their opponents tougher.
The Veteran
Patrick Marleau shocked the hockey world by leaving the San Jose Sharks and signing with the Maple Leafs this past offseason. He needed to make a strong impression with his new club and did exactly that on Tuesday night.
The former Shark is deceptively fast and used his sneaky speed to break down the right wing and subsequently roofing his first preseason goal over the shoulder of Mike Condon.
Patrick Marleau introduces himself to the Toronto crowd with his first of the preseason. #TMLtalk pic.twitter.com/gU9lZs1RG8

— Toronto Maple Leafs (@MapleLeafs) September 20, 2017
Marleau looked good in his first taste of Leafs action. He was put on a line with Nazem Kadri and Leo Komarov, a pair of Leafs who know how to agitate their opponents. Kadri also has some scoring punch and it will be a defensively responsible line, should Babcock keep the trio together.
Marleau brings a wealth of experience to the young Leafs and it will be interesting to see if the grizzled veteran can balance the youthful exuberance and propel the team to new heights.
My name is Anthony Fusco. Through school, I completed a joint degree involving an Honours B.A. in Journalism from Wilfrid Laurier University and a Videography and Broadcasting degree through Conestoga College.
I currently work for the University of Toronto as a Varsity Sports Announcer and for the Toronto Maple Leafs as part of their game presentation squad.
I'm also the play by play voice of the Kelowna Falcons, a baseball team located in British Columbia.
My goal is to one day be a hockey broadcaster.