Offense was not one of the strong suits of the Boston Bruins last season.
The club scored just 209 goals en route to missing the postseason for the first time since 2007. It was the club's lowest goal total since 2010 (196) and the third-lowest in the Claude Julien era. The head coach's defensive system yet again came under scrutiny, even though the Bruins finished in the top-five in goals each of the last three full seasons. Their inability to generate offense was one of the major downfalls of a club that was expected to contend for a championship.
However, that was last year.
Two of last season's bigger disappointments in Milan Lucic and Reilly Smith are gone. Matt Beleskey and Jimmy Hayes have filled the vacancies they left. The fourth line will start from scratch with Greg Campbell and Daniel Paille gone.
Plenty of questions arise from Boston's eventful offseason. The defense has several question marks, but what about the forwards?
Can Matt Beleskey Prove He's Not A One-Hit Wonder?
Beleskey is the subject of question No. 1. After all, to this point he is the big fish the Bruins have landed in their pond, signing a five-year contract worth $19 million.
Boston fans are also in for a sad realization that Matt Beleskey isn't anywhere nearly as good as the free agent hype around him.

— Felix Sicard (@Felix_Sicard) July 14, 2015
The 27-year old made a name for himself after scoring a career-high 22 goals and 32 points with a talented Anaheim Ducks squad that was one game short of the Stanley Cup Final last year. His eight goals in 16 playoff games boosted Beleskey's stock even higher and made him a hot commodity in a bad free-agent class.
Well, now he has his money thanks to a breakout season. There's a good chance Beleskey will find himself on the top line alongside a solid playmaker in David Krejci. That's not a bad place to be, especially if the Ontario native wants to prove last season was no fluke.
After scoring almost 40 percent of his goals last season, Beleskey has to morph into a consistent scoring winger the Bruins desperately need. Can he do that in a high-pressure environment?
Will Brad Marchand Get To 30?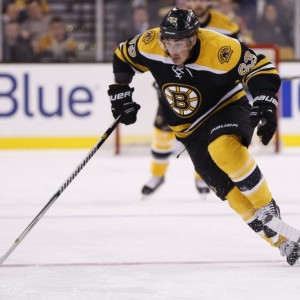 Speaking of wingers, Brad Marchand looked to take the next step in his development after leading Boston with 24 goals last season.
The 5-foot-9-inch linemate of Patrice Bergeron was one of only two Bruins to score at even strength, shorthanded, on the power play and in overtime. He had 22 goals in early March after scoring five times in four games and had a great shot at 30…
…before a 15-game goal drought got the better of him. Marchand went a month without a goal, recording just two assists.
The Nova Scotia native has scored at least 20 times in each of his four full seasons with Boston. The next step is to reach that elusive 30-goal mark. Marchand has the ability to achieve a goal that only four players in the Julien era have seen. More importantly, he must be more consistent scoring goals next season to evolve into more than just a pest on the ice.
How Can They Avoid A Third-Period Power Outage?
The Bruins have always been known to be strong finishers when it comes to closing out the opposition. However, last season was not one of them.
Boston tallied just 56 goals in the third period, after putting up 70 and 74 in the first and second periods, respectively. Their performance in the final frame was the third-worst behind the two worst teams in the NHL last season in Buffalo (54) and Arizona (50). The killer instinct that had been present in years past was MIA last season.
How can they avoid a repeat? The Bruins forwards will have to find ways to convert on their chances when it counts. Julien has a tendency to sit on leads and soak in third-period pressure to emerge with a victory and two points. The only problem is that, this season, the defense corps is not as good in years past; therefore, the forwards will have to bury their chances when called upon.
Furthermore, in their three-game road trip to end the season, Boston either was tied or trailing heading into the final 20 minutes of all three games. They only scored two third-period goals on the entire trip, which saw them collect just one out of a possible six standings points. It looks like the Bruins could be a fringe playoff team yet again this season, so every goal and point will be crucial.