Welcome to The Hockey Writers' Power Rankings, the top-13 teams in the NHL this week as ranked by members of The Hockey Writers. This week's panel is Greg Boysen (Chicago Blackhawks), Jeff Morris (Ottawa Senators), Kevin Armstrong (Toronto Maple Leafs), Louis Pannone (Arizona Coyotes), Shaun Filippelli (Chicago Blackhawks), Pete Bauer (Columbus Blue Jackets), Dean Plunkett, Kyle Gipe, Jack Dawkins, Brandon Seltenrich (Buffalo Sabres), Giovanni Siciliano (Ottawa Senators), Sean Mallon (Seattle Kraken), and Tony Wolak (Detroit Red Wings)
The Tampa Bay Lightning not only took over first place in this week's Baker's Dozen, the weekly NHL power rankings as voted by members of The Hockey Writers, they were a nearly unanimous selection for the top spot.
The defending Stanley Cup champs moved up from second place last week when they came in one point behind the Toronto Maple Leafs by getting 12 of 13 first-place votes after going 3-0-1 in four road games. That included a 6-3 victory against the Chicago Blackhawks when they scored six unanswered goals after falling behind 3-0.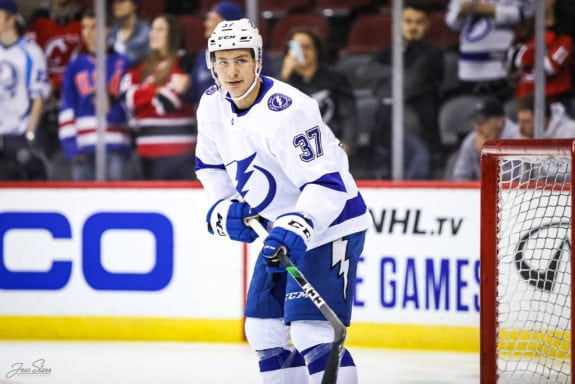 Meanwhile, the Maple Leafs dropped to fourth after they followed their three-game blitz of the Edmonton Oilers with three consecutive losses, two on the road to the Vancouver Canucks and a 4-3 defeat at the hands of the Winnipeg Jets at Scotiabank Arena on Tuesday.
The Carolina Hurricanes moved up from fourth to second, followed by the Honda West Division-leading Vegas Golden Knights, who remained third, and the Maple Leafs. The New York Islanders jumped from eighth place to fifth after winning all four of their games to extend their winning streak to six.
The Pittsburgh Penguins and Edmonton Oilers each returned to the rankings after a one-week absence, and the St. Louis Blues are back for the first time since Feb. 17.
The Blackhawks, Colorado Avalanche and Philadelphia Flyers dropped out of the rankings.
To create the Baker's Dozen power rankings, 13 members of The Hockey Writers staff rank their top 13 teams. The team picked first by a voter receives 13 points, a second-place selection is worth 12, a third-place vote gets 11, and so on down to No. 13, which is worth one point.
Here are this week's rankings:
1. Tampa Bay Lightning (18-4-2)
Points: 168
Last week: 2

Upswing: The Lightning have put together the NHL's best record even without high-scoring forward Nikita Kucherov, who's out for the regular season, thanks to solid defense and a balanced offense. No one on the Lightning is in the top 15 in the NHL scoring race (defenseman Victor Hedman leads the team with 25 points), but seven players have at least 15 points, and six have scored at least two game-winning goals. Depth forward Blake Coleman joined that group by scoring the overtime winner against the Detroit Red Wings on Tuesday.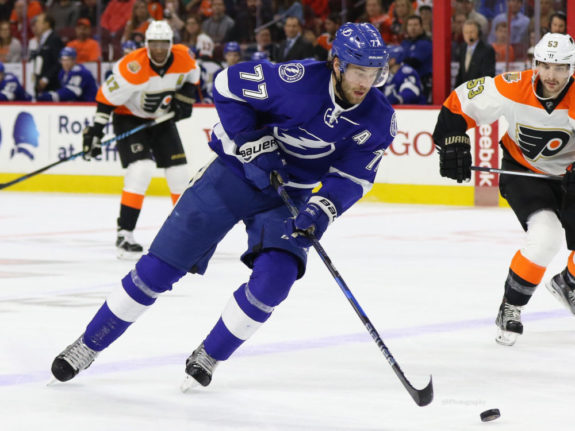 Downturn: It's hard to find much wrong with the Lightning, but they did lose their first shootout of the season against the Chicago Blackhawks on Friday after blowing a 2-0 first-period lead.
2. Carolina Hurricanes (18-6-1)
Points: 143
Last week: 4

Upswing: Carolina received an offensive boost from an unlikely source. Center Jordan Staal settled into a defense-first role after dropping to eight goals last season, but he surpassed that total Tuesday by scoring twice – including the overtime winner – in a 3-2 victory against the Nashville Predators. It was the Hurricanes' sixth straight win. Staal is on pace for his best goal-scoring season since 2011-12 when he had 25.
Downturn: The Hurricanes figure to be among the NHL's top six teams by season's end, but two of the other five teams could be Discover Central Division rivals Tampa Bay and the Florida Panthers. Carolina might have to defeat both just to get out of the division.
3. Vegas Golden Knights (16-6-1)
Points: 134
Last week: 3
Upswing: Dylan Coghlan, a 23-year-old rookie defenseman, scored the first three goals of his NHL career Wednesday in a 4-3 road loss to the Minnesota Wild. It was the first hat trick by a Golden Knights defenseman since they entered the NHL for the 2017-18 season. Coghlan is the third defenseman in NHL history and the first since 1984 to score his first three goals in the same game.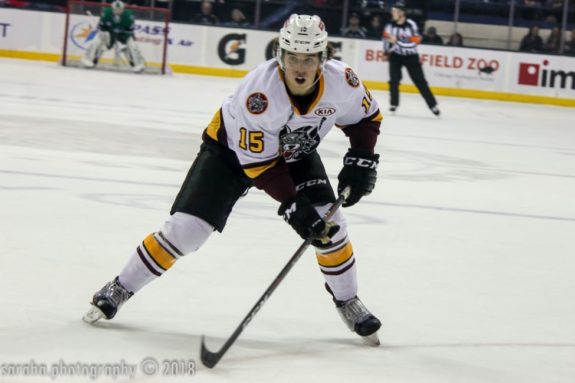 Downturn: The absence of goalie Robin Lehner, who hasn't played since Feb. 7 because of an upper-body injury, and the absence of a real No. 3 goalie in the system has meant a heavy workload for Marc-Andre Fleury, who was lifted midway through the third period on Wednesday against the Wild after allowing three goals in the first eight minutes of the period. It was his 13th start in 14 games. Lehner was assigned to the Henderson Silver Knights of the AHL for a conditioning stint, and the Golden Knights hope he'll be back no later than next week.
4. Toronto Maple Leafs (18-7-2)
Points: 127
Last week: 1
Upswing: Zach Hyman doesn't get the attention lavished on Toronto's big stars, but he's quietly having an effective season with eight goals, 16 points and a plus-11 rating in 25 games. His play on the first line in the third period of the loss to the Jets made the case that he should be there on a more regular basis.
Downturn: Auston Matthews is still dealing with the injured right wrist sustained against the Calgary Flames on Feb. 24, although he scored his 19th and 20th goals of the season in the 4-3 loss to Winnipeg. The injury clearly affects his wrist shot, though coach Sheldon Keefe says the other areas of his game don't seem to be bothered. The Maple Leafs are 3-0-0 without Matthews in the lineup, so they have to decide if it's better to give him some time off to let the wrist heal or play him at less than 100 percent.
5. New York Islanders (16-6-4)
Points: 122
Last week: 8
Upswing: The Islanders finished 4-0-0 against the Boston Bruins at Nassau Coliseum with a 2-1 shootout win on Tuesday. Before this season, they hadn't beaten the Bruins at home since Nov. 2, 2013. The shootout victory came after they took care of business last weekend by winning all three games against the last-place Buffalo Sabres at Nassau Coliseum, all by a 5-2 score.
Downturn: Defenseman Ryan Pulock plays first-pairing minutes and has one of the biggest shots in the NHL. What Pulock doesn't have is a goal this season; he's put up 10 assists but has yet to score.
6. Washington Capitals (15-6-4)
Points: 93
Last week: 5
Upswing: Nicklas Backstrom joined some elite company when he reached the 700-assist mark by setting up Washington's lone goal in a 5-1 road loss to the Bruins on Friday. Assist No. 700 came in Backstrom's 979th game, making him the 25th player to get to 700 assists before playing in his 1,000th game. All but one of the first 24 have been inducted into the Hockey Hall of Fame.
Downturn: The Capitals lost a valuable player when forward Tom Wilson was suspended for seven games after driving defenseman Brandon Carlo's head into the glass during the loss in Boston. It was his fifth career suspension and left the Capitals without one of their most versatile forwards. Wilson has seven goals (including three game-winners) and 17 points in 21 games and plays in all situations.
7. Florida Panthers (16-5-4)
Points: 81
Last week: 6
Upswing: Sergei Bobrovsky is starting to play like a two-time Vezina Trophy winner. He's 4-0-1 with a .927 save percentage in his past five starts and made a season-high 38 saves in a 4-2 road win against the Columbus Blue Jackets on Tuesday.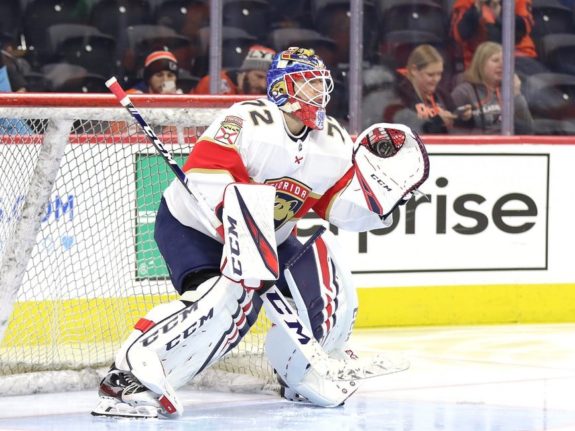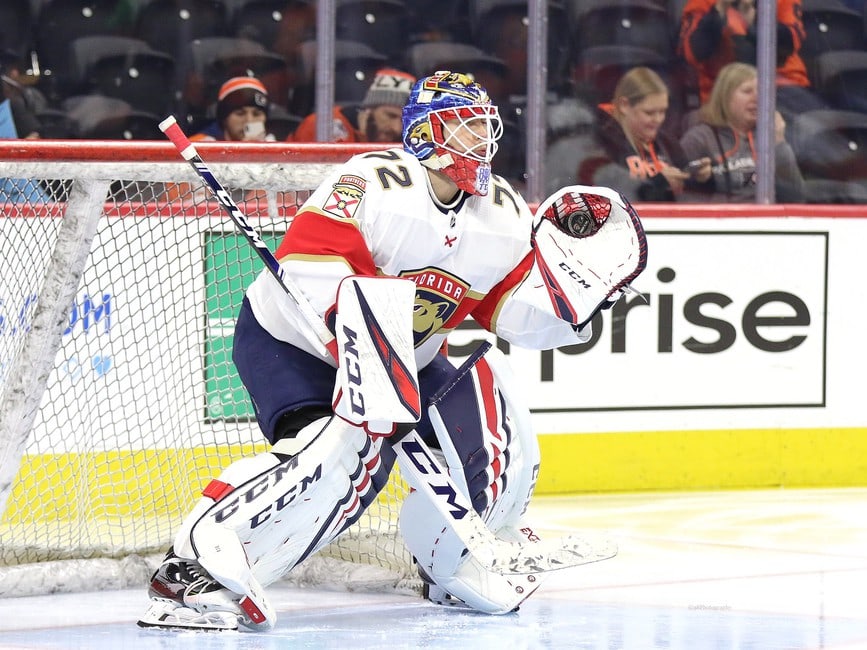 Downturn: The Panthers lost their third in a row to Carolina, 4-2 on Monday, although it was the first time they didn't get a point. The two teams are likely to meet in the first round of the Stanley Cup Playoffs if one of them doesn't overtake Tampa Bay for first place.
8. Winnipeg Jets (16-8-1)
Points: 70
Last week: 9
Upswing: The Jets gave themselves a chance to catch the Maple Leafs for first place by winning 4-3 at Scotiabank Arena on Tuesday in the first of three straight games between the top two teams in the Scotia North Division. The Jets trail the Maple Leafs by five points with two games in hand and play in Toronto on Thursday and Saturday.
Downturn: The penalty-killers have to do a better job. Winnipeg is 22nd in the NHL at 76.2 percent and has allowed three goals in eight chances during five games this month.
9. Minnesota Wild (15-8-1)
Points: 59
Last week: 12
Upswing: Kaapo Kahkonen has staked his claim to the No. 1 job by winning his past eight starts, including back-to-back home wins against the Golden Knights — a 2-0 victory on Monday and a 4-3 win on Wednesday that he managed with a handful of 10-bell saves in the final minutes of the third period.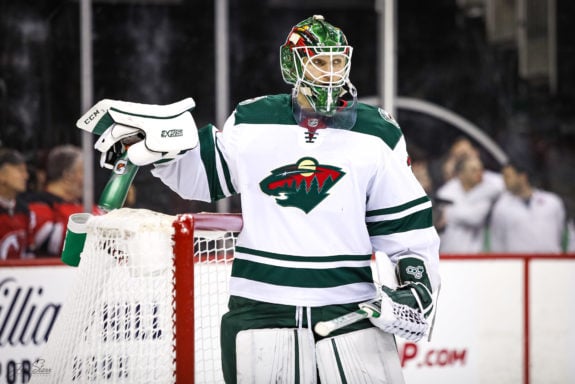 Downturn: The Wild scored a rare power-play goal to break a 1-1 third-period tie against Vegas on Wednesday but are still a distant last in the NHL on the power play at 7.9 percent (6-for-76), including 2-for-29 (6.5 percent) at Xcel Energy Center.
10. Boston Bruins (13-6-4)
Points: 44
Last week: 7
Upswing: David Pastrnak is one of 30 players who've scored at least 11 goals this season, but the only one to do so in fewer than 21 games. Pastrnak's 11th goal came Tuesday, in his 16th game, when he scored a first-period power-play goal in the 2-1 shootout loss to the Islanders. He missed Boston's first seven games recovering from offseason surgery.
Downturn: Jake DeBrusk's season hit a new low when he was a healthy scratch for the loss to the Islanders – the first time that's happened since Nov. 11, 2018. DeBrusk, who scored 19 goals last season and 27 in 2018-19, has yet to score at even strength in 2020-21 – his lone goal came on Feb. 18 against New Jersey on the power play. His lack of scoring is a big reason the Bruins have just 39 even-strength goals, a total better than just four other teams.
11. Pittsburgh Penguins (15-9-1)
Points: 41
Last week: Not ranked
Upswing: The Penguins are holding a playoff spot in the MassMutual East Division because of their success against the two New York teams. They improved to 5-1-0 against the Rangers with 5-1 and 4-2 wins at PPG Paints Arena on Sunday and Tuesday, completing a 4-1-0 homestand. Add that to their 4-2-0 record against the Islanders and they're 9-3-0 against their two New York rivals. Pittsburgh has just two games left against each, but the Penguins play the seventh-place New Jersey Devils and eighth-place Buffalo Sabres eight times each.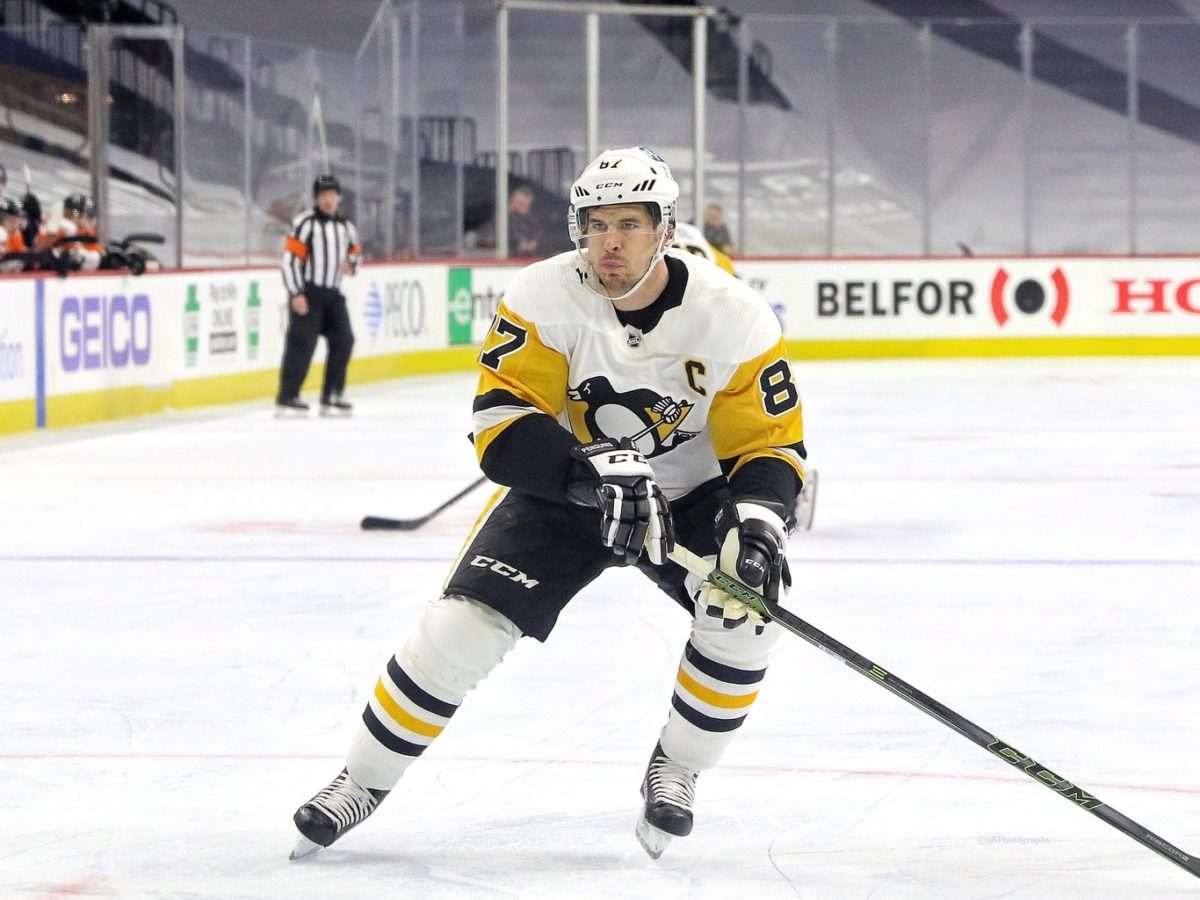 Downturn: It's almost inconceivable that a team with stars like Sidney Crosby, Evgeni Malkin and Kris Letang is scoring on just one of every six power plays, but the Penguins are doing just that. They are 12-for-72 (16.7 percent), 24th in the NHL and 15th among the 16 teams that hold a playoff position.
12. Edmonton Oilers (17-11-0)
Points: 39
Last week: Not ranked
Upswing: The Oilers rebounded from the Toronto Massacre with three consecutive victories, including a 7-1 wipeout of the Ottawa Senators on Wednesday that was fueled by a five-point performance (three goals, two assists) from center Leon Draisaitl.
Downturn: Edmonton is 6-0-0 against the last-place Senators and 11-11-0 against the other six teams in the North. The Oilers host the Senators again on Friday but play them just twice (April 7 and 9) in their final 27 games.
13. St. Louis Blues (14-8-4)
Points: 23
Last week: Not ranked
Upswing: The offense should get a spark with the return of forward Vladimir Tarasenko, who hadn't played a regular-season game since Oct. 24, 2019, because of a left shoulder injury that's needed three surgeries since August 2018 (he did play in four playoff games last summer after the second operation before being shut down again). Tarasenko is a five-time 30-goal scorer, and the Blues desperately need his offense in a season riddled with injuries.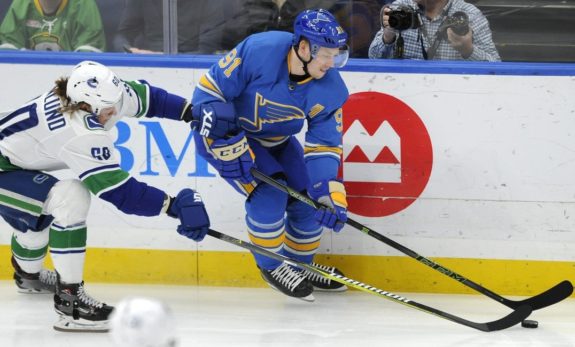 Downturn: The Blues left points on the table in each of their last two games during a California road trip. They led the Los Angeles Kings 3-0 early in the first period on Saturday but allowed the Kings to pull even and lost 4-3 in overtime. Two nights later, they led 2-1 after two periods in San Jose against the Sharks but allowed the tying goal with 12:02 remaining in the third period and lost 3-2 on Evander Kane's overtime goal.
Others receiving votes: Colorado Avalanche (21), Philadelphia Flyers (11), Chicago Blackhawks (3), Montreal Canadiens (3) Los Angeles Kings (1)
Dropped out: Chicago Blackhawks, Colorado Avalanche, Philadelphia Flyers
---
---
Longtime NHL writer and editor. Covered first NHL game in 1975 (and hundreds since). Have done several books, hundreds of magazine/newspaper/online stories. Big fan of hockey history.