In any sport, especially team sports, the injury bug can hit a team, and it can hit them pretty badly. That injury bug hits your primary players, who are the keys to your success, and then you have to replace them with someone with little to no experience, and it requires everyone who is healthy to do more to help the team win.
For the Nashville Predators, the injury bug has hit the team, and it has hit them pretty badly, especially considering they're trying to get back into this playoff hunt being eight points behind the Chicago Blackhawks in the Discover Central Division. The timing of these injuries could not have come at a worse time, but there are some positives that may come from this, and we will touch on that a little bit in a second.
Primary Names Out
The biggest name out for the Preds is the captain of the team, Roman Josi, who's out with an upper-body injury and is listed as 'week-to-week. (from 'Another injury for Nashville Predators as captain Roman Josi is week-to-week on IR,' Tennessean, 03/09/2021) Without his leadership and ability to keep the team's cool, it will be on the guys that are wearing the "A" (except for one who's out, Ryan Ellis) to pick up the slack. So those guys, like Mattias Ekholm, Filip Forsberg, and Ryan Johansen all have to just take a piece of what Josi brings to the team, and if they can help the captain out in terms of leading by example, providing that spark, and doing the intangibles it takes to win, then this team can navigate through the choppy waters.
Prior to Josi's injury, the defense took a hit when Ellis went out with his own upper-body injury and was going to be out for 4-6 weeks. Ellis last played on February 28th in the 3-1 victory over the Columbus Blue Jackets, and not having him in the lineup takes away a strong shot from the point. Also, they lose a lot on the special teams, as he's a valuable asset to both the power play and the penalty kill.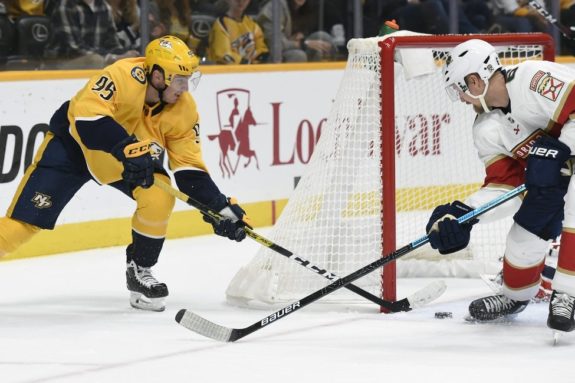 Matt Duchene is out 3-5 weeks with a lower-body injury and was put on the IR on March 6th. In Duchene, you lose a lot on the faceoffs (he was really missed in Tuesday night's overtime loss to the Carolina Hurricanes), and you lose a great setup center, where he can get those feeds to his teammates, and they can score plenty of goals. He really had a good thing going with his new linemates Rocco Grimaldi and Callie Jarnkrok before the injury happened to him. He does have a lot to offer, and he is going to be missed dearly.
Juuse Saros is on the mend after his collision with Hurricanes' forward Nico Niederreiter in the March 2nd game at Bridgestone Arena, which caused him to exit early and be replaced by Pekka Rinne for the rest of the way. Rinne has seen plenty of action since, subsequently starting in every game. He was placed on IR two days later. Saros has not had the breakout season that I thought he may have due to a lack of support and now due to the injury bug as well. It definitely has not been because of a lack of effort.
Opportunity Knocks
With these guys out, many people are putting the nail in the coffin to Nashville's playoff hopes (understandably), and that usually means it's time for the team to start evaluating guys who are in the minors and see what they can do and if they can be a part of this team in the future. Many guys on the taxi squad are getting the chance to step up and prove what they can do. What I'll do is just provide a few names of guys who have stepped up.
Eeli Tolvanen has emerged as a power play goal scoring threat for the Predators, gaining the respect and trust of his teammates and coaches. He has five goals and eight points on the season, but four of those five goals have been on the power play. The special teams unit was pretty stagnant until he arrived on the scene. Tolvanen has given life to the unit and with some key guys out, more is going to going to be expected of him.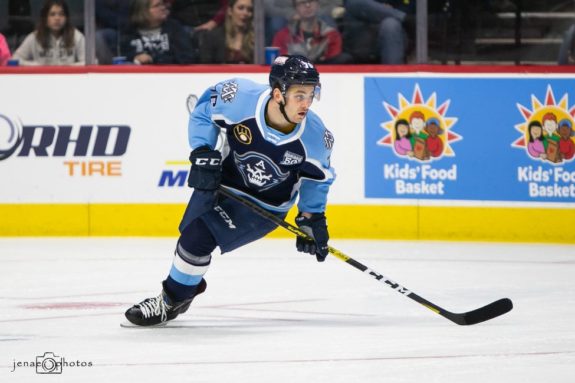 Jeremy Davies made his debut with the Predators Tuesday night in Carolina, and for someone that was thrown into the fire, he was very cool under pressure. As the game went on, the young defenseman was getting more time on the ice and was even performing on the power play unit and did a very good job. It will be interesting to see how much more time he gets going forward and if he can work his way into a more permanent role with the team.
Rinne has been going back to being the number one option between the pipes for Nashville with Saros out, and he has made some saves in this stretch that reminds you why he has been the face of this franchise for so long. He had a huge stick save this past Thursday in Dallas to start this eight-game road trip on Joe Pavelski that really got the Predators motivated and eventually to a 4-3 win to start things out. If the effort in front of him remains there, Rinne will give you a great chance to win games for this team.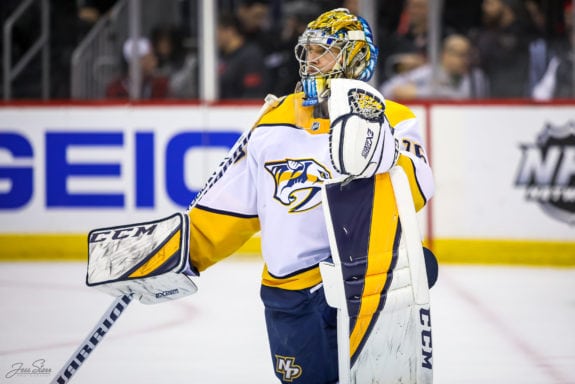 If the effort is continued while the main guys are out, and if Nashville can keep up that effort that they have shown to start out this road trip, then they could possibly stay in the mix. Of course, it will not be easy when you have Carolina, Tampa Bay, and Florida coming up, but if they can somehow find a way to make it happen and get points, then I'm saying there is a chance.
Comment below or find me at @ddunhamjr to discuss more about this article and others!
---
---
Nashville Predators writer. Graduate of North Carolina A&T State University and Northeastern University. Been into hockey since NHL 94 and not knowing what I was doing to having a pretty good idea of how to play. Based in Nashville since 2015. Sharks fan.