Tomas Hertl at 4C?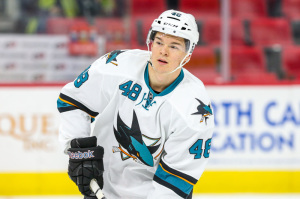 It was just one game, and we all know what can happen in just one game (John Scott can look like a 30 goal scorer) but Tomas Hertl looked phenomenal in his first game at the center position, a 3-2 Sharks win in Arizona on Tuesday. In a game San Jose finished off with a strong third period, it was Hertl, alongside linemates Tye McGinn and Tyler Kennedy who were clearly the team's best forward combination. In a rather sluggish first period for Team Teal, it was these three that generated the vast majority of offensive zone time. Not only were they possessing the puck but they were also the main source of scoring chances in the opening frame (Hertl would end up scoring in the second). With usual fourth line center Andrew Desjardins missing the contest to be with his wife for the birth of their first child, the Sharks' fourth line looked as good as it has all season. Considering the Sharks have had struggles finding a consistent bottom six group for the past few years, it is no surprise to see Sharks fans excited. One of my followers had the following tweet yesterday.
https://twitter.com/MikeCracchiolo/status/555529161499238400
Again, it may just be one game, but having a player as physically gifted and naturally talented as Hertl centering the fourth line could be the cure to what has plagued the Sharks for years. No doubt Dejsardins is a nice player, and he will still see plenty of action on that fourth line, but it might be wise for that time to come on Hertl's wing. Over the years the Sharks have been a notoriously top heavy team. It is a big reason why you see many people including yours truly calling for Brent Burns to move forward and Joe Pavelski to move down third line center. In the 2012 playoffs the Sharks featured a notoriously weak bottom six, in 2013 they weren't much better with a fourth line of Desjardins, Bracken Kearns, and Adam Burish, and last year they played tough guy Mike Brown in six of seven playoff games.
In that LA series last year, Kings coach Darryl Sutter went four deep down the middle with Anze Kopitar, Jeff Carter, Jarret Stoll, and Mike Richards all centering different lines. The multiple waves of attack was one of the key reasons the Kings were able to get back in that series combined with Todd McLellan moving Pavelski back into the top six after Game 3. With the aforementioned Burns back on the blue-line, we probably won't see Pavelski at center any time soon as San Jose's depth on the wings is limited. However, the center ice position is the most important of the forward positions. Faceoffs, defensive responsibilities, and more puck possession go hand in hand with playing in the middle. Given the depth that the elite teams like Chicago, Los Angeles, and Tampa Bay have up front, perhaps the best chance the Sharks have to matchup is by going four deep like LA did last season. Four lines centered by Joe Thornton, Logan Couture, James Sheppard, and Tomas Hertl could be very difficult to handle. While a remote possibility, even more difficult to handle would be Thornton, Couture, Pavelski, and Hertl all centering different lines. Doing so would certainly limit the scoring ability from their wingers, but if say Raffi Torres were to find a way to get healthy again, it is certainly possible for the Sharks to roll out something like the following:
James Sheppard—Joe Thornton—Tommy Wingels
Patrick Marleau—Logan Couture—Matt Nieto
Barclay Goodrow—Joe Pavelski—Melker Karlsson
Raffi Torres—Tomas Hertl—Tyler Kennedy
Flipping the Script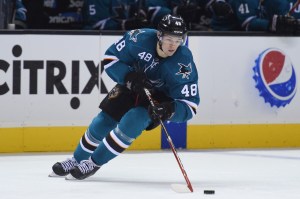 Let's say Torres isn't able to return, even with Tye McGinn or Andrew Desjardins slotting in his place, all of a sudden, the Sharks, a team known for being top heavy, look like a balanced and deep team. This would be one of the strongest forward lineups lines one through four in the entire NHL. Of course in this scenario Thornton doesn't exactly have the finishing power on his wings but the other three lines could each make a case for being the best in the NHL. Best second line, best third line, and best fourth line in the league. How about that? It's pretty amazing what the Sharks could put together when they don't have John Scott, Adam Burish, nor Mike Brown in the lineup.
Even without Pavelski at third line center and Torres injured, the lines from Hertl's first game at center looked pretty darn good. While the top-six actually wasn't all that spectacular, there is an ability to mix and match, eventually they will find their games. The big development is Hertl at fourth line center. If he stays there it gives San Jose the ability to roll four lines on a consistent basis. Everyone knows in today's game with the parity and the skill level of young players, teams need four quality lines. A strong fourth can play 11-12 minutes a night which is only 3-4 fewer even strength minutes than many top scoring units. Teams that go deep in the playoffs don't have just run of the mill players. Last season three of the four conference finalists were the Blackhawks, Rangers, and Kings. Players on those fourth lines are names most of you are pretty familiar with: Marcus Kruger, Ben Smith, Dominic Moore, Derek Dorsett, Mike Richards, Brian Boyle, and Trevor Lewis. None of these guys are super stars, (well Richards used to be) but they are all quality hockey players.
To win the Stanley Cup teams need quality players on the fourth line. That is something the Sharks have never really had during their current 10 year playoff streak. At times they have had a really strong third line with Manny Malhotra and Joe Pavelski but usually the third line is a problem spot and the fourth line is almost always an area of concern. If the Sharks are serious about making a deep playoff run this season, Hertl centering the fourth line may indeed be the "most exciting development of the season so far."