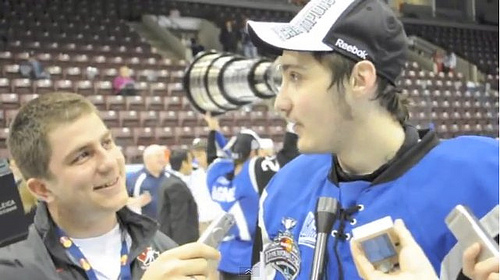 On Thursday night the QMJHL's Saint John Sea Dogs became back-to-back President's Cup winners, clobbering the Rimouski Oceanic 8-0 in the closing game of their Championship series sweep. The result comes as no surprise; the Sea Dogs were heavy favorites to repeat as QMJHL Champions, with some even predicting their title defense as early as last May. Now the team will attempt to defend its 2011 Memorial Cup title, and thanks to their unprecedented depth, they're still the favorites for many. Jonathan Huberdeau, Zack Phillips, Stanislav Galiev, Charlie Coyle, Danick Gauthier, Nathan Beaulieu; the Sea Dogs are truly a stacked team, but often buried under all that star power is a player who's just as impressive: Tomas Jurco.
Drafted 35th overall in 2011 by Detroit, Jurco was overshadowed even then by teammates Huberdeau , Beaulieu, and Phillips, who went 3rd , 17th, and 28th overall respectively. He's never been the star of his team, and while that may be tough for a 19 year-old who enjoys living in the spotlight, Red Wings assistant general manager Jim Nill feels it's been an important piece in his development.
"He had to take a backseat a little bit, because they had about six go-to guys. He kind of came in and was going to be the go-to guy, and they had a very good team, so he had to learn the team concept, which is important. And he still put up a lot of points."
A lot of points is right. In his 2 seasons with the Sea Dogs prior to being drafted, Jurco amassed 70 goals and 72 assists in 164 games. Yet many were disappointed with his 2010-11 campaign, expecting an even larger improvement in play. His failure to meet those expectations is what allowed him to slip to the 2nd round, something Jurco himself was a bit disappointed with.
"I was hoping I'd still go in the first round, but it's all good. It doesn't really matter where you get drafted, the important thing is if team is going to give you chance and I think Detroit will. I am going to do everything to play there as soon as I can."
That disappointment may be what drove Jurco to such impressive heights this season. The young Slovakian broke out for 30 goals and 38 assists in 48 regular season games, a pace that would have placed him 1st on the team in points had he played in a full 68 games. He followed up that performance with another 29 points in 16 QMJHL playoff games, helping his team embark on an impressive 16-1 playoff run, and he, like his team, isn't done yet.
For those around the team, Jurco's breakout point totals don't come in the least bit as a surprise. Sea Dogs' coach and Ex-Wing Gerard Gallant sees him as that kind of player.
"He's big, strong, he can skate, he's got good hands. When he has that breakout year, that's the type of player I see. I really do."
And Saint John's director of hockey operations Mike Kelly couldn't stop singing his praises prior to the 2011 draft.
"He's a very dynamic, skilled, competitive hockey player."

"I'm real excited for him because his upside, it's scary."
The reason his NHL potential is so scary is the way in which he plays the game. Unlike many of the Wings prospects, Jurco excels at using his 6'2" 193lb to his advantage, giving himself the space to be quick and creative with the puck. It's a style of play very reminiscent of one Marian Hossa, and it should be, that's who it's modeled after.
"He's (Hossa) one of my favorite players.  I'm kind of proud of him because he's from a small country like Slovakia. He's one of the best players in the NHL, so I really like him. Sometimes I just watched videos of him, and I try to do the same stuff on the ice."
For Jurco to idolize a fellow countryman is hardly a surprise, he's an incredibly patriotic individual. The opportunity to once again represent his country at the World Junior Hockey Championships this year was one he took great pride in, choosing to play through a hip flexor injury in the name of helping his country in the quarterfinals.
"I wanted to help my team to win, but I think as you saw I wasn't skating hard because it really hurt. I tried. I did everything I could and I'm really disappointed that it happened in a game like that."
Slovakia wound up finishing 6th in the tournament behind Jurco's team-leading 8 points in 5 games, just 1 assist shy of matching teammate Jonathan Huberdeau's output on a bronze winning Canadian squad.
Unfortunately, the all-around strong 2-way forward that Jurco is isn't the way most people see him. Instead they see a flashy shootout specialist and an off-ice trickster as exhibited in the video below.
"The YouTube Guy" is a mantra Jurco will struggle to shake in the day of internet celebrities, but his drive to be an even more impressive and complete player on the ice is showing through in a big way. He's continued to develop each season, trending upward from a rookie of the year nomination in his first QMJHL season to the campgain he's put together this year.
The Red Wings hope that trend of development and progression continues when Jurco joins the AHL's Grand Rapids Griffins this fall for his first season of pro hockey. Will he make as big of a splash as fellow prospect Gustav Nyquist managed this season, vaulting himself to the NHL on the back of 58 points in 56 games? The tools are certainly in place.
Make no mistake; Tomas still has a lot to learn, but his continued improvement on the heels of doing just that are exciting. There's no reason to believe his development will do anything but continue to progress at the AHL level. Jurco possesses the skill set and characteristics of an elite NHL player. Now entering one of the world's best developmental programs, he's on track to becoming just that.