Now in his fourth full season with the Detroit Red Wings, Tomas Tatar has established himself as a quality top-six forward with a laser for a shot. He's also slated to become a restricted free agent at season's end and is due for a raise.
This season, Tatar has scored a meager four goals in 29 games, with 11 total points so far in the final year of a three-year $8.25 million pact signed July 27, 2014. Detroit surely expects more production from its elusive winger, but that can also be said about many other slumping players.
So how do the Red Wings handle Tatar's contract negotiations so that a mutually beneficial deal can be agreed upon?
Tatar's Production vs. Potential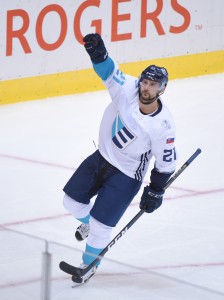 When Ken Holland and Tatar's representation sit down to hammer out the next pact, much of the negotiation will center around current production versus past production/potential.
In his previous three seasons with the Red Wings, Tatar has averaged what generally constitutes second-line goals and points. His most successful campaign came during the 2014-15 season—Mike Babcock's last in Detroit—when the Slovakian winger led Hockeytown with 29 goals and finished third on the team in points with 56. Tatar also produced 19 points with the man-advantage for Detroit's second-ranked power play that season.
| | | | | |
| --- | --- | --- | --- | --- |
| Season | Games | Goals | Assists | Points |
| 2013-14 | 73 | 19 | 20 | 39 |
| 2014-15 | 82 | 29 | 27 | 56 |
| 2015-16 | 81 | 21 | 24 | 45 |
| 2016-17* | 29 | 4 | 7 | 11 |
*As of 12/12/16
Last year, Tatar's ice time fell under Jeff Blashill's guidance, but he still managed to pop 20 goals for the second consecutive season. His ice time fell further in the playoffs, when Blashill opted to play Brad Richards on Datsyuk's wing and thought Tatar was better suited for the fourth line alongside Joakim Andersson and Andreas Athanasiou.
But at only 26 years old, Tatar still has room to grow. He's already holding a larger role this year than he did under Babcock or during Blashill's first season. Tatar has been asked to contribute more with Pavel Datsyuk no longer with the organization, and mans the top line with Henrik Zetterberg and Anthony Mantha. His 17:22 TOI per game ranks third among Red Wings forwards, up from 14:21 last season. Clearly, the Red Wings value Tatar's talent. Doesn't that count for something?
Contract Prediction
When the two sides meet, they'll surely have different ideas of what the contract should be. Tatar's management team will likely propose a five-to-six-year contract, which would pay around $5.5 million annually. Holland's ideal contract will have a similar term, but with a price tag closer to that of Gustav Nyquist or Justin Abdelkader's contracts.
After all of the haggling, stat-tossing, and clause-offering has come to a close, the two sides will agree on a six-year, $30 million contract for Tatar, averaging an even $5 million per season.
Do you think this is a fair deal for the Detroit Red Wings and Tomas Tatar? Comment below with your opinion.