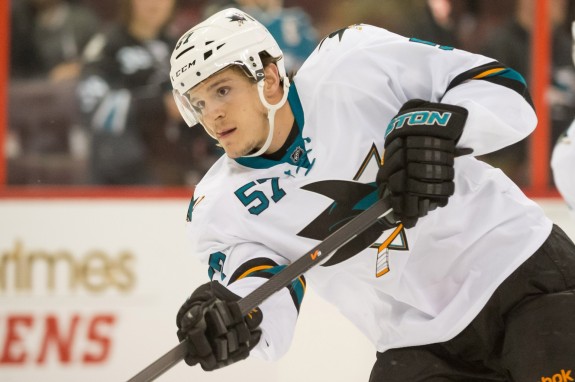 When the Sharks come to town, fans think of Joe Thornton, Patrick Marleau, and Logan Couture. Brent Burns and Joe Pavelski also come to mind. But there's a player that should garner attention when Team Teal rolls in. Tommy Wingels has become one of the most reliable players for Todd McLellan.
The Best Mentors
This season, Wingels has spent the majority of his time on the ice with Patrick Marleau and Logan Couture. Arguably, the best shooters on the Sharks have been Tommy's closest allies in this campaign. After a strong season one year ago, Wingels has continued his upward trend. He scored 38 points for a career high last season and is on pace for 43 this year.
But it's not just his scoring that has improved from his close relationship with veterans. Tommy Wingels is becoming a leader for the Sharks. When Dustin Brown returned to SAP Center last season after injuring Tomas Hertl, Wingels was constantly in Brown's ear. Standing up for his even younger teammate. And for what it's worth, he was the guy that helped Hertl off the ice when the Czech youngster was hit with an errant clearing attempt.
He doesn't get the "A" from his coaches, but he's still a favorite of both McLellan and Wilson.
"He is an important part of our team and a hardworking, physical presence in our lineup. He competes the way we want our team to play and we're excited to have his leadership, both on and off the ice…"

–Doug Wilson, Sharks GM
Tommy Wingels: Not Your Average Leader
A usual critique of the San Jose Sharks, especially come the playoffs is a lack of fight. The Sharks get soft and get overwhelmed by more complete teams. Tommy Wingels does his best to dispel these rumors. He led the team last year in hits by 73. That whole season he knocked bodies 218 times. This year, he is already at 174, again leading the Sharks and doubling up the next best hitter.
The hitting is just one part of his offensive game, but it is important to note why he is so effective at it. Wingels can motor. He skates harder than every other player on the ice. You know that he is going to give you more effort than anyone on his shifts. Tommy Wingels has a real "devil-may-care" attitude in his forecheck.
"It's something I enjoy doing and I think I complement the two of them pretty well."

-Tommy Wingels
Special Teams Specialist
The San Jose Sharks have a very top heavy special teams unit. Their first unit on the power play has virtually all of their shooters on it. Couture, Marleau, Thornton, Pavelski, and Burns all take the first minute or so themselves. But if they fail, who do they fall back on? Tommy Wingels of course.
Power Play
Before we talk about what Wingels has done, let's see the production by the two units.
| | | | |
| --- | --- | --- | --- |
| 1st Unit | Goals | Assists | Points |
| Joe Pavelski | 11 | 7 | 18 |
| Logan Couture | 4 | 10 | 14 |
| Brent Burns | 4 | 9 | 13 |
| Patrick Marleau | 3 | 10 | 13 |
| Joe Thornton | 1 | 9 | 10 |
Mountains of points here. This is where the majority of the Sharks 21.1% conversion on the man-advantage comes from. The 2nd unit is a completely different story.
| | | | |
| --- | --- | --- | --- |
| 2nd Unit | Goals | Assists | Points |
| Tommy Wingels | 3 | 5 | 8 |
| Matt Nieto | 1 | 3 | 4 |
| Tomas Hertl | 1 | 2 | 3 |
| Marc-Edouard Vlasic | 0 | 2 | 2 |
| Matt Irwin | 1 | 1 | 2 |
Of course we can't expect the 2nd unit to be nearly as dominant as the top one. But consider this. Vlasic and Nieto aren't even in the top ten for ice time on the power play, Jason Demers (who isn't with San Jose anymore) and Matt Tennyson have more power play time per game but less points. Nieto and Pickles are on that chart because they have the most points.
But here comes the kicker, in terms of points per 60 on the power play, Tommy Wingels and his obviously inferior group ranks second on the Sharks. He is also second in goals per 60 despite a bland Vlasic moving the puck behind him and underachieving Matt Nieto and Tomas Hertl next to him. Want more? Well, his power play time starts in his defensive zone 17% of the time (compared to Pavelski's 3.5%).
Penalty Kill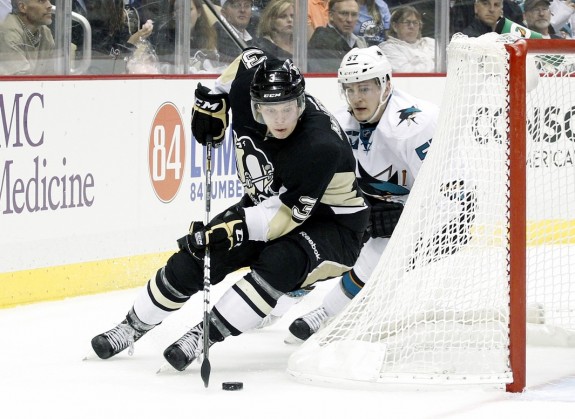 Not only is he critical to the power play, but Tommy Wingels is trusted by TMac to kill of his own side's infractions. He plays about 1:19 per game shorthanded (3rd most for forwards). Wingels and his fearless forecheck has become a very tough match-up. He is the leader in SF% (28.4%), GF% (27.3%), and CF% (22.3%) while down a man.
Endless Possibilities
With a player like Wingels, it's not a matter of talent. His work ethic is what makes him dangerous. He fights for every inch of ice he gets and makes opponents work to gain any ground themselves. He isn't as limited by physical attributes as other players can be. He emulates Joe Pavelski and former Shark, Ryane Clowe. They are two players that play all three zones at full speed. The shooting of Pavelski and the havoc created by Clowe have combined to create number 57. And he's the best of both worlds so far.