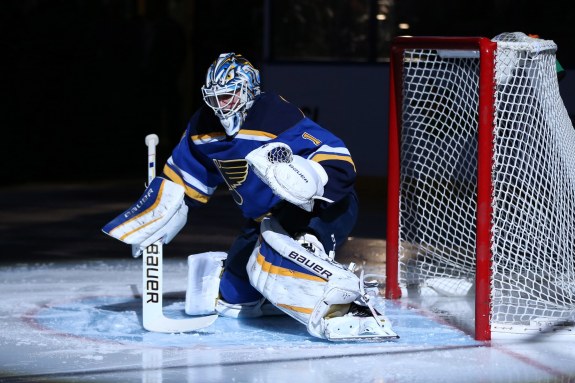 The St. Louis Blues have employed many greats in net over the years. The list includes Glenn Hall, Mike Liut, Curtis Joseph, Grant Fuhr and … Brian Elliott?
It's true, whether you want to admit it or not.
Elliott's success is a much debated topic among Blues fans. Although his numbers since joining the St. Louis community in July 2011 are staggering (1.87 GAA, .927 save percentage and 19 shutouts), a large majority of diehards refuse to believe that his name belongs amidst this Hall of Fame-worthy list of names.
Elliott continued to solidify his name in Blues lore on Saturday, when he shut down the Toronto Maple Leafs in a 3-0 victory. Elliott made 27 saves, including 14 stops in the first period, to record his 28th career shutout.
He admitted that he had to be strong early on, but relied on his team to improve and give him a chance at the shutout in the latter stages.
"You just want to be that rock and let the guys settle in," he said. "When you got a guy like Tarasenko going to the All-Star Game in about a week and he's blocking a shot in the third period with a couple minutes left, that shows what the commitment to the team is. I was proud of everybody but that really showed it in the third period."
Elliott, who suffered an injury in November that sidelined him for 14 games, returned to the lineup on Dec. 30 and has posted a 4-1-1 record since. Blues head coach Ken Hitchcock praised Elliott for his third shutout of the season.
"I thought he had a lot of work to do," said Hitchcock. "This was the best he's played since coming back from the injury, for sure. He had work today. We gave up odd-man rushes; we don't normally do that. But we gave up some. They were interesting odd-man rushes. That was the first time in a long time that we played a team that was able to create turnovers in their own zone that led to odd-man rushes. He had some saves he had to make today."
The Ontario native is now just one shutout shy of Jaroslav Halak's team record (20). He already owns the franchise record for lowest GAA (1.87) and save percentage (.927). Those numbers accumulate over time, meaning that his totals could drop. It would almost take a complete meltdown on Elliott's part to lose those franchise marks, though, as the second spot in GAA is 2.10 (Roman Turek) and second in save percentage is .916 (Halak).
It's true that Elliott has played with luxuries that others did not. Joseph faced 2,382 shots during the 1993-94 season – an NHL record at the time. Grant Fuhr faced 6,278 shots in four seasons for an average of about 1,570 shots against per season. The most action Elliott has seen in a season was when he faced 972 shots in 38 games throughout the 2011-12 season, or an average of 25.6 shots per game.
However, Elliott has appeared in more games than most realize. He's currently 15th (114) in games played on the Blues' all-time list. In addition, he has accumulated the eighth most wins (67) and ranks 11th (2,518) in saves.
Part of the reason that Elliott ranks so high is because, historically, the Blues have struggled to find a franchise netminder. The organization, which formed to open the 1967-68 season, has just one goalie to play over 300 games (Liut) in blue and yellow.
This is while other teams that came in the NHL around the same time have seen much less of a turnover in net. The Dallas Stars, who came in the League as the Minnesota North Stars during the same season as St. Louis, have six netminders while the Vancouver Canucks, formed three seasons after the Blues, have seen three goalies with over 300 games played. Needless to say, the goaltending position in St. Louis has been held by a lot of different faces without one truly grabbing the reins and manning the crease for an extended period of time.
Maybe it is out of necessity. Maybe it is simply because he's a cheap option until rookie Jake Allen is ready to take over. What's more likely is that the Blues management and coaching staff are comfortable with Elliott, who has outlasted goaltenders Halak, Ryan Miller and, now, Martin Brodeur.
Elliott, 29, has been the backup (or 1B starter) since he first joined the Blues, but was awarded the starting position this summer when he signed a three-year, $7.50 million extension. Hitchcock said at the beginning of the year that he is a "big believer" of what his goaltender can do this season.
"This is the first time Brian gets to carry the ball for a little while," he told NHL.com, "and I think you're going to see Brian play better because he knows he's going to be really counted on now."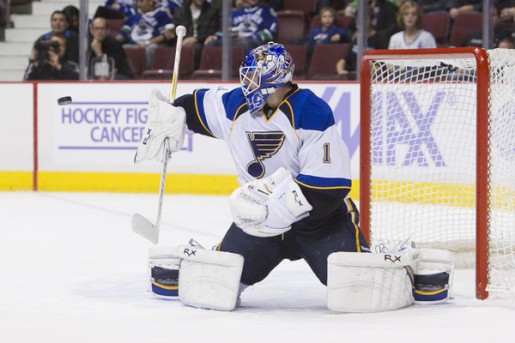 He has responded with an NHL-best 1.90 GAA and a fourth-best .929 save percentage through his first 21 games. He is just eight wins from Rick Wamsley (75) for seventh on the Blues' all-time list and he's four starts away from tying Eddie Johnston (118) for 14th.
"It's nice to have those milestones," said Elliott. "During the season, all that (we think about) is the playoffs and who gets further. You can look at personal stats all night if you want, but it's not really going to change what the team is going to do."
Love it or hate it, Elliott is here to stay and, slowly but surely, he's claiming the franchise records as his own.