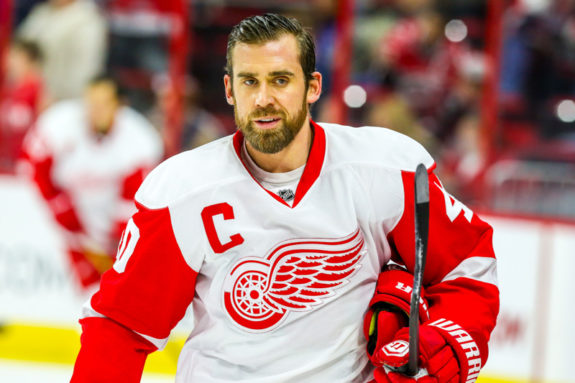 It was 3-0.
Then the Detroit Red Wings woke up. And just like the Seattle Seahawks, they never gave up.
The Buffalo Sabres thoroughly dominated the Red Wings in the first period, and Petr Mrazek was yanked after allowing three goals on seven shots. In Mrazek's defense, his defense did him no justice, and coach Mike Babcock was forced to use Tom McCollum 13 minutes into the game.
McCollum's only other NHL game was on March 30, 2011, in relief of Joey MacDonald. McCollum allowed three goals on eight shots in 15 minutes in a 10-3 loss to the St. Louis Blues.
However, with McCollum in net on Sunday, the Red Wings clamped down defensively and only allowed the 25-year-old to see eight shots the rest of the way, making seven saves and picking up his first NHL win, 6-4.
Captain Zetterberg Leads By Example
During the first intermission, Red Wings captain Henrik Zetterberg didn't need to yell, according to MLive.com's Ansar Khan. He did raise his voice a little, but his team knew they just played one of the worst periods of hockey they have played all season.
Zetterberg admitted the younger Sabres team took it to the Red Wings in the first period.
"They were hungrier and won all the battles. We knew that if we could get one, we were going to get a few more. Also, if we started playing the way we should play, we would have a good chance of winning the game."
However, not only did Zetterberg give a pep talk in the locker room, he led by example on the ice, scoring three goals in the third period and adding an assist on the Red Wings' first goal in the second period. It was his first hat trick since Feb. 1, 2013. The Swede now has eight points in eight games this month after registering just three points in the first six games.
How many other NHL team could continue to climb in the standings while using their 3rd and 4th string goalies? I think 29 teams are jealous.

— Michelle (@Slapshotg0al) January 19, 2015
Gustav Nyquist, the Red Wings' first goal scorer, said the team followed Zetterberg's lead after the dreadful first period.
"He's the one that raises his voice here in the intermission, tells us we're not good enough and he comes out and scores three. Obviously, led the way for us and that's what he does. We're lucky to have him."
Here are the three Zetterberg goals that gave Detroit the lead for good:
Zetterberg, no doubt, felt partially responsible for the way his team played in the first period, and he put it on himself to help his team get two points. He called out his teammates when he needed to, but there was no finger pointing. He took just as much responsibility.
Repeating History
The Red Wings needed to score in bunches the last time they played the Buffalo Sabres. On Dec. 23, they scored five unanswered goals to secure a 6-3 win, just as they did on Sunday to secure a 6-4 win.
It's all just a little bit of history repeating… #RedWings pic.twitter.com/yJ5OOuJPLR — Jason Gold (@JayGold85) January 19, 2015
Despite allowing the first goal in quite a few games this season, the Red Wings have a pretty solid record when facing a 1-0 deficit. They are 13-7-3, and only the New York Islanders have more wins (14) when trailing first.
Obviously, playing catch-up hockey is not something the team wants to make a habit out of, but it's reassuring to know the team has the will and tenacity to fight back no matter the deficit.
Never giving up has been a trait with Red Wings teams in the past, but with the younger players having another year of experience under their belt, it's an exciting team to watch knowing they are never out of a game.
Subscribe to our Red Wings stories to get email updates every time a new story is published.
Tom Mitsos is a Detroit Red Wings and Grand Rapids Griffins staff writer for The Hockey Writers. You can follow him on Twitter @tom_mitsos.