There have been many great NHL players from hockey hotbeds such as Canada, the United States, or Russia. Players like Sidney Crosby, Alex Ovechkin, and Patrick Kane are superstars in the NHL, and have become the face of hockey for their respective countries. Despite the NHL still being dominated by players from North America, non-traditional hockey countries have started producing hockey talent, as was evident when multiple countries made their Olympic hockey debut in the 2014 Sochi Olympics. Outside of the top 8 hockey nations in the world, here are the top 10 current NHL players from non-traditional hockey countries.
10. Dainius Zubrus, New Jersey Devils (Lithuania)
The NHL's lone Lithuanian native, Dainius Zubrus has carved a nice career out since being taken by Philadelphia with the 15th pick in 1996. A consistent performer for the Flyers, Montreal Canadiens, Washington Capitals, and New Jersey Devils, Zubrus has tallied 584 career points in 1243 games over the past 18 seasons. While he is on the back nine of his career and scored just 4 goals and 10 points last year, Zubrus could serve as a valuable veteran presence for the Devils' younger players next year and a physical contributor on the fourth line.
9. Antoine Roussel, Dallas Stars (France)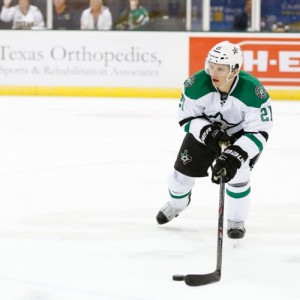 The only player from France on this list, Antoine Roussel has made a name for himself with his brash physical play and has become one of the poster boys for the new NHL "enforcer". Roussel can definitely make his presence felt with his 210 pound frame, racking up 357 penalty minutes over the past two years. He can also chip in on the offensive end, however, as he tallied 13 goals and 25 points in addition to his 148 penalty minutes. He has proven to be a solid bottom six player for the up-and-coming Dallas Stars, and at only 25 years of age, he should continue to be a hard-hitting, goal scoring winger for years to come.
8. Zemgus Girgensons, Buffalo Sabres (Latvia)
One of many young centres stockpiled by the Buffalo Sabres in their recent history of futility, Zemgus Girgensons looks to be a solid player for the Sabres moving forward. Hailing from Latvia, Girgensons is a young (21 years old) two-way player who tallied an impressive 15 goals and 30 points in just 61 games for a lowly Buffalo squad. With Jack Eichel and Sam Reinhart looking to be the Sabres' top two centres moving forward, expect the big-bodied Girgensons to settle in as one of the NHL's better third line centres as he matures and improves his offensive game.
7. Christian Ehrhoff, Free Agent (Germany)
The only player on this list that's currently unemployed, Christian Ehrhoff still has a lot to offer an NHL team. The German defenseman is an 11-year NHL veteran who is a proven source of offense from the blue line while providing rock-solid defense, a rarity amongst today's defenders. While he has battled injuries in the past few seasons, Ehrhoff is still in good playing shape at 33 years old and could offer a cheap two-way blueliner for a contending team, or a solid veteran presence for a rebuilding one.
6. Mikkel Boedker, Arizona Coyotes (Denmark)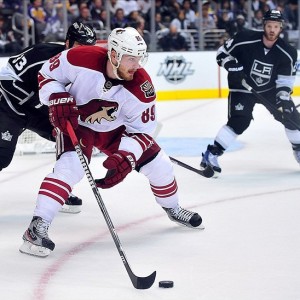 Probably one of the most under-the-radar top-10 picks in recent memory, Mikkel Boedker was the 8th overall selection in 2008 by the Coyotes. A brilliant skater, Boedker has managed to improve every season since a rough start to his professional career and is now one of the top scoring options for Arizona. While missed time last season due to injury, he set a personal best in points per game with 28 in just 45 games played. Look for Boedker to play an integral role among rising offensive stars Max Domi and Anthony Duclair for the rebuilding Coyotes.
5. Frans Nielsen, New York Islanders (Denmark)
One of the longest-tenured New York Islanders, Danish forward Frans Nielsen has long been a consistent producer on Long Island. Playing second fiddle to star John Tavares since 2009, Nielsen has tallied between 44 and 58 points in every full season since 2010. He was voted the NHL's most underrated player by Sports Illustrated in 2012 and has proven to be a reliable option for the Islanders. In addition to his value as a two-way player, Nielsen is also one of the best shootout specialists in the NHL, scoring at a 52% rate for his career. Expect Nielsen to continue to play a vital role on the constantly improving Islanders.
4. Mikhail Grabovski, New York Islanders (Belarus)
Mikhail Grabovski broke into the league with the Montreal Canadiens, but made his mark with the rival Toronto Maple Leafs. Grabovski had three 20 goal seasons in the blue and white before being unceremoniously bought out in 2013. He then moved on to the Washington Capitals and New York Islanders, where he has continued to be a solid secondary scorer for the top-heavy teams led by Alex Ovechkin and John Tavares. A speedy scorer who's not afraid of the dirty areas of the ice, Grabovski should continue to be a solid two-way centre behind star John Tavares for years to come.
3. Mats Zuccarello, New York Rangers (Norway)
The NHL's lone native of Norway, Mats Zuccarello has proven to be a solid offensive forward for the President's trophy-winning New York Rangers. He has finished in the top-5 in scoring for New York the past two seasons, leading them in points in 2013-2014. He has posted 108 points over the past two seasons, and the Rangers have locked him up long term to be a part of their core. Despite suffering a scary injury in the playoffs that knocked him out in the first round, expect Zuccarello to bounce back and be a big part of the Rangers' attack next season.
2. Thomas Vanek, Minnesota Wild (Austria)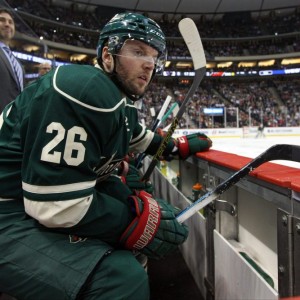 The only player on this list who was a top five pick in the NHL Entry Draft, Thomas Vanek entered the league with a bang as he exploded for 43 goals in just his second year in the NHL. He has failed to build on his impressive breakout campaign, but Vanek has settled in as a solid top-6 option for the Minnesota Wild. While 43 goals remains the benchmark for his career, Vanek has reached 25 goals in eight out of his nine full years in the league, and he looks to remain an integral part of the Wild's attack for the foreseeable future.
1. Anze Kopitar, Los Angeles Kings (Slovenia)
Unquestionably the best player on this list, Kopitar is one of the best two-way centres in the NHL right now. He has been a consistent offensive force for the Kings since debuting in 2006, never posting below 61 points in a full season. He also has finished as a finalist for the Selke trophy for the past two seasons, demonstrating his defensive ability. Despite falling short of leading the Kings to yet another playoff berth this past year, Kopitar is an elite centre that the Kings' offense revolves around. Entering the final year of his contract and coming off a disappointing end to the Kings' season, Kopitar should have the proper motivation to have the best season of his career.