In the newfound age of online hockey fanaticism, the annual NHL entry draft has become an event of much anticipation.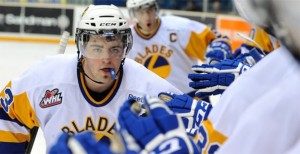 The months leading up to draft day consist of endless pages of speculation and discussion, from both media and fans, about draft eligible players: teams they played on, points they put up, their skill sets, their strengths and weaknesses, and whether or not they'd be good fits for specific teams.
However, despite all the buzz, drafts in this internet-crazy age still prove capable of surprising people. Most drafts feature teams picking players well before and after many expect them to be taken.
Mark Scheifele was projected as a late first round selection to an early second round selection in 2011, so it was a shock around the hockey world when he was selected 7th overall by the Winnipeg Jets, ahead of more highly-touted prospects Sean Couturier and Dougie Hamilton.
Dylan McIlrath 10th overall to the Rangers in 2010, and Scott Glennie at 8th overall to Dallas in 2009, were the biggest opening round surprises of the two drafts before that.
With the 2012 draft just around the corner, here's a quick look at five players that could see their stocks rise on June 22.
I've also included the prospect rankings as per www.nhlnumbers.com's aggregate ranking system. The rankings, as well as the site's rational for compiling the lists from various respectable sources, can be found here.
1) D Dalton Thrower – 36th overall
Despite average size,  the fiesty defender of the Saskatoon Blades made a reputation as a physical force to be reckoned with and a dangerous offensive weapon.
He posted some of the best numbers out of all eligible defencemen, with 18 goals and 54 points in 66 games, so he seems to be flying under the radar at 36th. He doesn't have the same flash as consensus high pick and fan favourite Mathew Dumba, but plays a very similar style, and scored only two goals less. The draft is deep in talented defenders, but don't be surprised to see him go as high as the middle of the first round.
2) G Andrei Vasilevski – 25th overall
Although teams in recent years have shown a reluctance for taking both goaltenders and players coming out of Russia in the first round, Vasilevski is a scintillating prospect, and one that will be very hard to pass up on.
He was dominant at this year's World Junior Championships as a 17 year-old, posting a 2.01 G.A.A. and .953 save percentage in one of the best goaltending debuts in that tournament in ages. Advanced for his age in athleticism and technical abilities, Vasilevski has all the tools to become an elite netminder at the NHL level if he's developed properly and persuaded away from the KHL. Certainly a risky pick, but would be well worth the risk for a team in the middle to late first round that's looking for a potential franchise goalie.
3) LW Tim Bozon – 52nd overall
Possessing great skills and smarts at both ends of the ice, Bozon posted 71 points in 71 games, along with a +27 plus minus rating, for the Kamloops Blazers. The most interesting part is that it was his first season in North America, against much tougher competition than he was used to playing against in Switzerland. Could really assert himself next season once he fully adjusts to hockey on this side of the Atlantic.
This year's draft forward crop is thin on elite talent and was hampered by injuries, so Bozon's consistent play last season could easily attract the attention of teams in the late first and early second rounds that are looking for scoring help on the wings.
4) D Nick Ebert – 65th overall
At this time last year, Windsor Spitfire Nick Ebert was considered by many hockey pundits as a potential Top 10 player in this year's draft.
Things didn't go according to plan for Ebert and his supporters, as he was unable the handle the pressure of filling the void left by his former teammate, OHL superstar Ryan Ellis. Ebert's 39 points and -2 in 66 games were worse than expected, but he still possesses a lot of raw, versatile talent that can still be refined by teams into a career as a reliable second pair defenceman. Don't be surprised to see draft suitors come calling in the early second round.
5) C Lukas Sutter – 72 overall
Some picks are made based off of estimated potential, while others are made based off of knowing exactly what you'll get. Lukas Sutter of the Saskatoon Blades falls into the latter category.
Another apple from the renowned Sutter family tree, Lukas plays the familiar gritty, determined two-way game that made his last name a hockey legacy. He posted 59 points in 70 games last season, along with a +15 and 165 penalty minutes. His physical game is top notch, but he also spent much of last season leading the way offensively while simultaneously shutting down opposing top lines. Doesn't have the same size as cousin Brandon, but posted better WHL numbers between the two as a 17 year old. While Lukas won't get drafted as high as Brandon (11th overall in 2007), he will certainly be a second round pick, and could even squeak into the first round.