I had a look at the top European leagues to identify which the five most intriguing drafted prospects are. I have listed the top five prospects of the SHL (Swedish Hockey League), Finnish Liiga and the KHL plus the top five in the remaining leagues:
Sweden:
Andreas Johnsson (LW, Frolunda, Sweden)
The Toronto Maple Leafs have signed their seventh round pick from 2013, Andreas Johnsson, this summer.
He is currently in his third full season with the Frolunda Indians of the Swedish Hockey League and is on pace to play his most productive season with 18 points in the first 21 games.
Andreas Johnson confirms he'll go back to Frolunda for one more year before coming to Toronto. #TMLtalk

— Paul Hendrick (@HennyTweets) July 7, 2015
The Maple Leafs hope that they found a hidden gem in Johnsson. The way he plays right now at the age of only 21, it is hard to believe he was still available in the seventh round. He plans to remain in Sweden this year and move to North America for the coming season, but it seems a valid possibility that he will join the Toronto Marlies for a couple of games once the season in Sweden is over.
Translated interview with Johnsson
Axel Holmstrom (C, Skelleftea, Sweden)
The Detroit Red Wings are famous for finding intriguing prospects in later rounds, of course Pavel Datsyuk and Henrik Zetterberg being the most famous examples. The Red Wings hope that their drafting history is going to be repeated with Axel Holmstrom, who was selected in the seventh round in 2014.
Holmstrom had his coming out party last year when he played his first full season with Skelleftea in the SHL and scored 20 points, adding 18 playoff points on top of that which helped him to win the rookie of the year award. Holmstrom is no physical player at all and this is clearly an area where he needs to improve to get prepared for the NHL. However, his offensive instincts and puckhandling skills are good enough to indicate he can have some scoring ability at NHL-level.
The plan is that Holmstrom will skate on North American ice with the Grand Rapid Griffins once his season in Sweden is over. "I want to come over to Grand Rapids and just try to feel at home and feel like I know everybody and how it works," said Holmstrom
Gustav Forsling (D, Linkoping HC, Sweden)
Swedish defenceman Gustav Forsling was orginially picked by the Vancouver Canucks in the fifth round in 2014 but was traded to the Chicago Blackhawks beginning of this year. He is in his second season with Linkoping and is one of the more productive defenders on this team.
He isn't overly big in size listed at 6'0, but isn't afraid to take on battles against bigger opponents. He has his strength in the creative side of the game, likes to carry the puck and is a decent skater in terms of mobility and speed. He will most probably play for Sweden in the U20 World Junior Championship this year and could play big minutes for his team.
Joel Eriksson Ek (C, Farjestads BK, Sweden)
Gritty center Joel Eriksson Ek is in his sophomore year with Farjestads BK, where he can hopefully soon play a bigger role than just being a fourth liner.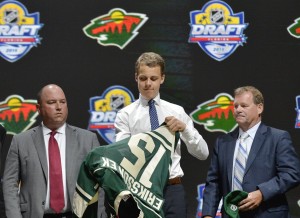 He will need some more time in the SHL before he jumps across the pond. Key for his success in North America is that he continues to play his gritty style of hockey – If he continues to be willing to make his nose dirty, he will most probably find his way into the NHL.
Detailed scouting report: Joel Eriksson Ek
Lukas Vejdemo (C, Djurgardens, Sweden)
Habs prospect Lukas Vejdemo is playing his first full season in the SHL with Djurgardens IF this season. Vejdemo is a big kid who likes to use his size and long reach to make plays and protect the puck. He plays a strong two-way game and draws some comparison to fellow Swede and Habs prospect Jacob De la Rose.
Vejdemo didn't make it quite in our top 10 habs prospect list but is listed as an honorable mention.
Honorable Mentions:
Gabriel Carlsson (D, Linkoping HC, Sweden)
Jacob Larsson (D, Frolunda, Sweden)
Kevin Stenlund (C, HV71, Sweden)
Jens Looke (LW/RW, Brynas IF, Sweden)
Artturi Lehkonen (LW/C, Frolunda, Sweden)
Oskar Lindblom (LW/RW, Brynas IF, Sweden)
Russia:
Pavel Buchnevich (C, Severstal Cherepovets, Russia)
Talent-wise, Pavel Buchnevich is probably the number one prospect in the Rangers prospect pool, but there remains an uncertainty if he will ever give it a try in New York. He scored 30 points in the KHL last season and is on a good pace to reach this mark in the current season. According to Rangers director of player personnel Gordie Clark, Buchnevich would have been ready to compete for a top-six forward sport this season.
With 2 goals yesterday, Pavel Buchnevich is now tied for 15th in #KHL in scoring with 26 pts, and is tied for14th in goals with 12. #NYR

— John Rosasco (@JRNYR) November 27, 2015
Howver, Clark said Buchnevich decided to stay in the KHL because he didn't feel he was ready to come to North America, but plans to do so for the next season.
Kirill Kaprizov (LW, Metallurg Novokuznetsk, Russia)
I was quite surprised that the Minnesota Wild were able to select Kirill Kaprizov that late (5th round, 135th overall) as he played in over 30 KHL games prior to the draft. This season is definitely his coming out party – He is among the top three scorers on his team Metallurg Novokuznetsk.
One of the reasons for his late draft selection might be his lack of size and strength, so therefore one should consider him a long shot. Nevertheless, he has smooth hands, good skating and a nose for the net. He proves it this season in the KHL and has the potential to be play on a scoring line in the NHL.
Denis Guryanov (RW/LW, Lada Togliatti, Russia)
Denis Guryanov was one of the most dominant player at the U18 World Championship in April this year. He is a dangerous goal scorer and possesses an absolute canon of a shot. Dallas' first round selection in this year's draft has played in 26 KHL games this season. He is definitely an intriguing prospect to watch and should find his way into the NHL sooner or later. He is planning to join the Stars organization after fulfilling the contract with his current club Lada Togliatti. 
You can find a more detailed scouting report by clicking here!
Alexander Dergachev (C/RW, SKA St. Petersburg, Russia)
Alexander Dergachev was selected 74th overall by the Los Angeles Kings in this year's draft. The towering Russian forward played his first KHL game this season, but is currently sidelined with an undisclosed injury and should be back just before Christmas.
Shawinigan takes Kings' draftee Alexander Dergachev. CHL lists him as a RW but he's definitely better as a center.

— The Draft Analyst (@TheDraftAnalyst) June 30, 2015
He plays a gritty style of game but brings a good level of skill and hockey smarts to the table. He was drafted in the first round by Shawinigan Cataractes in the CHL Import Draft this year.
Ilya Samsonov (G, Metallurg Magnitogorsk, Russia)
Probably one of the best Russian goaltender prospects currently in the market. Big Ilya Samsonov had outstanding performances at the U18 Worlds this year and was honoured the best goaltender of the tournament. He played in 11 KHL games for Metallurg Magnitogorsk with great numbers – a save percentage of over 92% and 1.87 GAA. The Washington Capitals have a solid successor for Braden Holtby in the system now. Samsonov has the potential to become the next starter in Washington.
Honorable Mentions:
Ilya Sorokin (G, CSKA Moscow, Russia)
Vladislav Gavrikov (D, Lokomotiv Yaroslavl, Russia)
Ziyat Paigin (D, HC Sochi, Russia)
Finland:
Sebastian Aho (LW, Karpat, Finland)
Finnish Sebastian Aho played a great season with Karpat of the Finnish Liiga so far, but is currently out indefinitely with an upper body injury. He has scored 16 points in 20 games and is currently the team's second best scorer. The Carolina Hurricanes might have gotten a great deal by picking Aho in the second round of this year's draft. Aho is a player with a high compete level who gives his opponents a hard time to play against. He could make the move to North America next year.
Aleksi Saarela (C/LW, Assat, Finland)
Aleksi Saarela was picked by the New York Rangers 89th overall this year and has already lined up in 90 Liiga games, a very remarkable number if you consider his age of only 18 years. He is playing with a lot of energy and is a smooth and fast skater which he combines with good puckhandling skills.
Roope Hintz (LW/RW, HIFK, Finland)
Roope Hintz could turn out to be a great pick for the Dallas Stars at 49th overall in this year's draft. After a strong season with Ilves scoring 17 points, Hintz is off to a great start with his new team HIFK. Hintz is a very smart hockey player and has good size alongside a good overall awareness of the game. Hintz is a highly competitive player.
#U20FourNations: C Roope Hintz (DAL 2nd/2015) and RW Jesse Puljujarvi (2016) scored in 3rd period goals as FIN rallied past CZE, 3-2

— The Draft Analyst (@TheDraftAnalyst) November 6, 2015
Jonne Tammela (RW/LW, Kalpa, Finland)
Jonne Tammela stayed in Finland to play with his team KalPa and didn't join the Peterborough Petes, which selected him 15th overall in the CHL Import Draft. Tammela is a skilled winger who plays with a good energy level and competes in each shift. He is lacking size at 5'10 and this is probably the reason why he was still available at 118th overall when the Tampa Bay Lightning picked him.
Ville Husso (G, HIFK, Finland)
Ville Husso is one of the most intriguing Finnish goalie prospects right now. He is in his third season as the starting goalie of HIFK and has put up great numbers in each of those three seasons. This year he is off to play the best season so far with a save percentage of over 93% and a GAA of 1.92. Husso plays ahead of his age and could be a great prospect for the St. Louis Blues. He should be ready for the jump to North America next season.
Honored Mentions:
Joni Tuulola (D, HPK, Finland)
Miro Aaltonen (C, Espoo Blues, Finland)
Other European Leagues:
Dominik Kubalik (LW, HC Plzen, Czech Republic)
20-year old Dominik Kubalik was selected 191st overall by the Los Angeles Kings in 2013. He returned back to his native country after three seasons in the OHL with the Sudbury Wolves, respectively the Kitchener Rangers. His point production literally exploded this season as he is on a pace to score a point per game. He has 14 goals in 22 games, which is the the most in the entire Czech Extraliga. He is also the second best scorer overall in this league.
However, Kubalik is considered a long shot and the chances that he makes it to the NHL aren't as high as the ones of other players in this article.   
David Kase (C, Pirati Chomutov, Czech Republic)
David Kase played his first professional games in the highest Czech league this year but was loaned to a team in the second highest league where he played very dominant, collecting 10 points in only seven games. Kase was ranked very high in pre-draft rankings among European skaters, but his lack of size kept him away from being drafted earlier than the fifth round. However, he does make up for his lack of size with his skating speed.
"I think my agility, the quickness with the movement and overall speed and my vision on the ice are advantages I can use even as a smaller player than the others," Kase said.
Jonas Siegenthaler (D, ZSC Lions, Switzerland)
Jonas Siegenthaler is the second round pick of the Washington Capitals from this year's draft and was selected 57th overall. Some pre-draft rankings saw him being picked early in the second round but because Siegenthaler is a pure stay-at-home defender, he was picked at the end of the second round only. He has good size and shows decent skating agility as well as good stickhandling. He stays with the ZSC Lions of the highest Swiss league this season and plans to join the Capitals organization next season.
Siegenthaler already played over 60 games in the highest Swiss league and doesn't look like a boy among men in that league. He needs to work on his first strides which aren't that explosive and has a lot of room for improvement in the offensive side of the game. Nevertheless, Siegenthaler has the potential to become a reliable defenceman in North America.
Elvis Merzlikins (G, HC Lugano, Switzerland)
Latvian Goaltender Elvis Merzlikins took over the starting position this season after he had to split the net in the past two seasons. This season he played already in 22 games, he never played more than this mark so far. Merzlikins shows that he is capable of being a starting goalie and is one of the better goaltender in the Swiss league this season.
NHL: Elvis Merzlikins and Dean Kukan to take part in Columbus Blue Jackets' development camp #CBJ #NHL http://t.co/uoMXkeNC9d

— swisshockeynews.ch (@SwissHockeyNews) June 23, 2015
The Columbus Blue Jackets have picked the Riga, Latvia native in the third round in 2014. Merzlikins would be ready for the next challenge after another year playing professional hockey in Switzerland's top league.
Noah Rod (C, Geneve-Servette, Switzerland)
The San Jose Sharks' second round pick from 2014 currently plays in his third season with Geneve-Servette of the highest Swiss league. At only 19, he already has gained a lot of experience in a professional hockey team and doesn't look like a boys among men anymore. Rod's offensive skills are limited, but he is a hard working forward who tries to be under the skin of opponents. He shows decent work ethic and isn't afraid to get involved in after whistle scrums.
Honorable Mentions:
Lukas Jasek (RW, HC Trinec, Czech Republic)
Denis Malgin (C, ZSC Lions, Switzerland)
Not yet Graduated: (less than 11 games in the highest league of the respective country)
Robin Kovacs (LW/RW, Rogle BK, Sweden)
Felix Sandstrom (G, Brynas IF, Sweden)
Veeti Vainio (D, Espoo Blues, Finland)
Independent Scout covering European Hockey and Prospects for TheHockeyWriters. Located in Switzerland and blogging on www.scouting-factory.blogspot.com. Opinions on blog are my own