1. Darren Helm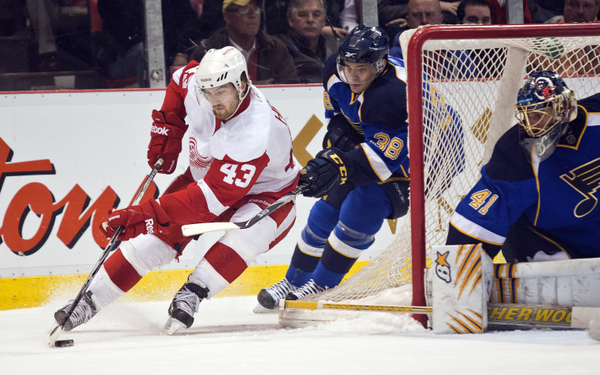 According to Red Wings head coach Mike Babcock, Darren Helm is the best third-line center in the NHL. But that's only if he's healthy. Therein lies the biggest problem for Darren Helm. He can't stay healthy. This has been documented in his very recent history. Of the Red Wings last 164 games, Helm has only played in 49 of them. The worst part is it's not even one injury in particular. It's a variety of ailments that's keeping Helm from being the flashy speedster he was when he first broke into Detroit's lineup.
If nothing else, the Red Wings need Darren Helm to play around 70 games this season. He has only done this 3 times out of his 7-year career. His presence is needed by the Red Wings to keep defenders on their toes, which could lead to more opportunities on the breakaway. Otherwise the Red Wings will continue to be the slow, predictable team that they've been the last 2 years.
2. Johan Franzen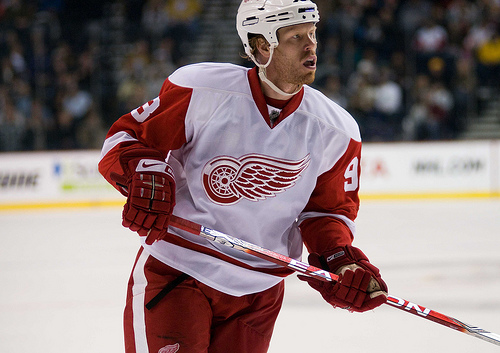 Like Darren Helm, Johan Franzen had trouble staying healthy last season. Unlike Helm, Franzen only had one thing that kept him from the ice. He missed 23 games due to concussion-like symptoms. However, when he came back he was the same streaky goal-scorer that the Red Wings, and fans alike, grew to love. When Franzen is in the zone, he's really in the zone.
With so many games missed, Franzen was only able to score 16 goals. Half of what his usual production is. With a full, healthy season he can easily return to the 30-goal scorer that the Red Wings need him to be.
3. Danny DeKeyser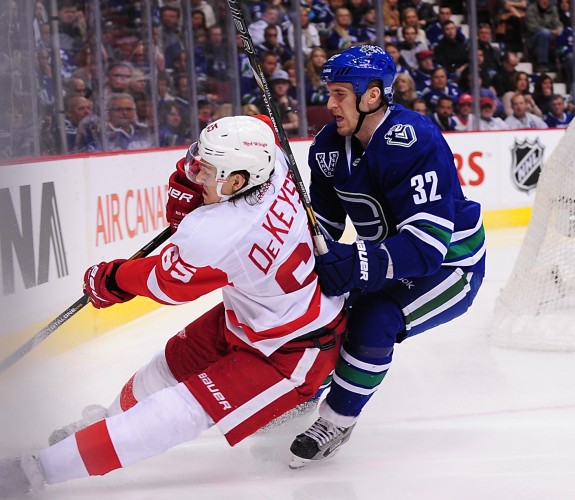 The young defenseman had his share of health problems as well. He missed 15 games with a separated shoulder. Like last year, DeKeyser will enter training camp with huge expectations. With the Red Wings missing out on veteran defensemen, it's crucial for DeKeyser to develop into a top-end defenseman who can score and also man the puck along the blue line.
With a full season to develop, it's easy to see DeKeyser making a huge difference. 23 points just isn't enough for a defenseman to contribute to a hockey team like the Red Wings. He needs to have at least 45 points as the team looks to him to be the new leader on defense for years to come.
4. Pavel Datsyuk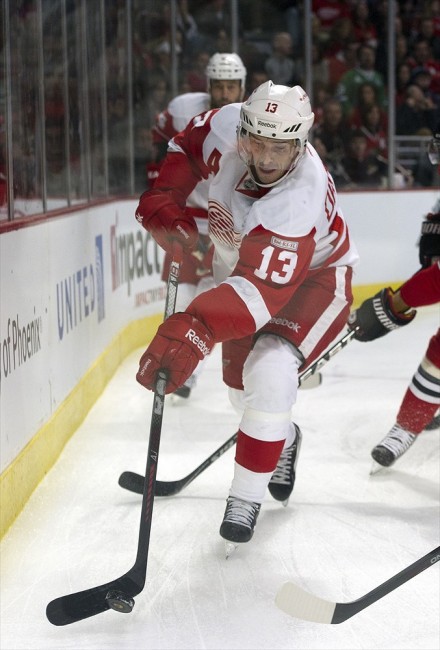 As written earlier by The Hockey Writers, Datsyuk was not immune to the injury bug. Knee problems caused him to miss 37 games. However, he didn't miss a beat when he returned to the lineup. He even led the team in scoring, during the playoffs, with 5 points. As long as he can stay healthy this season, the Red Wings have a much better chance to be a better overall team. He may not be the captain, but he's definitely the pulse of the team. They go as far as he goes.
5. Jimmy Howard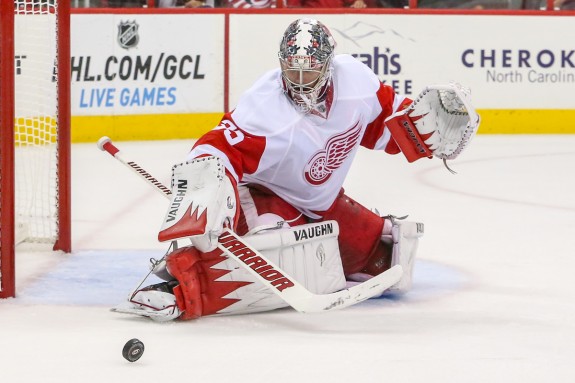 The last line of defense. When all else fails, especially on defense, your team goes as far as your goaltender can take you. That's exactly what happened to the Red Wings last season. Nicklas Lidstrom retired and Brad Stuart went back to the San Jose Sharks, leaving subpar help for Howard in net. He missed the better part of a month due to an MCL sprain, so it's easy to give him an out for his struggles. When healthy, Jimmy Howard is easily capable of winning 35 games and having a .920 save percentage. Despite having mediocre defense in front of him, Howard should have no problem going back to the goaltender we all know he can be.
http://youtu.be/MtN3A0461m4
.