We're two weeks into the 2013-2014 NHL season. There have been plenty of big stories so far, so let's take a look at the most shocking starts this year.
Teams that were expected to do relatively well, such as Boston and San Jose, will be left off the list. Similarly, teams expected to tank, like the Buffalo Sabres, will also not be mentioned.
Alright, let's get started then.
5. Toronto Maple Leafs
Standings: 5-1-0 (1st in Atlantic Division)
Best Player So Far: Jonathan Bernier (4-1-0, .946 SV%, 1.75 GAA)
Why The Surprise?
There was a lot of questions surrounding the Leafs this year – were they a good team? Or were they a bad team that got lucky?
The advanced stats crowd believes this team got super lucky last year – their PDO (a stat that tracks "luck") was off the charts last year, and the Leafs are generally thought of as one of the worst puck possession teams. So why do they keep winning? Advanced stats point to this team regressing heavily by the end of the year, but don't tell that to the Blue and White faithful.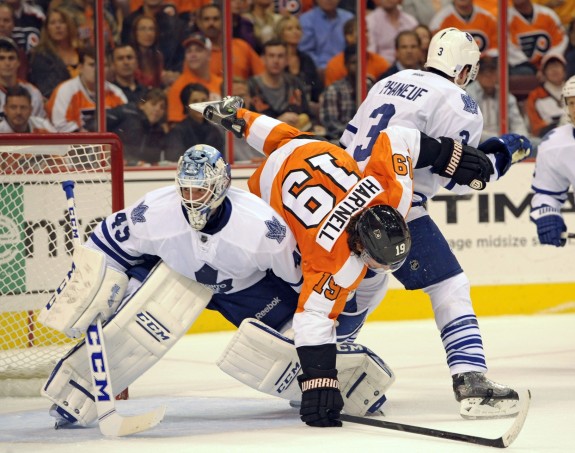 This team made a big splash in the off-season, acquiring gritty winger David Clarkson in free agency and landing center Dave Bolland from the Chicago Blackhawks. The team also decided to give a shot to defenceman Paul Ranger, who had been out of NHL hockey for several years. The biggest move has probably been the acquisition of goaltender Jonathan Bernier from the LA Kings, who has played lights out so far. By all means, on paper, this team is much stronger than the one that barely got into the playoffs last year.
Still, the doubters remain. After all, the Leafs are quite used to starting strong before flaming out at the end of the year. It will definitely be interesting to see what head coach Randy Carlyle can do over a full season.

4. Edmonton Oilers
Standings: 1-3-1 (7th in Pacific Divison aka. last)
Best Player So Far: Taylor Hall (1g, 4a, -5)
Why The Surprise?
Perhaps the slow start was not a surprise to many people, but it was certainly a surprise to me.
There's a lot of good things going for this team – another year of development for the kids, a huge offseason, and a new highly-touted coach.
The Oilers added defencemen Andrew Ference, Anton Belov and Denis Grebeshkov this year to help solidify their blueline. They also replaced the aging Nikolai Khabibulin with the reliable Jason LaBarbera, Mike Smith's former backup. Up front, they added another former Coyote – the underrated Boyd Gordon, who is a fantastic defensive and faceoff pivot. They also made a huge deal for winger David Perron from the St. Louis Blues. They also landed one of the prized coaches this year – Dallas Eakins, who had tremendous success with the Toronto Marlies. Eakins is known especially for his ability to develop young talent, which fits the Oilers perfectly.
So why have things gone so wrong? Well, the blame can be put mostly on starting goalie Devan Dubnyk. After a tremendous season where he posted a career-high .920 SV%, Dubnyk has started this year with a horrendous .829 SV% and 5.43 GAA. Can anybody explain why Dubnyk is struggling so bad?
One explanation could be the new system Dallas Eakins has in place. In several interviews, Eakins has stated his believe in a defensive zone coverage that pressures the puck carrier by overloading instead of passively covering shooting and passing lanes. This system is meant to reduce the opposition's time-on-attack and should help increase odd man rushes on the counter-attack. On paper, it seems fantastic. However, in reality, throwing more men at the puck-carrier in turn opens up passing lanes. This means Dubnyk is facing many more quality scoring chances on a regular basis.
The blame isn't all on adjusting to the new system – Dubnyk truly has been very bad. Still, there's reason to believe this team could still turn it around.
3. Calgary Flames
Standings: 3-0-2 (3rd in Pacific Division)
Best Player So Far: Sean Monahan (4g, 2a, even +/-)
Why The Surprise?
How is this team still undefeated in regulation? As a Calgary native, I feel a slight bias towards my hometown team, but literally no one expected this team to start this way.
After trading the face of the franchise, Jarome Iginla, to the Pittsburgh Penguins last year, the Flames finally accepted that it was a time for a rebuild. They also gave top defenceman Jay Bouwmeester to the Blues, and lost franchise goalie Miikka Kiprusoff to retirement. Blake Comeau was shipped to Columbus, and Alex Tanguay and Cory Sarich were moved for the younger David Jones and Shane O'Brien.
So back to the original question – with so many of its highest-calibre players gone, how is this team still competing?
Mostly on the back of one rookie by the name of Sean Monahan. Calgary had big plans when they drafted this player, and it seems so far that he is indeed something special. His ice-time continues to climb with each game. He started with 11:40 in the season opener, but is now logging 16:31 in his fifth game. His shooting percentage (30.8%) is much too high and unsustainable, but he should continue to perform at a decent pace nonetheless.
Youngster Sven Baertschi also continues to develop, notching one goal and two assists so far this season. He got blasted by new President of Hockey Ops Brian Burke, who commented on his lack of work ethic and one-dimensional game. Baertschi has responded well to the comments so far however, and could make a dynamic duo with Monahan for years to come for the Flames.
2. New York Rangers
Standings: 1-4-0 (6th in Metro Division)
Best Player So Far: I don't even know – this team has been brutal.
Why The Surprise?
I don't even know where to start with this team. No one could have expected that this team would be at the bottom of the NHL standings after 5 games.
Their -16 goal differential is the worst so far in the NHL. All-Star tender Henrik Lundqvist has a pedestrian .887 SV% and 4.21 GAA. The usually reliable Marty Biron has been even worse, so much so that the Rangers waived him today. So how does this team come back?
Well, one of the biggest reasons for these struggles can probably be attributed to a new coach in Alain Vigneault. His up-tempo offensive system is a huge change from John Tortorella's shot-blocking mantra. Vigneault's system will take some time to sink in, and until then, we may continue to see such hiccups.
This team is filled with world-class talent, and should adjust soon enough. The Rangers will get a huge boost once Rick Nash and Carl Hagelin return from injury. They still have one of the best top-3 defencemen in Dan Girardi, Ryan McDonagh and Marc Staal. And Lundqvist is one of the few goaltenders who puts up good numbers consistently year after year.
I would stress that this team needs to turn things around soon though – Lundqvist is in the final year of his contract, and he will definitely not be interested in sticking around for a rebuild.  King Henrik has long been considered one of the best (if not the best) goalies in the League, but has yet to win the ultimate prize – the Stanley Cup. Considering that many expect Lundqvist will sign a maximum-length deal to bring him to the end of his playing career, his next contract will almost certainly be with a team he feels has the best shot at winning a Cup.
If the Rangers are unable to provide that in Lundqvist's eyes, the King's reign on Broadway could be coming to a close.
1. Colorado Avalanche
Standings: 5-0-0 (1st in Central Division)
Best Player So Far: Semyon Varlamov (4-0-0, .970 SV%, 1.00 GAA)
Why The Surprise?
This one is pretty self-explanatory – did anyone think the Avalanche would be able to win half their games this year, let alone all of them so far?
They were the second-worst team in the NHL last year, and arguably would have finished dead last had Florida not been decimated with injuries. The Avs won the right to draft Nathan MacKinnon, but that alone is not enough to explain why they are playing so well so far.
The obvious focus is on new coach Patrick Roy, arguably the greatest player in Avs history. Roy brings back an excitement and fire for Avs hockey that hasn't been around since the glory years, when Roy and Joe Sakic last won the cup. Clearly, they are intent on getting there again.
Hidden behind all the Roy worship is the addition of legendary goaltending coach Francois Allaire, who along with Roy, has transformed the play of starter Semyon Varlamov. Varly is currently the hottest goaltender in hockey, after struggling for two straight seasons in Denver. Many were harsh critics of the original Varlamov deal, but it seems that may soon change. The Russian netminder is playing the best hockey of his life, and could easily be the starter for Russia at the 2014 Sochi Olympics.
MacKinnon has also adjusted well to the NHL, and his line along with P.A. Parenteau and Jamie McGinn are scoring in bundles. This "third" line has arguably been the best line for the Avs, and if center Paul Stastny continues to struggle, there will be some major line-shifting for the Avs.
Strong starts don't dictate everything in an 82-game season, but if Varlamov can finally find the consistency that has eluded him thus far in Denver, Roy and the Avs could be making a return to the playoffs sooner than everyone thought.
Alex is a Lead Writer for the Toronto Maple Leafs. Since joining the Hockey Writers, he has also briefly covered the Carolina Hurricanes. He also currently works as an assistant for the Western Mustangs at the University of Western Ontario. Follow him on Twitter @alexmai11.