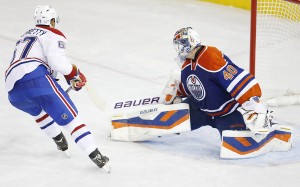 Prior to this season, Devan Dubnyk's stats have been on a steady uphill climb. In his rookie season he had a GAA of 3.57 and SV% of .889. The next season was 2.71 and .916. His third year: 2.67 and .914. And last season: 2.57 and .920.
He performed very well for team Canada in last year's Spengler Cup, and looked poised to continue his ascent to being a legitimate number one goalie. The Oilers clearly believed in him, only acquiring back-up goalies Richard Bachman and Jason LaBarbera in the offseason. So far, it's been about as ugly as it can get.
LaBarbera Was Not the Right Back-up for this Team
Jason LaBarbera has been a serviceable back-up throughout his NHL career. But he isn't the kind of guy who should be sharing the net with another goalie. The most games he's ever played for an NHL team was 45 for the Kings back in 2007-08. Los Angeles missed the playoffs that season and his goals against average was 3.00. Since then, he's never hit more than 19 games. LaBarbera is the kind of goalie who is best suited to play behind a 60-plus game starter. He's good at coming off the bench in relief and providing spot starts. Why the Oilers felt he was the right guy is a head scratch-er.
This is no knock on LaBarbera, but he's being asked to do too much early in the season. He can't be the goalie to challenge Dubnyk for the starters role, at least not anymore. So far LaBarbera has played in three games. He has a 3.27 goals against average and a .860 save percentage. He has allowed much fewer goals than Dubnyk and does have the teams only win, but he is far from a permanent solution. The Oilers believed Dubnyk would take the reigns. They provided him with a veteran backup to help him out, not to steal his job.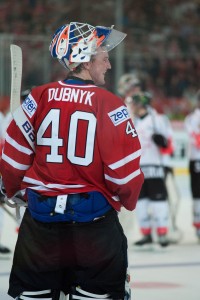 Is the Defense to Blame?
Dubnyk has allowed 19 goals in four appearances so far. His goals against average is 5.43. Now questions are being asked if Dubnyk has regressed in his development. Those in his corner will site the fact that's it's still early and the defense in front of him is horrible. Granted, those facts are both true, but how much longer can the defense be used as an excuse? Teams need their goalies to make those big saves in a game, and Dubnyk simply hasn't been able to provide that.
The team's defensive structure has been terrible, no one is questioning that. But why are LaBarbera's stats better in front of that same defense? Dubnyk was drafted in the first round 2004. After nearly 10 years is it time to label him a bust? His supporters will say no, give him a great defense and you'll see what he can do, like with Team Canada for example. That's true, but he's been worse this season so far than the past four, with essentially the same bad defense. What's changed? And can he turn it around before the season is lost?
Change Might be Coming
The Oilers brass aren't pleased with the state of the team. They probably wouldn't fire the coach, especially since they recently fired Ralph Krueger after half a season. It can't be said enough, that this team needs to learn its defensive responsibilities and fast. But besides that, the entire defensive personnel can't be changed overnight. A new goalie on the other hand, is much more feasible. Would it be seen as a knee-jerk reaction if the Oilers make a big trade for someone like Ryan Miller for example?
Perhaps it would make more sense to bring in a guy like Ilya Bryzgalov, who is currently toiling in the ECHL. Dubnyk will get another chance. He could shutdown the Penguins tonight and perhaps we'll be having a different conversation in the morning. But here's the problem: we've been having such conversations for a while. A great start here and there isn't good enough. Dubnyk's time may be coming to a close if he can't consistently show that he's capable to backstop this team to victory. It may not be all his fault, but he's the one that likely have to pay the price.