Except for just a few seasons in the mid 2000's, the Boston Bruins have been a highly successful hockey team since the start of the 21st century:  one Stanley Cup victory, two trips to the finals, and several playoff appearances, all lead by a number of top notch players. Here are the players I believe have been most important to the franchise and its success over the past 15 years: the top five Bruins of the century.
Honorable Mentions
Joe Thornton
Jumbo Joe lead the Bruins to success in the early 2000s. Thornton will always be labeled as a loser, but he'll most likely be in the Hall of Fame as he continues to rack up points in San Jose. He is the last Bruin to top 100 points, and in the year he went to San Jose, he ended up with a whopping 125 points and took home the Hart Trophy. Nobody has reached that point total since. While the Bruins didn't acquire a ton in return for him, the team was able to establish a new look that has obviously worked out just fine for them.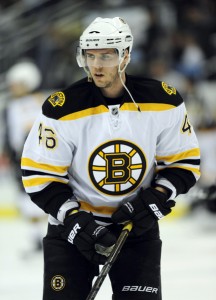 David Krejci
A lifelong Bruin, Krejci is playing in his ninth season in Boston after being drafted in the second round of the 2004 draft. The offensively gifted Czech has learned the two-way Bruins style of play under Claude Julien, helping him to two plus/minus titles. He has also proven to be a key playoff performer, leading the team in points during both Stanley Cup runs. The Bruins will surely be in trouble if Krejci's current injury becomes a long-term problem, as we've seen how important he is to the offense and his linemates.
Others Considered: Glen Murray, Milan Lucic
5. Marc Savard
Best Season: 2006-07  22 G  74 A  96 P
Honors: 2008, 2009 All-Star
Analysis: Savard's story is a sad one, and while he is technically still a part of the Bruins, I am quite confident in saying he has played his final NHL game. Savard managed 305 points in 304 games in Boston and has been the most potent point scorer under Claude Julien's defensive-minded system. He also racked up 22 points in 25 playoff games, and even though he wasn't able to play during the Bruins' championship run, the team awarded him by engraving his name on Lord Stanley's Cup.
4. Tuukka Rask
Best Season: 2013-14- 2.04 GAA .930 SV% 7 SO  36 Wins
Honors: 2014 Vezina Trophy; 2013-14 NHL 1st Team All-Star
Analysis: Rask has proven to be an excellent successor to Tim Thomas, and is coming off his first Vezina Trophy in 2013-14. While he hasn't had a Vezina-like start to this season, there's no doubt that he is in the top handful of goalies in the NHL. Statistically, Rask's best season was during Thomas's down year in 2009-10, finishing with a 1.97 GAA and .931 SV%; however he didn't face the same workload as he did last season. His run during the 2012-13 Stanley Cup Playoffs was right on par with Thomas's record setting performance when the Bruins won the cup, however Rask was unable to raise the cup as a starter. Hopefully, he has another chance sooner rather than later.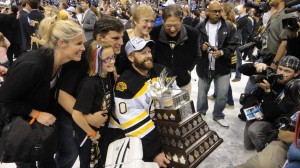 3. Tim Thomas
Best Season: 2010-11 2.00 GAA .938 SV% 9 SO
Honors: 2008, 2009, 2011, 2012 All-Star; 2008-09, 2010-11 NHL 1st Team All-star; 2008-09 William M. Jennings Trophy; 2010-11 Conn Smythe Trophy; 2008-09, 2010-11 Vezina Trophy
Analysis: Thomas will go down as one of the best Bruins goaltenders in history despite his rocky departure. Thomas only played four games in the NHL before the age of 30, but still managed a terrific career at an older age. He absolutely stood on his head during the 2010-11 Stanley Cup season and deservedly received the Conn Smythe for playoff MVP with his 1.98 GAA, .940 SV%, and four shutouts. His play against the Canucks will be looked at  as one of the most clutch performances in history. Seven games, eight goals. Not much else to say about that.
2. Patrice Bergeron
Best Season: 2013-14  30-32-62  +38
Honors: 2012-13 King Clancy Memorial Trophy; 2011-12, 2013-14 Frank J. Selke Trophy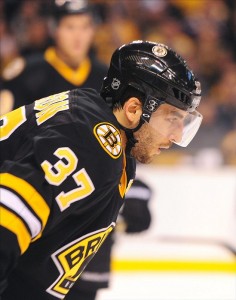 Analysis: Over the past 11 seasons, Patrice Bergeron has gradually been improving all facets of his game and it has paid off. Perhaps the Bruins next captain, Bergeron has won two Selke Trophies in the past three seasons and finished 5th in the Hart Trophy voting last season. After overcoming a severe concussion in the 2007-08 season, Bergeron has become a top tier player in this league, as well as a mentor to up-and-coming Bruins. Even though he doesn't put up league-leading point totals like some of the more notable players, he may be just as valuable. If Bergeron is able to continue his strong play into his late 30s, he has a strong chance of being inducted into the hall of fame.
1. Zdeno Chara
Best Season: 2008-09 19-31-50 +23  95 PIM
Honors: 2007, 2008, 2009, 2011, 2012 All Star; 2008-09, 2013-14 NHL 1st Team All-Star; 2010-11, 2011-12 NHL 2nd Team All-Star; 2008-09 James Norris Memorial Trophy
Analysis: No player has been more important to the Bruins in the 21st century than Chara. When the Bruins signed him in 2006, they needed a complete franchise turnaround. What could have been a lengthy rebuilding process only ended up taking a couple of seasons, as the Bruins were back in the playoffs in 2008. The following year, Chara claimed the Norris Trophy and the Bruins were the top seed in the Eastern Conference with 116 points. The 6-foot-9 Slovakian has held up very well for his size and will hopefully return soon from his first major injury with Boston. Chara's heavy workload in both the regular season and playoffs is irreplaceable and the Bruins have had some trouble filling his shoes over these past several weeks. Chara's hard work and dedication paid off when he was first to lift the cup in Vancouver, and on some future day the Bruins will raise his #33 to the rafters.
Has contributed to isportsweb, the Yawkey Way Report, and Fansided's Chowder and Champions. Host of the weekly radio show Top Shelf Sports on Bryant University's WJMF radio.