Each year when the new NHL season kicks off, one of the most interesting elements is which young, up and coming stars will take the league by storm. Inevitably there is at least one or two rookies that stand out amongst their peers each season.
Predicting the success of first year players is an inexact science to say the least. Usually the odds on favourites to capture the Calder Trophy each year are the high profile, top draft picks that enter the league. Often that is just the case with players like Gabriel Landsekog, Jonathan Huberdeau and Ryan Nugent-Hopkins standing out in recent years.
The great thing about the NHL is that it is not only first round draft picks that come in and are successful. Players like Brendan Gallagher and Adam Henrique have recently come in off the radar and made just as significant an impact in their first seasons.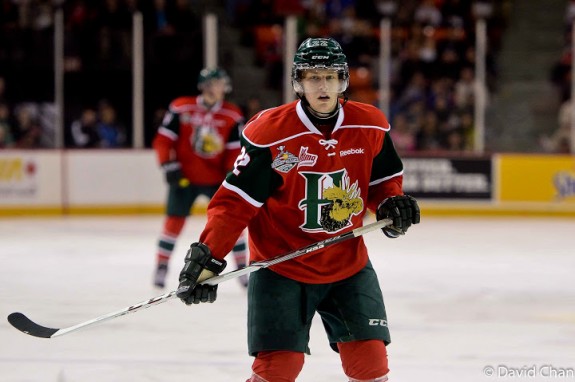 Here's a look at some of the candidates to make an immediate impact in 2013-14.
1. Nathan MacKinnon – Colorado Avalanche
The first overall pick is all but a guarantee to be in the Avalanche lineup on Opening Night. Unlike many last place teams, MacKinnon will have plenty of talent to play beside in Colorado with names like Matt Duchene, Gabriel Landeskog and Paul Stastny also in the lineup.
With Duchene locked up long term, the combination of he and MacKinnon up the middle for years to come should be music to the ears of Avalanche fans.
2. Ryan Strome – New York Islanders
Not only expected to crack the Islanders roster, but could find himself in a top six role. The Islanders are in need of a No. 2 centre and Strome could be pencilled in there to start the season. Drafted 5th overall in 2011, Strome has been one of the most dynamic players in junior hockey there is. Next season should be his first in the Islander blue and orange and he won't look back.
3. Mikhail Grigorenko – Buffalo Sabres
The big Russian centre started last season with the Sabres and played in 25 games before being returned to the Quebec Remparts in the QMJHL. While it was premature to rush him to the NHL at 18, the fact still remains, Grigorenko has the total package of speed, skill and size that are very hard to find in an NHL centre.
He gained valuable experience last season before returning to Quebec and scoring 30 goals in 33 games. He will start this season with the Sabres as well, but this year he'll stick.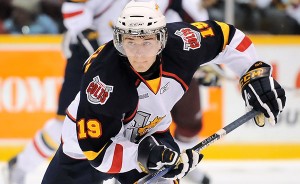 4. Mark Scheifele – Winnipeg Jets
Brought up to start the season with the Jets the past two years, and then sent back to junior each year for more seasoning. Scheifele has been nothing short of dominant in his junior career with the Barrie Colts and there is nothing left for him to prove there. The Jets have brought him along slowly, and this year he will enter training camp more ready, both mentally and physically than ever. He was also given some time on the wing last season, so he brings the versatility of being able to play multiple positions for the Jets.
5. Aleksander Barkov – Florida Panthers
Perhaps not projected to go as high as No. 2 in the draft this year, it shouldn't really be all that big a surprise. Barkov has great size, skates well and has excellent hands. He has also played against men in Finland the last two years and was very good as a 16 and 17 year old.
Panthers GM Dale Tallon has made it clear that Barkov was drafted to help the team immediately and should start the year in Florida.
6. Jonathan Drouin – Tampa Bay Lightning
There are no concerns over Drouin's skill level translating to the NHL. He was the best pure offensive talent in the draft and has exceptional hands to go with a very high hockey IQ. The only issue that anyone is concerned about is his size and being able to hold up to the rigours of the NHL game.
If he sticks with the big club, Lightning fans will be salivating over the prospect of Stamkos and Drouin playing together for years to come.
7. Filip Forsberg – Nashville Predators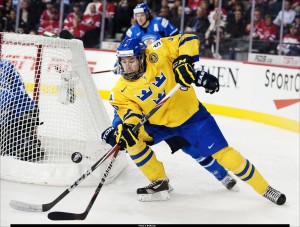 Preds GM David Poile made a shrewd move unloading the often injured Martin Erat to Washington for one of their top prospects in Forsberg. He did get into 5 games with Nashville last season and got his feet wet. There should be less transition time in the fall for him now.
The Predators added a number of forwards in free agency, the for the most part they are two way forwards that, albeit valuable additions, are not elite top six talents. The team and their management believe Forsberg could turn into that top talent for them.
8. Seth Jones – Nashville Predators
At one point last season, he was a lock to go first overall. He fell to 4th on draft day, but may have fallen into an ideal situation. Nashville is a known, defence first type of team, and already have all world talents Shea Weber and Pekka Rinne at two of the most important positions.
Jones will not be expected to play top level minutes, but is expected to make the squad and be a valuable member. He has the opportunity to come in and play in a system that will help him be successful and he can start with limited minutes. Similar to the situation in Boston with Dougie Hamilton, where he can grow into the role of an elite defenceman slowly.
9. Tomas Hertl – San Jose Sharks
Hertl has honed his skills playing in the Czech elite league and appears ready for the NHL. The Sharks first round pick in 2012 is a complete player and is proficient in all three zones as well as good in the faceoff circle. Projected to not only make the team, but potentially suit up beside captain Joe Thornton, he could be a significant addition for the Sharks this year.
The team could also be looking at Thornton's heir apparent, and take over his spot as a one-two punch with Logan Couture when he retires.
10. Ryan Murray – Columbus Blue Jackets
Murray had a shot to make the team last season out of camp, but a shoulder injury derailed his season and put him on the shelf. The #2 pick in 2012 is an exceptional skater and a very complete defenceman not only for his skill set but his intangibles.
So highly thought of that he was given a spot on Canada's WHC team in 2012 as an 18 year old. On a Columbus defence that has Jack Johnson, Fedor Tyutin and James Wisniewski, Murray will head a list of solid young defence prospects and fit in seamlessly on the Blue Jackets blue line in 2013-14.
Honourable Mention: Morgan Rielly – Toronto Maple Leafs, Sven Baertschi – Calgary Flames, Nick Bjugstad – Florida Panthers
 _______________________________________________________________________
Follow Carl on twitter @maloney3383 and Google+ for more articles