For the finale of this three-part series, The Hockey Writers talked with a veteran of over 1,000 NHL games: 35-year-old center Dainius Zubrus of the New Jersey Devils. Last season Zubrus only played in 22 games – missing time with a wrist injury and took only 28 draws. But in the previous two years and for a large portion of his career he has been a dependable option for his coaches to send out on the ice to take a face-off: in 2010-11 he led New Jersey in winning percentage with 56.4% (winning 253 of the 449 he took), in 2011-12 he was 44.3% during the regular season, but rebounded in the Devils' run to the 2012 Stanley Cup Finals and won 50.9% of the draws he took.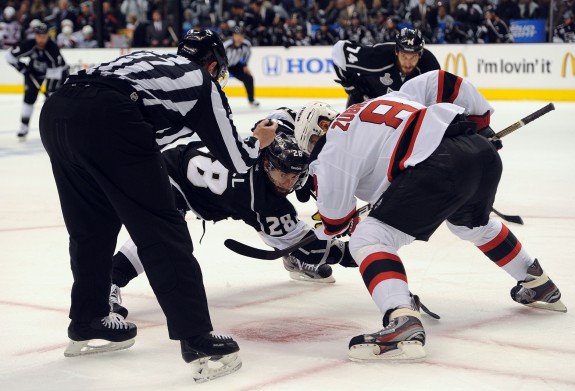 Having played 1,087 games over 15 seasons with five different NHL teams there isn't much that will catch Zubrus off guard on the ice and you don't survive in the world's best hockey league for that long without learning a few things along the way. He recognizes that the linesmen do a pretty solid job night in and night out and a big part of his job as a veteran is to know the proper way of communicating possible gripes with them, among other things, as he told THW during the final week of the 2013 season.
The Hockey Writers: In speaking with other players and your teammates about taking face-offs they mentioned how the linesmen play a large part in draws, do you agree with that?
Dainius Zubrus: I think the linesmen do a good job; sometimes maybe your timing is off. Even if you feel like they could do something a little different, I've never been afraid to approach them about it. I'm respectful (when talking) to them. I think they do the best job that they can. If you talk to them that way, if you are respectful to them they will respond back to you nicely and you can settle it easily.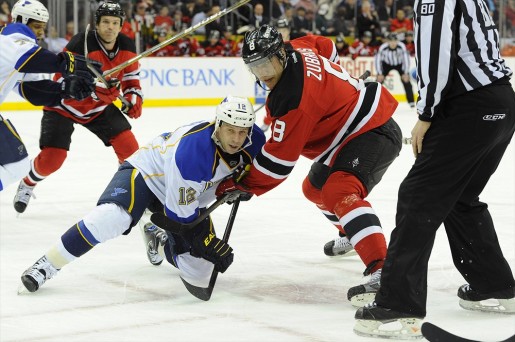 THW: What's the first thing you notice when it's your turn to take a face-off?
DZ: Well first you always look at your opponent, recognize who it is, sometimes you know the guy and his tendencies. For me it's more of is he a lefty or a righty, and then I decide if I'm going to go on my forehand or backhand; obviously everyone likes to go to their backhand more, you feel stronger that way. You see where his positioning is and you try to set yourself up.
THW: Home or road, do you have a preference?
DZ: Obviously at home you are the second guy going into the circle. If you're good at taking face-offs I don't think it really matters, home or road; if you're good, you're good. The home team gets… sometimes linesmen kind of allow, not really their fault, but they allow the home team to come in and he kind of taps his stick a little bit; so he doesn't really put it (his stick) down, he just sweeps it. But that's why you talk to the linesman and ask him to maybe freeze it for a split second so it's a little more fair.
THW: Sometimes taking face-offs could be an overlooked aspect of an NHL game, how important do you think they are?
DZ: Face-offs are a huge part, a huge part (of the game); especially now where power plays are more prevalent, every power play starts in the offensive end. It's all about puck possession — if you don't start with the puck on the power play, realistically you're running 20 seconds off the clock. If they clear the puck then you have to break into the zone and set it up and everything else. Where as if you win the face-off you are already set (up in the zone).
Just as he explained, Zubrus wins a face-off, the puck stays in the zone and leads to his eventual goal; unique celebration also:
Entering the 2013-14 NHL season it's likely that if healthy Zubrus could take his fair share of face-offs again, as he has averaged taking about 500 of them over his full seasons in New Jersey.
Part 1 of this series with Jacob Josefson
Part 2 of this series with Travis Zajac
The feedback on this series has been great & I'd like to thank everyone for your kind words and for checking it out. I am planning to possibly do a similar series this upcoming season with some NHL goaltenders.
Dan Rice can be reached via Twitter: @DRdiabloTHW or via Email: drdiablo321@yahoo.com