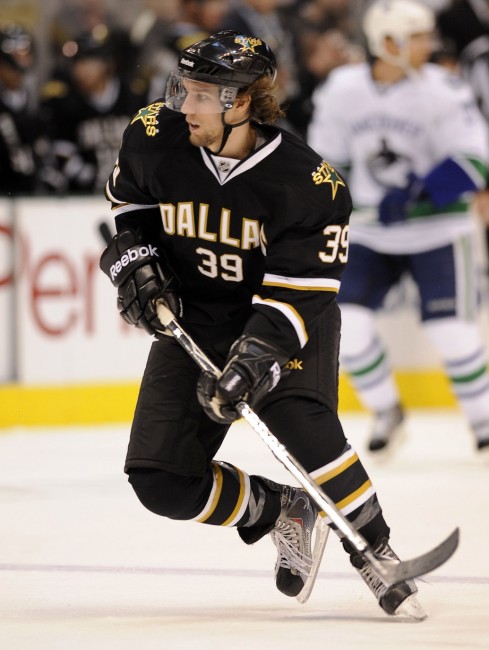 If you're a 29 year-old professional hockey player and you haven't "stuck" in the NHL yet, the chances of doing so pretty slim.
But don't tell that to Travis Morin, a longtime center for the AHL's Texas Stars.
Morin, 29, is at the age where he can be considered a hockey journeyman, but doesn't really fit that image considering his dedication to one organization. He has played for the Stars since their inaugural season in 2009-2010 and has steadily been one of the team's first or second line centers, scoring a combined team-record 207 points in 279 games.
Despite his AHL success, he has only been called up for three games with the NHL's Dallas Stars during that span, with all of those games coming during the 2010-2011 season.
It appears that Morin still fits into Dallas' plans, however, as the team signed the veteran center to a two-year, two-way contract back on June 20.
According to the newest episode in the Texas Stars' ongoing "Summer With The Stars" series, that sits just fine with the Brooklyn Park, Minnesota native, as the continued familiarity of the organization will help him remain steadfast in his goal of making the NHL.
"I think I play best when I'm comfortable and going somewhere new, it usually takes me a little while to get comfortable with things," he said. "I think the way I'm going to play my best is to stay somewhere that I'm comfortable, knowing that I still have a bit of a shot to get up there [Dallas]. I know a lot of the guys that are up there now and that's obviously going to help if I do get up there or when I go to training camp, just like I'm saying being comfortable is big for me. So I think I'll play my best."
For Morin to suit up for Dallas again he will have to do so in the face of stiff competition. The Stars have 12 forwards that can all be considered roster locks for the beginning of the regular season, leaving only one or two depth spots, with Scott Glennie, Lane MacDermid, Colton Sceviour and Brett Ritchie all having strong chances of filling those roles. Stacking the odds even further is the fact that the second oldest player on that list, Sceviour, is a full five years younger than Morin, and teams usually seem to prefer to carry guys that have developmental years left in them.
Still, Morin seems well aware of the situation in front of him, and will be doing everything in his power to be ready to play if the right opportunity comes his way.
"When you get 82 games up there, they are banging every night and injuries are bound to happen," he said. "Sometimes you can get a string of them and guys that don't expect to be called up might have to get called up. You obviously don't want to see people get hurt, and I don't wish that upon anyone up there, but it's going to happen and if for whatever reason they feel that I'm doing a good enough job down here and they want to give me a chance then that will be great, I'll be ready. And if not we'll just continue trucking away down here."
Even if the next two years don't provide a full-time NHL gig for Morin, he'll still be a valuable piece for both the Dallas and Texas franchises. The Dallas Stars are steadily infusing more and more of their deep pool of prospects into the Texas roster, and Morin is one of the veteran leaders and mentors on the young squad. With fellow vets Toby Petersen and Francis Wathier scheduled to become free agents at the end of next season, that locker room could eventually become Morin's to lead.
When you take into account his sense of loyalty and commitment to the team, that role seems like a perfect fit.
"I feel like this is kind of my home now [Texas] and it would take a lot to pry me away from that. So when you talk about the contracts and things, there may be an opportunity elsewhere, but there's still an opportunity here and this has kind of become my home away from home, I guess. It's hard to leave that when you've been here as long as I have and kind of set yourself in the club's history there and you've been there from the beginning."
"My wife and I both like it down here. If this is where we end up for the two years and we don't ever make it up to Dallas, we really like Cedar Park and the Austin area and we're very happy to live here."
Derek Neumeier primarily covers the Dallas Stars, but also other various topics related to the sport of hockey. A Journalism graduate of Mount Royal University, Derek also writes for Defending Big D, and has done previous work with the Edmonton Oilers as a communications intern and Hockey Canada as a freelance writer. You can follow him on Twitter at @Derek_N_NHL