The one thing Toronto Maple Leafs' fans have wanted since the days of Mats Sundin is a number one center. That demand was finally answered Friday night in Buffalo after the Toronto Maple Leafs selected Auston Matthews with their 2016 1st overall NHL draft pick.
There was a lot of talk leading up to the draft about whether the Leafs would instead choose Patrik Laine. Laine is going to be an elite scorer in the NHL, but the Leafs desperately needed an elite center. Ultimately, the Leafs picked the best player the 2016 draft had to offer and filled a much-needed hole at center.
What Auston Matthews Brings to the Leafs
With Auston Matthews the Leafs get a player that scouts have praised the entire draft year. There have also been some scouts that would compare Matthews to players like Jonathan Toews and Anze Kopitar.
Matthews will bring a lot to the Leafs next season with his good size and ability to be an impactful player at both ends of the rink, which is only helped by his strong skating ability. Like Laine, Matthews is also a tremendous goal scorer and takes control of the game every time he steps on the ice.
The Leafs have now accumulated a great young group of players that should bring the team success for years to come. Matthews is everything a team could hope for in a number one center and he will make an immediate impact on both the Leafs and the players around him next season.
Auston Matthews debuts the brand new @MapleLeafs jersey. pic.twitter.com/GoCQGLDNTH

— TSN (@TSN_Sports) June 24, 2016
Matthews' Impact on the Leafs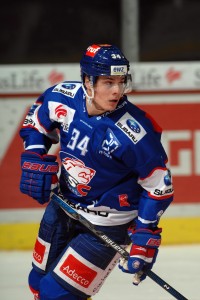 Auston Matthews' abilities are well-known, but what isn't is his impact on the Leafs and their lineup for next season. He strengthens the Leafs depth at center with players like Nazem Kadri, Mitch Marner, Tyler Bozak, and William Nylander all competing for top line minutes at center.
That depth also gives coach Mike Babcock some flexibility with the lines. Marner can play at center, but with Matthews on the team it means that Marner is most likely to permanently move to the wing and potentially help bolster the Leafs top six.
It also impacts Nylander's place in the lineup. Although Nylander is assuredly going to be playing in the NHL next season it's unclear where in the lineup he will spend most of his time.
The most likely option is that Nylander will start the season in a sheltered scoring role on the third line with possibly Nikita Soshnikov and Zach Hyman as line mates. This would give them a safe place to start in their first full season in the NHL while allowing them to develop against weaker match ups. Nylander and Marner could both play on the right-wing, but after Nylander's time in the NHL it's clear that they want him to develop as a center.
There is also Bozak to account for as well. Preferably the Leafs are able to move him, but if he stays with the Leafs then it could also mean that Nylander will start the season as a winger.
James van Riemsdyk should also benefit from playing with Matthews and their combined size should also allow a player like Marner or Nylander to thrive on the wing. That should also carry over to the Leafs power play, which should see an improvement with Matthews.
The Leafs have a bright future ahead of them with a crop of young talent all ready to make the break into the NHL, and at the forefront of it all will be the 2016 1st overall NHL draft pick Auston Matthews. Next season can't come soon enough for Leafs fans.
Toronto Maple Leafs contributor for The Hockey Writers.
I've been a fan of the Toronto Maple Leafs since I was a kid and have always had an interest in writing. At The Hockey Writers, I get to enjoy both of my passions as well as writing about small convoluted details in player contracts and stats.