In late June, I did a three-part series on the state of the Toronto Maple Leafs roster. Going off of the team on paper only, I examined the strengths and weaknesses, and gave a separate letter grade to goaltending, defense and offense at the time. Now that it is September, it is time to revisit this and see if the moves done this past off-season have hurt or improved the team, on paper at least.

• Part 1- Goaltending: Offseason (June 21)–> Preseason (September 3)
• Part 2- Defense: Offseason (June 26)–> Preseason (today!)

• Part 3- Offense: Offseason (June 28)–> Preseason (coming soon)
Today we look at the changes to the Maple Leafs defense that took place this past summer.
Additions: 1) Paul Ranger (free agent)       2) T.J. Brennan (free agent)
Subtractions: 1) Mike Komisarek (Carolina)      2) Ryan O'Byrne (KHL)      3) Mike Kostka (Chicago)
If I had to describe the changes that the Leafs did to their defense, I'd be hard pressed to find a positive. Any significant signings? Nope…Any improvements via trade? Nope…instead we're left with an eerily similar roster. The summer was more about what they didn't do than what they did. There were some little tweeks, but, in my mind at least, they improve an area that doesn't need to improve very much. Either way, here is what the Leafs defense cap situation currently looks like. RFA's and UFA's who were re-signed in the summer appear in bold.
[table id=119 /]
As you can see, it is far from formidable. Back in June when there was almost $20 million in cap space, I wrote about the changes I expected to take place, including the possibility of Phaneuf being moved, but low and behold, this roster is almost identical to the one that collapsed against the Bruins in game 7 of the Eastern Conference Quarterfinal. Nonis tried to go after Rob Scuderi on July 5th but did little else to try to bolster the back end. Paul Ranger a good keep, but will he help that much? Holzer signing a one-way contract? Fraser signing at $1.275 million? Liles still being here? FRANSON WITHOUT A CONTRACT???
Cody Franson
With him, the Leafs are the essentially the same, without him they are that much worse. He NEEDS to be re-signed and he likely will be, but with it being so close to training camp fans are entitled to start getting worried. I wasn't worried too much, until I saw this:
Sports Illustrated reports the Maple #Leafs feel they have options in Paul Ranger and Morgan Rielly if Franson isn't signed by Oct 1st

— Hockey Tracker (@Hockey_tracker) September 7, 2013
When you think about it, the Leafs have too many defencemen. Not including the above mentioned Rielly and Ranger, they already have 6 'D' on one-way contracts PLUS Jake Gardiner, who is guaranteed to play. That is WITHOUT Franson.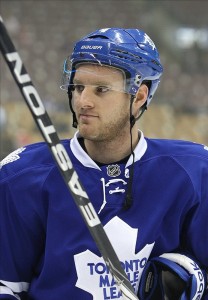 But in my opinion he is too good to not have, so once they sign him (and I still think they will manage it, likely $3.5-4 million on a long term deal), it means there must be other movement somewhere on the roster. Where I don't know.
According to Lance Hornby of the Toronto Sun, they can demote players with $1 million salaries or less (Ranger, Colborne, Holzer) to the minors to free up space. It won't be very much, but it should be enough to get Franson and Kadri IF they settle for reasonable dollars. Right now there is almost $5 million free. Demote two $1 million players and you have $7 million, enough for $3.5 million each. Now it's clear why the Leafs aren't budging on Kadri's demands for $5 million plus per year. For the time being, remember the Leafs can still be 10% over the cap until the season starts October 1st. 10% of the cap is an additional $6 million, so they will be signed, and soon, before any roster movement takes place.
Dion Phaneuf
A lot of pressure is on Phaneuf, who is in the sixth and final year of a $39 million contract that (over)pays him at $5.5 million ($6.5 million cap hit…). Trade rumors abounded this offseason but it looks as though he is here to stay for the year and if he has a good season and the Leafs make a run, expect him back for a more reasonable $4-5 million. If he has an off-year, you can pretty much guarantee he's gone.
John-Michael Liles
Liles needed to go this off-season, but I'm guessing finding a suitor may have been rather difficult. He's not a bad player but not only is he almost being paid $4 million, but he also has three years left, and a salary that drops significantly in the final year, making a buyout difficult.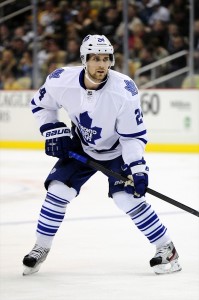 Komisarek and Grabovski were much more viable options for a buyout. Considering he was benched last season fairly often, I don't see it being any different this year with eight or more 'D' in the mix. My opinion though is he can be very effective as a 5th or 6th as long as you limit his defensive assignments. He's effective on a 2nd powerplay unit, and instead of scratching him, he should be getting a good 15 or 16 minutes every game.
Carl Gunnarsson
A necessary re-signing but a little pricier than I would have liked. He's a capable 3-4 D-man but not really an ideal partner for Phaneuf (as he was last year). Likely will start paired with the captain again though.
Mark Fraser
I certainly feel the Leafs were a better team with Fraser, despite him taking the odd questionable penalty every now and then. His salary also was a bit high for me, but as a depth defenseman he's very decent and his toughness is invaluable. Also an arbitrator decided his salary anyways so no reason to get mad at management for overpaying. A one-way contract is also different than last year.
Jake Gardiner
This no doubt needs to be a big year for the young Minnesota native. He's in the last year of his entry-level contract (much like Kadri was last season) and people are expecting him to perform. I'd say he does well, gets about 35 points and gets a big raise next year. Hopefully, he doesn't hold out a la Nazem Kadri.
Paul Ranger
A very capable defenseman who played well for the Marlies last season. Even though it was the AHL, he's a good addition, as he's had a lot of NHL experience and doesn't take a lot of risks.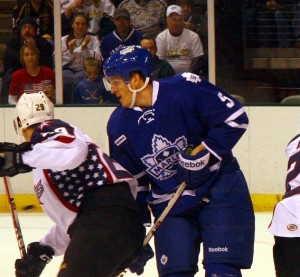 At $1 million, he's a big improvement as a 6th or 7th 'D' over Mike Kostka or Mike Komisarek.
Korbinian Holzer
Holzer looked good but not great last year in 22 games for the Leafs, and I was surprised when his agent was able to get him a one-way contract for 2 years. The money isn't the problem, but not having the same flexibility in terms of demoting and promoting between leagues may prove difficult, especially considering all the defensemen in the mix this training camp.
T.J. Brennan
A great, if minor, addition who will start with the Marlies and likely at some point this season receive a call-up. He's an offensive defenseman who is still young (24), and despite the need to still find a reliable defensive game, it was well worth the risk at $600,000.
Maple Leafs Defense Grade
My top-six (with Franson) would be as follows: Phaneuf, Gunnarsson, Franson, Gardiner, Fraser, Liles. Ranger is my 7th. In this sense, I am confused about where Holzer fits. Same with Morgan Rielly, who some speculate is capable of making the team. For that reason I think Rielly plays 9 games with the Leafs and then gets returned to junior (a rookie may play up to and including 9 games at the NHL level without burning the first year of his entry level deal). There's just no room for him right now. Of course, if he blows away Leafs management with his play then that all changes. Considering Komisarek and Kostka are gone, this team is already better. The additions of Ranger and Brennan were also good moves, but minor. Because of that, I improve the Leafs 'D' grade from a C+ to a B.
The NHL regular season schedule was released on Friday. Check out our partners at TiqIQ for the best deals on Toronto Maple Leafs tickets for all 2013-14 games.