With NHL training camps only days away, hockey fans are growing giddy with anticipation.  And, why not?  Soon, a new campaign will be upon us and the fresh sheet of ice it provides will bear endless possibilities for all 30 clubs and their fans. In Pittsburgh, specifically, the locals are no doubt anxious to see how their squad responds to a disappointing exodus from last year's playoffs.  Luckily for those fans, the Pens find themselves poised to return to the upper echelon of NHL teams.  Indeed, with all the top-tier talent G.M. Ray Shero has assembled in Western Pennsylvania, it's an exciting time to be a Penguin fan. But before we glance ahead to the coming season, we decided to take a look to the past.  In particular, within an organization that's grown accustomed to spoiling its fanbase with elite talent, who has been the best of the best?  With that question in mind, we present the Penguins' All-Time Team:
Center – Mario Lemieux
For a club that has been graced with the brilliance of centers such as Ron Francis, Evgeni Malkin and Sidney Crosby, one might think it would be an arduous task to select only one as the greatest in franchise history.  But when you throw Mario Lemieux in the mix, there really isn't much debate.  After all, "Le Magnifique" was probably the most physically gifted player in hockey's rich history:
"I didn't play a lot with Mario; he had his set line with Kevin Stevens and Rick Tocchet the year I was there. But even in practice, at half speed, you could see the vision and what set him apart from other players. [Wayne] Gretzky would outthink you. Mario would just beat you and score. He had the reach and the physical size, and he just made it so hard on everyone." – Dave Tippet, former Pittsburgh Penguin
Playing much of his career in an era full of "clutching and grabbing", the only thing that kept Mario from scoring almost at will was injury and illness.  Despite being affected by and even missing significant time throughout his career with debilitating back issues, Lemieux was such a force that he could take over a game even when he wasn't at 100%:
"I can only imagine what he would have put up had he played all those games. Such a phenomenal player, and his health really kind of held him back at times. He had the bad back issues. You could tell from playing against him that he took shifts off to get through some games. He would sit back and then decide, 'OK, I've got to go this shift.' Then he would just dominate and he'd take another shift off. That's how good he was, though." – Rod Brind-Amour, former NHL player
Without a doubt, though, the most remarkable and courageous thing Lemieux ever accomplished on the ice occurred during the 1992-'93 campaign.  Pittsburgh was coming off back-to-back Stanley Cup championships and, once again, dominating the National Hockey League.  But on January 12, 1993, the Penguins announced the devastating news that Lemieux had been diagnosed with Hodgkin's disease; he subsequently endured 22 sessions of radiation therapy, the last of which occurred on March 2, 1993.  After the treatment, "Super Mario" boarded a plane to join his teammates in Philadelphia where he suited up that night.  Upon his return, he trailed Pat LaFontaine by 12 points for the league's scoring lead.  Lemieux went on a tear, racking up 30 goals and 26 assists for 56 points in only 20 games, enough to earn him the Art Ross with a 12 point cushion over LaFontaine.  Mario finished that trying season with a mindboggling 69 goals and 160 points in only 60 games.
One has to wonder how far Lemieux's assault on the record books would have taken him had he not dealt with s0 much turmoil during his career.  As it stands, Mario is the Penguins all-time leader in goals (690 – 9th all-time), assists (1,033 – 10th all-time), points (1,723 – 7th all-time) and games played (915).  He took home six Art Ross, three Hart, four Lester B. Pearson and two Conn Smythe Trophies to go along with his two Stanley Cup rings.  Oh, and he's the only player in history to score five goals in five different ways in a single game:
Honorable Mention – Sidney Crosby
Much like Lemieux before him, Sidney Crosby proved to be the answer for a floundering Penguin franchise that found itself in disarray.  And, also like Lemieux before him, Sid has shown that the only thing that seems capable of slowing him down comes in the form of the injury bug.  Beyond that, though, the similarities are few and far between.  Yes, they're both among the greatest the sport has ever seen but their styles of play are like night and day, so different it can even be difficult to compare the two.
For his part, Crosby took the NHL by storm as a rookie in 2005, when he became the youngest player ever to score 100 points in a season.  Though he lost out on the Calder Trophy to Alexander Ovechkin, he delivered a message to the rest of the league that the hype was for real.  He further cemented that notion in 2009, becoming the youngest captain ever to lead his team to a Stanley Cup.  Though injuries have likely limited him to "only" one Hart, one Art Ross, one Rocket Richard, one Lester B. Pearson and one Ted Lindsay (formerly the Pearson) Award to this point in his career, Sidney has established himself as today's face of the game, compiling 238 goals, 427 assists and 665 points in only 470 games along the way.  He may never displace Lemieux on this list but Crosby has proven he is a once-in-a-generation talent.
Right Wing – Jaromir Jagr
His name might be rather taboo in Western Pennsylvania these days but there was a time when Jaromir Jagr found himself among Pittsburgh's most beloved athletes.  From his flowing locks to his propensity for collecting speeding tickets, there was a charm about Jagr that everyone seemed to adore.  Of course, it didn't hurt that he also happened to be one of the most dominant players in the NHL.
"Jags" spent 11 seasons with the Pens, where he established himself as one of the league's most feared one-on-one players.  His electrifying playmaking consistently brought fans out of their seats as he climbed the latter of all-time greats.  By the time he left the Penguins in 2001, Jagr was the second leading scorer in franchise history, collecting 439 goals, 640 assists and 1079 points in 806 games.  After earning one Hart, two Lester B. Pearson and five Art Ross Trophies to go along with his two Stanley Cup rings, Jagr became the second most decorated Penguin in franchise history behind only Lemieux.
Honorable Mention – Rick Kehoe
Before there was Lemieux, there was Kehoe.  Rick Kehoe wasn't on the same level as some of the Pittsburgh superstars that would follow him but he was an incredibly effective player for the Pens.  A good skater with a rifle of a shot, Kehoe was the definition of consistency in Pittsburgh, putting up at least 25 goals in nine of his 11 seasons in the Steel City.  His 55 goals in 1980-'81 were a team record until Mario came along and Kehoe currently sits fourth in franchise history in both goals (312) and points (636).
Left Wing – Kevin Stevens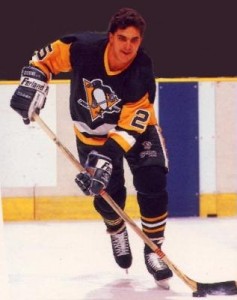 Without question, Kevin Stevens represents the Penguins' greatest-ever left wing.  He was everything you could want in power forward: he scored goals, he hit and, perhaps most importantly, he made sure nobody messed with the "big fella" when he skated alongside Lemieux.  Mario wasn't the only one that benefitted, though, as Stevens would go on to put up huge numbers skating alongside "66", becoming the first NHL player to pot 50 goals, 100 points and 200 penalty minutes during one season.
Kevin twice put up 50 goal seasons in Pittsburgh and was a key component in the organization's Stanley Cup runs of the early '90s.  In 1991, He netted a team-record 17 playoff goals and, ultimately, contributed 106 points in his 103 playoff games in a Penguins' sweater.  By the time he left the Pens, he had posted 260 goals, 295 assists and 555 points.
Honorable Mention – Randy Cunneyworth
For all the talent that has come through Pittsburgh over the years, very few of the Penguins' stars have played on the left wing. That's not to take anything away from Randy Cunneyworth because he did carve out a very respectable niche for himself during his time with the Pens; he just didn't put up the monster numbers that some of the others on this list did.  Randy did, however, spend the most productive years of his career in Pittsburgh, where he scored 101 goals, 115 assists and 216 points in 295 games.  He never got an opportunity to do much damage in the playoffs given that the Penguins only qualified for the postseason only once during his tenure with the club but he put up a respectable eight points in the 11 games that he played.
Defensemen – Paul Coffey & Randy Carlyle
Paul Coffey
Next to Bobby Orr, Paul Coffey was the greatest offensive defenseman the game has ever seen.  In fact, Coffey and Orr are the only two rearguards to average over a point per game for an entire career.  The Penguins brought Paul to town from Edmonton in the hopes that he could replicate the magic he created with the powerhouse Oilers.  And Coffey did just that.
The smooth skating defenseman became the first and only blue liner in Penguins history to put up 100 points in a season…and he did it twice in five years.  He racked up an astounding 440 points in 331 games, contributing 108 goals and 332 assists.  But most importantly, he brought his Cup winning experience (he won three in Edmonton) to a team that needed to learn how to win.  And that experience paid off as Coffey helped lead the Pens to their first Cup title in 1991.
Randy Carlyle
Most "experts" might put Larry Murphy in this spot and, admittedly, we strongly considered it.  We, however, decided to shake things up a bit and go with Randy Carlyle.  Because, while Kris Letang may join him in the near future, Carlyle is still the only Penguin in franchise history to capture a Norris Trophy.
Randy was a hard-nosed defenseman who put up at least 82 penalty minutes in four of his six seasons in Pittsburgh.  His Norris Trophy-winning campaign of 1980-'81 saw him pot 16 goals, 67 assists and 83 points.  He served as Pittsburgh's captain from 1980 to 1983 and contributed 66 goals, 257 assists and 323 points in 397 games.
Honorable Mention – Larry Murphy
Ever the scoring threat from the blue line, Larry Murphy was yet another key player in the Penguins' first two Stanley Cup championships.  Innovator of the "Murphy Dump", he teamed up with Pittsburgh's plethora of stars to terrorize opposing goaltenders in the early '90's.  Larry played a major role in the Penguins' march to the Cup in 1991 when he exploded for 23 points in 23 games.
The 1992-'93 season saw Murphy pile up 22 goals and 85 points in what would be the most productive campaign of his career.  Overall, his time in Pittsburgh produced 78 goals, 223 assists and 301 points in 336 games.
Goaltender – Tom Barrasso
When the Penguins acquired Tom Barrasso from Buffalo in 1988, they were hoping he would be the goaltender that could backstop the club to the promised land.  After all, he had already won a Vezina Trophy (the same year he won the Calder Trophy, no less) and, to this day, remains the only netminder in NHL history to leap straight from high school to "The Show".
Barrasso didn't disappoint in Pittsburgh.  His graceful puck handling skills made for an even smoother transition game for his ultra-skilled teammates and his clutch playoff performances earned him a big-game reputation as he helped lead the Pens to back-to-back Stanley Cup titles in 1991 and '92.  In fact, the '92 Cup run saw Tom notch 11 straight victories, as the Penguins swept there way through the Conference Final (against Boston) and the Cup Final (against Chicago).
Playing 460 games, Barrasso ranks second in Penguins' history with 226 wins and 22 shutouts.  What's more, he backstopped the Pens to their only President's Trophy in the 1992-'93 campaign, the year he set a franchise record for wins in a season (43).
Honorable Mention – Marc-Andre Fleury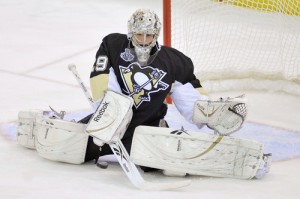 In 2003, the Penguins made Marc-Andre Fleury the third goaltender to ever be drafted 1st overall.  And while he has struggled during the last two postseasons, he has also found a tremendous amount of success during his time in Pittsburgh.  "The Flower" already has two Finals appearances to his credit, including one Cup title.  Though never one to post the most jaw dropping numbers, he is one of the most athletic goaltenders in the league who, when on his game, displays a flare for coming up with the big save when his team needs it the most.
At only 28 years of age, he is already the franchise leader in games played (467), wins (249) and shutouts (23).  Despite the struggles that he has experienced in recent playoff runs, he has been remarkably consistent throughout his career during the regular season, posting at least 35 wins every year (excluding an injury plagued 2007-'08 campaign and last year's lockout shortened season) since 2006-'07.
Sean Griffin is a lead writer for the Pittsburgh Penguins at The Hockey Writers. He can be contacted at psgrif27@gmail.com.