In late June, I did a three-part series on the state of the Toronto Maple Leafs roster. Going off of the team on paper only, I examined the strengths and weaknesses, and gave a separate letter grade to goaltending, defense and offense at the time. Now that it is September, it is time to revisit this and see if the moves done this past off-season have hurt or improved the team, on paper at least. First up is the Maple Leafs goaltending.

Additions: 1) Jonathan Bernier (trade)   2) Christopher Gibson (free agent)   3) Antoine Bobeau (2013 draft, 6th round)
Subtractions: 1) Ben Scrivens   2) Jussi Rynnas   3) Mark Owuya
The Main Roster: Reimer vs. Bernier
[table id=117 /]
As we all know, there will be a battle in the crease the second that training camp opens on September 11. The acquisition of Jonathan Bernier this past June was, as I saw it, a good move. Both goalies SHOULD be motivated, knowing full well there is someone ready to step in and take their place the second they falter.
It's understandable that Leaf fans are upset and point the finger at Nonis for having "given up" on James Reimer, but he really isn't.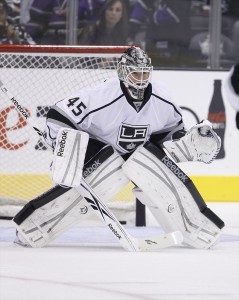 Bernier wanted out of L.A., Nonis inquired, and when he realized he didn't have to give up much, (and that his current starter had never played more than 37 games in one season) it made perfect sense to pull the trigger and acquire what is likely to be much more than just an insurance policy in goal.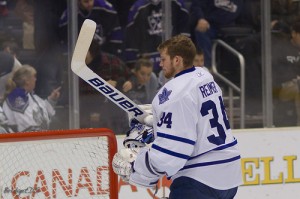 Bernier, yes, has even less experience than Reimer, having maxed out at 25 games in one year, but he's clearly ready to take on a bigger role, something that Scrivens likely would not have been able to do. Reimer likely would have been forced to play AT LEAST 60 games, which is a big jump from 37 and now he is not forced to.
The two-year $5.8 million contract Bernier signed is also a great bridging deal, (something Kadri better wake up and do himself…) with a friendly cap hit that allows him just the chance he wants to prove himself. Reimer is clearly underpaid, but with one year left he has extra motivation to succeed, and if he does then the Leafs hardly have a goaltending "problem".
Most people feel the split will likely be 50/50, but my guess however, is that Reimer DOES hold onto the "number 1" job and probably ends up out starting Bernier 60/40.  More importantly though, is who starts come playoff time (not IF they get there, but WHEN), and I strongly believe it will be Reimer. No matter who starts though, this trade definitely improved the Leafs chances at stopping pucks.
The Minors
[table id=118 /]
Drew MacIntyre should return as the starter for the Marlies, as he signed a one-year deal back in June and finished as the starter in the Calder Cup playoffs. At 30, he also has a wealth more experience than either Garret Sparks or Christopher Gibson, who are likely to battle for the backup role and have a combined 3 games of pro experience.
Sparks is coming off a good year with Guelph of the OHL, and though he is technically still young enough to play junior, it seems highly unlikely given that he got in three games in April with the Marlies and he would have to count as one of three overage players permitted per OHL club.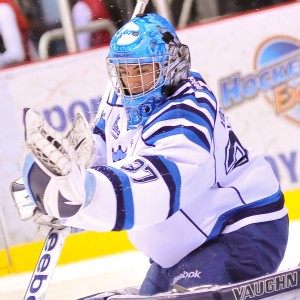 Christopher Gibson meanwhile is in a bit of a similar situation, in that his junior days are done, but he was also let go by the Kings after having been drafted in the second round in 2011. This past season he struggled on a sub-par Chicoutimi team in the QMJHL, as he went 17-18-4 with a .902 SV% and 3.08 G.A.A. Still, it was undoubtedly a smart, low-risk signing by the Leafs, who now get someone with something to prove and who doesn't have to be rushed yet could get a good opportunity behind MacIntyre.
Both goalies are attending the Maple Leafs rookie tournament in London, Ontario and it is likely whoever plays better between them will get the promotion to the Marlies and the other will likely be assigned to Orlando. What wait? Orlando? Yup, Orlando.
The Toronto Maple Leafs have a new affiliation with the Orlando Solar Bears of the ECHL, a new team that missed the playoffs last year in it's first season. Both Gibson and Sparks have nothing left to prove in Junior, so this new affiliation is likely for them to be able to take that next step in their game. With MacIntyre currently without a backup though, one of them will stay in Toronto.
Antoine Bibeau, who was drafted this past June 172nd overall and isn't under contract yet, will return to the Charlottetown Islanders of the Quebec league (formerly the P.E.I. Rockets) where last year he posted decent numbers of .911 SV% and 2.81 G.A.A. yet had a record of 28-11-3.
Goalie Grade
Bernier is an upgrade on Scrivens. Gibson is a smart signing and may not be an upgrade on Rynnas, but since the latter struggled and left for Finland, someone had to be signed and Gibson is just 20 with decent upside. Retaining MacIntyre was also necessary, as starting a tandem of essentially two AHL rookies could have been disastrous. MacIntyre plus Sparks/Gibson should keep the Marlies competitive again.
All the focus will be on Reimer vs Bernier, and rightly so. I think it will work out. I think it will be fun to watch. I think Nonis did well in the crease this off-season. But with lots for the youngsters still to prove, I give the Maple Leafs goaltending a B+ grade.
The NHL regular season schedule was released on Friday. Check out our partners at TiqIQ for the best deals on Toronto Maple Leafs tickets for all 2013-14 games.