The stats don't read pretty for last year's Nashville Predators squad.  Pick your evaluation metric and the Preds will be hovering around the bottom, duking it out with the likes of Colorado and Florida in a battle for worst of the worst, a scrap that culminated in Seth Jones heading to Nashville at fourth overall.  They scored 2.27 goals per game, good enough to share "worst offense in the league" honors with the Panthers.  Their 20th ranked defense wasn't much better, only average at ES goal prevention and runner up for most porous penalty kill.  Individual stats are ugly too, with a defenseman's 28 points leading the team in scoring, even if that defenseman was Captain and absolute beast Shea Weber.  Even playing Moneyball the Preds would be losing, with bottom five possession stats defined by an inability to generate shots.
The nice thing about next season for the Predators though, is that 2013's rotten luck is unlikely to repeat itself.  Between injuries and abnormal shooting percentages, Nashville was shafted by fortune, and their legion of sub-replacement level players has been replaced by a stable of passable-to-solid NHLers.  Here are three reasons why 13-14 will be a different season for the Preds:
Injuries
The most obvious "this can't happen two seasons in a row, can it?" factor for Nashville going into October is all about poor health.  Every regular forward save for David Legwand missed st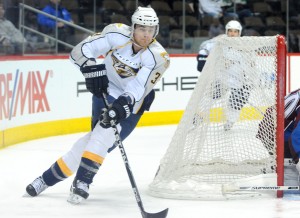 arts, and fate was especially cruel to the Predator's young building blocks.  A combination knee injury and run-in with Dan Carcillo ended Gabriel Bourque's season at 34 games, while Colin Wilson only played half the year after Minnesota's Justin Faulk sent him awkwardly into the boards back in early March.  Patric Hornqvist missing 24 contests was another tough loss, even if his remarkably inefficient 4.7 shooting percentage is going to be lampooned in just a moment.  It's not hard to realize why Nashville's offense was so ineffective, considering seemingly anybody scoring at a decent clip was out of the lineup the next week.  The injury bug belatedly felled Pekka Rinne as well, as the big guy hasn't skated since undergoing hip surgery in the offseason to fix an issue that nagged its way through every one of Rinne's 43 starts.  Certainly, Nashville wouldn't mind a Tim Thomas-esque rebound from their 7 million dollar man, as the former Bruin's keeper won the Smythe and Vezina after a similar surgery in 2009.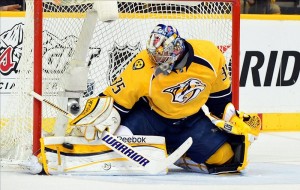 While Nashville's injury luck normalizing might mean good things for their forwards and goaltender, it could also sabotage their top pairing.  Nashville squandered a completely healthy year from both Shea Weber and Roman Josi in 2013, and given that the Swiss blueliner missed 30 games his rookie campaign with various bumps and bruises, a full season from him isn't a given.  If the focus of the Predators' injuries shifts to the defense, Nashville might just end up spinning its tires.
Shooting %
While youth like Colin Wilson and Gabriel Bourque posted hyper-efficient scoring rates last year, Patric Hornqvist, Sergei Kostitsyn, and Martin Erat were busy offsetting that youthful hard work with their worst seasons in recent memory.  Typically good for a crucial 20 goals and 40 points given Nashville's dearth of offensive talent, the veterans each shot under 8% and combined for 11 goals, the same number Bourque provided himself.  Unsurprisingly the spring of 2013 was the last time either Erat or Kostitsyn donned the Predator sweater, with the franchise eagerly washing its hands of both players.
Barry Trotz hasn't penciled anybody's name into either winger's lineup spot yet, but whoever those players are will have the good fortune of not being Martin Erat or Sergei Kostitsyn during the lowest lows of their careers.  It doesn't matter that Wilson, Bourque, and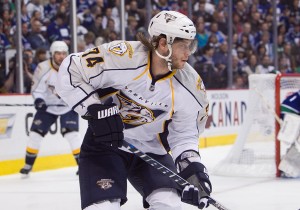 other youth like Flip Forsberg,  or Austin Watson might struggle with the inconsistency that comes with their age, and new additions Matt Cullen and Viktor Stalberg don't have the raw talent of the players they've replaced, the bar is currently that low.  Nashville also just spent a small fortune revamping its forward depth, so scoring lines won't lose zone starts and favorable matchups because Bobby Butler is too much of a liability to play against halfway decent competition.  And again, it pretty much requires negative effort to do worse than 4G/21P/6.7%/-7 in 18:55 spent exclusively with your team's best offensive players.
Speaking of Bobby Butler, here's the last reason why the Preds can drag themselves out of the dregs next season:
Depth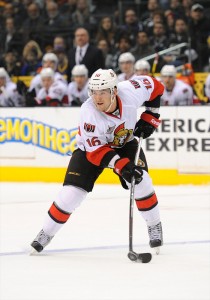 On top of a biblical plague of injuries and a collage of career-worst offensive seasons, the Predators were so damn bad last season because they got next to nothing from their depth players.  Names like Chris Mueller, Daniel Bang, and the aforementioned Butler are among the most scored upon Predators, and top the list for least on-ice goals for.  Other cheap help like Brandon Yip and Matt Halischuk can be seen at the bottom of Nashville's Corsi chart.  These replacements also took mismatches away from the Predators best scorers, having to be sheltered by offensive zone starts against weak competition.
Next season however, Nashville could roll a fifth line if the league allowed it.  Even though I panned their free agent forward signings, the Predators finally have the NHL caliber players up and down the lineup which flat out didn't exist last season.  Grizzled vets like Matt Cullen, Eric Nystrom, and Matt Hendricks won't ever be confused for superstars, but they're capable of taking shifts against relevant scorers without looking foolish, and they aren't possession black holes like Brandon Yip and Nick Spaling.  They're also reliable penalty killers.  Viktor Stalberg didn't see tough matchups whatsoever in Chicago, and as a result, he dominated possession. Even if the new crew just manage to hold their own as decent-to-good third and fourth line options, that's still streets ahead of where the Nashville bottom six was, a unit incapable of scoring or defending.  A possibly dynamic Seth Jones over Hal Gill's best impression of a man skating in cement helps too.
Even if Nashville doesn't swing back into the fortunes of the Hockey Gods this season, they still managed to craft an organizational structure they lacked last year.  Every single roster spot on the team will have to be taken from an NHLer, and youth won't be thrust into too-much, too-soon on either end of the ice, allowing them to focus solely on developing.  It's the type of thing that's always long-term worth it, even if Forsberg and co don't start the year carving up defenses.
The NHL regular season schedule was released on Friday. Check out our partners at TiqIQ for the best deals on Nashville Predators tickets for all 2013-14 games.