This is the second of a three-part feature on the Toronto Maple Leafs 2013 June roster at all three positions: goaltending, defense, and forwards. It will look in-depth at their current cap situation, considering who to let walk and who to sign, as well as possible trades that management might want to consider. It will give each current roster position a letter grade, and then in September, the "re-tooled" roster will be re-evaluated and given new grades.
Part 2: Defense
Part 3: Offense (coming soon)
As was the case with part one of the Maple Leafs offseason feature, I will do my best to run through the main roster while also taking a look at the minor leagues to give fans more insight. Goaltending was pretty straightforward, with only four total players to go through and few tough decisions to make. The blueline is a different story, with only three players signed to the main roster. Here's what it currently looks like:
[table id=100 /]
Decisions, decisions, decisions. Clearly lots to be made, and few of them are obvious, if any. First, the three guys already under contract: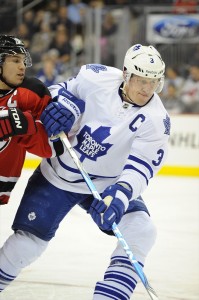 Dion Phaneuf
Even the captain isn't untouchable. It's no secret that many feel he is not worth his salary, but I was surprised to hear rumblings that Phaneuf may be moved.
Yes there's always speculation swirling around, especially around draft time, but Darren Dreger is one insider I really trust, and he says the Leafs are still looking to make a number of moves, and Phaneuf could be in the mix. The funny thing is a closer look at the stats actually show an increase in points-per-game in every season since he's been here:
[table id=102 /]
Adrian Dater of the Denver Post posited that Paul Statsny, a potential number one center, and Phaneuf, a defenseman who could help an ailing blueline in the Mile High City, could be swapped. They both have inflated salaries, and both have one year remaining on their respective contracts. If I'm Nonis, moving Phaneuf is certainly an option, but unlike some, I feel Phaneuf certainly helps this team and the Leafs need to be bolstering their defense. Getting a number 1 center is priority number one, but it shouldn't be done at the cost of shipping out Phaneuf.
J.M. Liles
Yesterday I said the Leafs should consider using one of their two amnesty buyouts on Liles, who has a cap hit of almost $4 million, yet often found himself a healthy scratch. But then Adam Proteau of the hockey news reminded me of something:
Before you rip your NHL team for not using one or both amnesty buyouts this summer, remember this: they could be more valuable next summer.

— Adam Proteau (@Proteautype) June 24, 2013
Is it really worth using a buyout on Liles? Most likely not. The problem is coach Randy Carlyle seems to think it's "either-or" with Liles and Gardiner being in the lineup. I beg to differ. Keep Liles and actually use him is my advice, or see if you can ship him out. No he's not worth his salary, but don't waste an amnesty buyout.
Jake Gardiner
Having Gardiner still on the last year of his entry level deal is great, and Carlyle needs to actually utilize the 22-year-old while his salary is still low. Even if he's not ready for top-4 minutes, he should see tons of powerplay time.
Maple Leafs Free Agents, What To Do?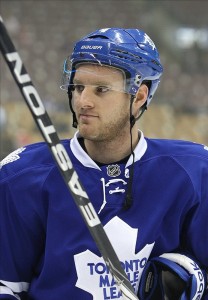 Gunnarsson, Franson and Fraser are RFA's. I would qualify all of them.
Franson: warrants a raise as he made just over $1 million but I think it's vital to keep him, and it shouldn't be too too much. Franson had a breakout year with 29 points in 45 games and I think he's the real deal (though I'm not saying I expect that production over a full season, 50 points is too much). One of Burke's best moves: acquiring him and Lombardi for Brett friggin Lebda and Robert Slaney (who?).
Gunnarsson: plays big minutes and though I certainly feel he is not a top pairing guy, he is solid and worth an investment of about $2.5-$3 million, unless Nonis can find a replacement via trade or cheaper option via free agency, which I doubt.
Fraser: toughness and grit were certainly welcomed this past year and should be had for relative peanuts again. Sometimes takes dumb penalties but a good shot blocker and crease clearer.
Ryan O'Byrne and Mike Kostka are UFA's and I let them both walk. They are simply not worth an investment.
O'Byrne: would likely seek around $2 million and I would rather see a younger guy battle it out for a bottom pairing spot than be paying a mediocre shutdown defenseman $2 million.
Kostka: I don't even know what to say, as he NEVER should have played anywhere NEAR 35 games last year. He brings nothing special to the table and the only way I would consider signing him is if Nonis ends up shipping out some D around the draft that results in a gaping hole on the back end. Kostka would have to accept something similar to the $600,000 he made last year.
Top Six Toronto Defencemen?
As mentioned, I think it's worth it to pay Gunnarsson and Franson a little bit more in order to keep them around. But, I would NOT go into the season with this top six. They need 1 more guy, at least. Fraser can be a seventh, or Liles I guess if Carlyle wants to keep scratching him. In reality, right now the Leafs only actual top-4 defencemen are Phaneuf, maybe Gunnarsson (he certainly played that role last year), and Gardiner in a few years. Nonis has already addressed that he's looking to add a top-4 D-man and I agree it needs to be done. Fitting it under the cap however may be a challenge and here's why:
[table id=103 /]
If the RFA D are paid as expected, that means Toronto would have just over $12 million in cap space, but remember buying out Komisarek adds an additional $3.575 million of space, pushing it to just over $16 million. Can the Leafs re-sign all of their free agent forwards AND Jonathan Bernier for $16 million? Nope. And bringing in or trading for a top-4 defenseman also becomes difficult unless salary goes the other way. My best bet is salary DOES end up going the other, which means there will probably be significant player changes, as (usually) the biggest salaries are the impact players. I do however feel it is most important to get that number 1 center, and if these 6 D were the top six it would not be the end of the world. I do have faith in our goaltending, and greatly approved the Bernier deal.
The Minors
Morgan Rielly
This kid is a stud. Think powerplay quarterback with end-to-end rushing ability. And he's almost ready. Despite just 14 games of AHL experience, Rielly is on the cusp of beginning a great pro career.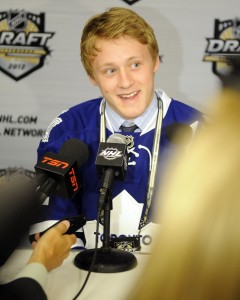 Even if he doesn't make the Leafs in training camp, it's likely fans will get a look at him sometime during next season. The thing is with his offensive abilities, there may be an overload of offensive defencemen with him, Liles and Gardiner. That is partly why some feel Gardiner is expendable for a number 1 center: because of how good Rielly is going to be. Again it all depends on who Toronto would acquire but based on what I see from Rielly, I wouldn't be opposed to shipping out Gardiner.
Jesse Blacker
The 22-year-old, born and raised in Toronto, has spent the last two seasons developing in the AHL and is probably more ready than Rielly. He has less upside but is more of a two-way guy as opposed to Rielly's all-out offense. Blacker still has offensive potential, which has yet to show at the pro level, but also likes to play with a physical edge and doesn't mind to drop the mitts every now and then. He is bound to get a shot this season and is in the last year of his entry level two-way contract.
Korbinian Holzer
He looked much better than his -12 rating in 22 games for the Leafs this season and was re-signed (before his rating plummeted) for the next two years at very good money ($725,000/$850,000). Big, strong, and more of a shutdown guy, Holzer's contract works in favour of the cap, because though its a one-way contract, it doesn't count against the cap if he starts the season for the Marlies. I have no problem with Holzer playing a bottom pairing role this season and I feel the signing was a good one.
Matt Finn
Certainly further away than Rielly or Blacker, Matt Finn also appears to be a promising prospect. He's collected 79 points in 102 games during his last two years of junior with a mediocre Guelph squad. This year was a tough year for Finn as he had mono, followed up by a knee injury but he fought through it all and will likely spend another season in the OHL. His entry level deal hasn't even begun yet so still a ways away from the NHL.
Maple Leafs Defense Grade
The current top six of Phaneuf, Gunnarsson, Gardiner, Liles, Franson and Fraser is very ordinary. Lots of rumours are out there so there is a good chance this roster will be shaken up as soon as draft day. Hopefully that includes bringing in a defenseman via trade (right-handed would be nice, as Franson is the only one), because right now this defense only gets a C+ grade.
Nathan Kanter covers the Vancouver Canucks and Toronto Maple Leafs for The Hockey Writers. He received his master's in journalism from Western University in May of 2015 before serving as the first ever Digital Managing Editor at Western's university newspaper, The Western Gazette, in 2015-16. From 2016-18, he served as the radio play-by-play voice of the Battlefords North Stars in the SJHL. His work has been published in The Hockey News, at Sportsnet.ca and at Dobber Prospects.