After last night's Stanley Cup victory, the second in four seasons it is hard to believe that the Blackhawks were a downtrodden NHL franchise. The Blackhawks ownership led by "Dollar" Bill Wirtz, alienated fans and former star players.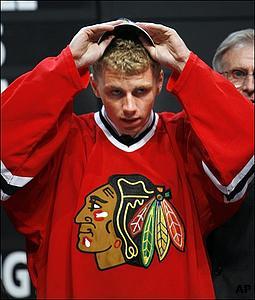 When the team decided to draft the players that can get the team out of obscurity, one of the players the Blackhawks drafted was Patrick Kane.
I remember one of the first things the fans said about Kane was how young he looked. The team even had a marketing slogan celebrating their youth movement called "Red Rising:"
After a subpar 2011-2012 season, fans and media wondered if Kane cared more about partying than hockey. Some wanted the team to trade Kane because of the off-the-ice antics. During the lockout, Kane took his game over to Switzerland. To keep him focused, or out of trouble, his mother, Donna became his roommate. Kane's play in Europe led many to believe that Kane was getting back to his old self.
The lockout-shortened season was a revelation for Kane. For much of the season, he was among the league leaders in goals, points and assists. Along the way, Kane became a finalist for the Lady Byng Trophy.
In the Stanley Cup playoffs, he did struggle a bit. By the time the Blackhawks won the Stanley Cup in dramatic fashion, Kane became the Conn Smythe Trophy winner. Kane is the fourth American born player to do. Six years to week he was drafted.
http://youtu.be/D4hugb_hQRQ
The future is bright for the Chicago Blackhawks.