This is the third of a three-part feature on the Toronto Maple Leafs 2013 June roster at all three positions: goaltending, defense, and forwards. It will look in-depth at their current cap situation, considering who to let walk and who to sign, as well as possible trades that management might want to consider. It will give each current roster position a letter grade, and then in September, the "re-tooled" roster will be re-evaluated and given new grades.
Unfortunately with all the forwards there is no room for me to go through the minors. That I'll have a separate feature on later this summer which will actually work better because I can include players who the Leafs take at this Sunday's Entry Draft. There's a lot to get through so let's get started.
Leaf Forwards Under Contract
[table id=104 /]
Mikhail Grabovski
The first thing that should jump out at you is that Grabovski is the highest paid forward on the team. Hmmm…really makes you wonder. Colleague Kevin Pentz just wrote a great piece about Dave Nonis' options and I agree with him on all counts.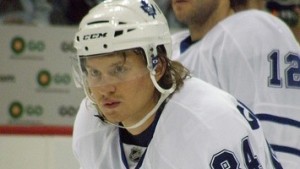 A buyout is certainly an option and it would cost the Leafs $14.33 Million over the next eight years. Yikes. No it's not in the same league as the Lecavalier record-breaking $32.66 Million buyout, but it's still not an easy pill to swallow.
Trade market for Grabovski? Yeah right…Sorry but just don't see that happening.
The problem with keeping him around is that Kadri is now undoubtedly the other top-six centerman but with Nonis still looking for another number 1 center (that or Bozak), that would push Grabo or Kadri to the third line spot, which is not ideal for either, as Kadri deserves top-six minutes and Grabovski would be making 5+ million for third line minutes (and he wouldn't be happy either…).
Therefore whatever happens with Grabovski completely depends on what Nonis can do on draft day in terms of trades. If he finds his center, then I think Grabovski gets bought out.
There's also the possibility that they don't acquire one, then buy out Grabovski, and sign Bozak or a center on July 5th (the buy out period ends before free agency begins so it would be a bit risky to buy him out without knowing for sure that you're going to get a replacement).
Phil Kessel
He will certainly get one heck of a pay day next season, which has led some to speculate trading him, which frankly I think is outrageous.
You've simply got to sign him, though I hate life-long deals (the evidence for this is mounting with all these buyouts because of stupid contracts). I hope Kessel gets a five or six year deal. (For more on why 5 years is the best length, check out my article on Couture's extension). Pay Kessel whatever it takes, likely in the $7 million range.
Joffrey Lupul
I winced a little bit when management upped him for five years after one good season. Yes he's good, but only when healthy and $5.25 million is a bit steep. But when he's in the lineup he's golden. Once again a great Burke deal: him and Gardiner for Beauchemin.
James van Riemsdyk
I'm not trying to sound like a broken record but here's another great Burke deal: JVR for Luke Schenn. I think van Riemsdyk was a top Leaf forward in the playoffs and it's great having a big body in the top-six and on the powerplay. The question is can he be consistent and with his contract let's hope so.
Nikolai Kulemin
Just one year left on his contract and he had a mediocre year but not much you can do. He works well because he can play a checking line or sub in in the top-six if asked. Versatility is key. He's also playing for his next contract so should have some motivation this year.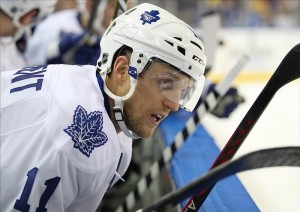 Jay McClement
The Leafs PK went from 77.3% (28th) to 87.9% (2nd) in one season, and they have this guy to thank (and I guess Reimer a bit too…). Great value for a hard worker who does all the little things that help a team win games. They better look to re-sign him next season.
Colton Orr
I'm not going to get into the whole "enforcers are/aren't needed" argument, or one about whether fighting belongs in the game or not. The fact is fighting is part of the game right now, and it doesn't hurt to have a guy in your lineup who can inject some energy into the team and the crowd by dropping his mitts every now and then. My problem however is that he is not worth almost a million bucks a year, and it would help if he could do other things as well. Again I'm a guy who likes versatile players, and Orr is not one of them. I wouldn't have re-signed him for two years but he did play 44 games last year and the team as a whole played well so I guess management thought no reason to change anything.
Maple Leafs Free Agents, What To Do?
[table id=105 /]
As I mentioned in my look at the Leafs defense, there is not really enough room to re-sign everyone. Taking the median expected salaries from the chart above, it would cost Toronto $12.6 million to re-sign all five free agents (Komarov was a RFA and is not included in the chart because he already left for the KHL). That would put them over the $64.3 million cap BUT if they buy-out Komisarek (which they should), they would still have a little more than $3 million of space. BUT, most of that, if not all, would go towards Jonathan Bernier's new contract. So, signing all five would NOT be a good idea, as they need some cap flexibility especially if they are going to be making some deals to acquire a top-4 D-man or a number 1 center (which they are rightly looking into).
Nazem Kadri
Had a breakout year and MUST be signed. Other promising RFA's who have recently signed deals have all been defenseman (Voynov, Josi, now Shattenkirk) and all have been in the $4+ million range. I expect Kadri to be similar but perhaps (and hopefully) less because his breakout season was only in a 48 game schedule.
(*Aside: As I was writing this up, it quickly got way too long as I went into detail about what kind of contract the Leafs would be looking at with Kadri so I decided to make it an entire article. For the purposes of this article, let's just say Kadri needs to be resigned and WILL be resigned but for a more in-depth look at the 22-year-old's next contract, feel free to check it out.)
Joe Colborne
A draft earlier than Kadri and a year older, but behind in his development as he hasn't taken that next step at the NHL level. A couple good but not great years with the Marlies means he can't demand a high salary but the Leafs would be wise to keep him. He could be that big bodied Leafs center the team has been looking for, but it's becoming more clear that may be in a third line capacity, though 2nd line is still a possibility.
Frazer McLaren
See above: Orr, Colton.
Clarke MacArthur
Same as Grabovski in that two years ago he had great numbers in the top-six, but had an off-year this past (shortened) season. Different than Grabovski in that he didn't get a crazy 5-year $27.5 million contract, and now MacArthur's contract is up. Unfortunately, he's got to be the odd man out in my opinion. The Leafs need cap space and he can't be paid $3 million. Now, I wouldn't mind having him in a bottom-six energetic role, and IF, IF he can agree to a McClement-type of contract, then that I could live with. Otherwise see ya.
Tyler Bozak
What to do with Tyler Bozak? It's actually pretty simple in my opinion. We want you. We could use you. But we can't pay you what you're looking for. You either take the $3 million that we can offer (not even the $3.5 million thats being speculated), or we're going to have to part ways. Sorry but there are better players that can be had for the alleged $5+ million Bozak is seeking. Lecavalier was just bought out…hmmm.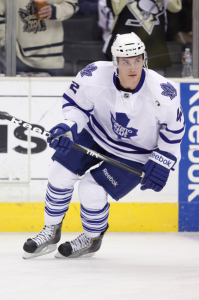 Personally I WOULD offer Lecavalier a contract to fill Bozak's shoes. There's also possibility he wants a short term deal so he can return to the Lightning for a more affordable price next year (a bought-out player is forbidden from signing with the team that bought him out for only one year), which is something I like but don't see the Leafs going for. Vinny also likes playing in a quiet market and there's also tons of other teams who will be interested in him. So in reality, getting him is a long shot.
Other options? Weiss has been talked about but that makes little sense to me because he will also seek $5+ million and he's not that good. He's good, but he's not our guy. The free agent class is weak so I think it's imperative that Nonis acquire a center via trade. If he can't, sign someone to a shorter term deal to avoid handcuffing ourselves with a Grabovski-type contract (a long term deal that overpays a mediocre player…Let's please not do that with Weiss, Ribeiro or even Lecavalier).
Toronto Maple Leafs Forwards Grade
Top six: Kessel, JVR, Lupul, Kadri, Kulemin, Grabovski??
Here I hope Grabovski gets bought out after Nonis acquires a true number one center. That gives us a solid top-six with spread out talent (I would have JVR, Kadri and Kulemin on 2nd line but Carlyle could mix things up to see what works). For now (and for the grade), Grabo stays.
Bottom six: I have a fourth line of McClement, Orr and McLaren. The third line is Colborne and ugh…nobody else… Therefore here are my free agent targets to fill out the rest of the roster:
1) Ryan Clowe: this is assuming it won't cost $4 million dollars which some team may very well pay him but if you can convince Clowe to sign for cheap then I say why not? He can play top-six or bottom-six, he's a great teammate, he can fight, he can score, and he's got size that Toronto loves.
2) Matt Hendricks: Everything I said above but with less scoring and at a cheaper price. Plus he's great in shootouts. Plays center as well as wing, but Colborne and McClement can't really play the wing…
3) Danny Cleary: Another great character guy who can play a third line role and chip in on offense a bit
I would just sign one of the above guys (if they all sign somewhere else than there are other options too), and then have a young guy compete for a roster spot. Biggs is almost ready. So is Ashton. But someone must be signed because competition in camp is good and there shouldn't be too many spots available.
With Grabovski still on the team and Nonis still without his number one center, and with the holes in the bottom six, this roster gets a B- grade.