The San Jose Sharks playoff woes of the past decade have been well documented. Every year they're in the mix, and every year they come up short. Every year they get older too. The core group of Joe Thornton, Patrick Marleau, and for the past five years Dan Boyle, aren't getting any younger, and have taken a lot of heat for the Sharks inability to get over the hump (zero Cup finals appearances in franchise history). But, as my esteemed colleague Kenneth Laws has rightly pointed out, there is a new core in Shark-land. A quick look at the statistics and this becomes bright as day.
Who led the Sharks in goals this season? Logan Couture. Who led the team in game-winning goals? Logan Couture. Who led them in shots on goal? Logan Couture. What about power play goals? Couture. Plus-minus? Couture. Points? Well…Couture was second. He led in goals, game-winning goals, and power play goals once again in the post-season and was second again in points. He also improved his face-off percentage from 51.5% to 60.3% come playoff time, good enough for second in the NHL. But heck, you Sharks fans already know how good Couture is, don't you? This article is not intended to praise the play of the Guelph native. Instead, it is to praise the work of Doug Wilson and the rest of his Sharks staff for locking up the 24-year-old to a 5-year contract extension at an annual cap hit of just $6 miilion, one that kicks in for the 2014-15 season.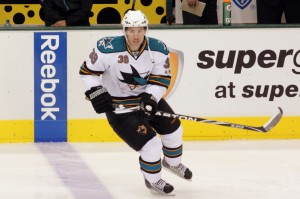 The Perfect Length
Call me crazy, but five-year deals are the best for both parties. Before the new CBA, I laughed at GMs who signed their players to 10-plus year deals. And I'm not talking about the DiPietro, Luongo and Kovalchuk "I-want-you-here-for-eternity" deals. I laughed at Jordan Staal's 10-year $60-million contract. Look at what may happen to Brad Richards and his nine-year $60-million contract (on a side note props to Steve Ives for calling this before he was a healthy scratch in the playoffs).
Of course, under the CBA all deals cannot exceed seven years, unless the player re-signs with his current club, which only extends the maximum to eight years, such as Malkin's new contract. Yes that's right: I'm at issue with his new deal. The money isn't the problem, it's the length. Malkin will be 34 in the last year of his eight-year deal, and he'll be earning $9.5 million. Really? I get it, the guy is a top player and wants his money secured, and the Pens don't want him to walk, so they secure him as long as they can. But haven't enough GMs been screwed by long term deals to realize they aren't worth it? The way I see it, something I like to call the "what-if" factor comes into play. "What if" that player suffers a serious injury? "What if" that player gets a new coach who he doesn't see eye-to-eye with? "What if" that player just starts to suck?
The point is, you can't predict anything eight years down the road, so why not settle for five? It gives both parties comfort to be locked in for half a decade, but it doesn't screw over the organization when they are forced to buy out a player (Briere anyone?), or are stuck with an overage player that carries a huge cap hit and can't be moved (Luongo anyone?)
In Couture's case, he will be 30 when the contract expires, meaning the Sharks have retained him through his prime, but aren't stuck with a $6 million salary on a player who may start to decline after he's 30. I am not saying he will decline. I am saying you never know, and if he does, the Sharks have flexibility. Odd's are Couture will simply sign another five-year deal when this one is up.
Great Timing
Getting it done a year in advance does a few things, most notably though it means Couture, who was set to become an RFA, won't have any chance of being lured away with a potential offer sheet. Offer sheets are rare in the NHL but now there's absolutely zero chance of that happening.
There's also the possibility that Couture goes out this year and has a career year. That would have allowed him to ask for more money, something he likely would have gotten.
Most importantly however, is that it makes things easier for Doug Wilson next summer (granted he's still here). Thornton, Marleau and Boyle are all set to become UFA's in 2014, and getting this deal done now crosses one name off his list and allows him to focus his attention on the other important pieces. He would be wise to lock up Pavelski to a similar deal as soon as possible.
Fair Value
Let's be honest: $6 million is hardly peanuts. But for a player of Couture's caliber, it's a bargain. The 24-year-old plays big minutes, wins faceoffs, kills penalties, and is money on the power play. Did I mention that he scores goals too?
Consider this: Patrick Marleau's last contract, one that he signed at the age of 30, carried an annual cap hit of $6.9 million. I'm sure most Sharks fans can agree they'd rather have a Logan Couture in his late twenties rather than an (inconsistent) Patrick Marleau in his early thirties.
I'm not going to name all the bad contracts out there that are more than $6 million per year, as there are simply too many (Lecavalier, Briere, Semin to name a few). Instead, ask yourself what a true, number one all-around centerman is worth in today's NHL, and you'll quickly realize it's more than what Couture got.
Oh and if you're still not convinced about how good this kid is, here's some video evidence:
.
Nathan Kanter covers the Vancouver Canucks and Toronto Maple Leafs for The Hockey Writers. He received his master's in journalism from Western University in May of 2015 before serving as the first ever Digital Managing Editor at Western's university newspaper, The Western Gazette, in 2015-16. From 2016-18, he served as the radio play-by-play voice of the Battlefords North Stars in the SJHL. His work has been published in The Hockey News, at Sportsnet.ca and at Dobber Prospects.