Written by Ian C McLaren, Lead Boston Bruins Writer.
If there was a common term used to describe Game 4 of the Stanley Cup Final, it was "roller coaster." That back and forth, up and down affair between the Boston Bruins and the Chicago Blackhawks featured an uncharacteristically high amount of defensive breakdowns and wonky goal tending, goals and other close calls, crazy bounces and blown leads, all resulting in a 6-5 Chicago overtime win and a tied up series.
If it seemed very un-2013, it's probably because (according to NHL.com) "it was the first time a Stanley Cup Final game ended in overtime and featured more than 10 goals since the New York Islanders defeated the Vancouver Canucks in 6-5 in Game 1 of the 1982 Final."
It all made for a pretty classic tilt, one that sets up a best 2 out of 3 scenario for these two teams moving forward, with Chicago regaining the advantage of home ice and everyone left to wonder "what's next?"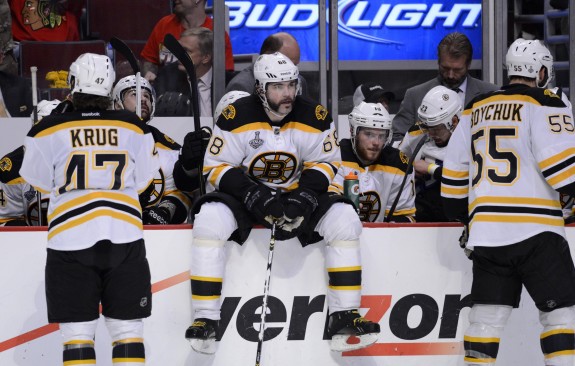 From a Bruins perspective, the "roller coaster" analogy might remind some (up here in Canada, at least) of a ride called 'The Bat', located just North of Toronto at a place called Canada's Wonderland, one of the most visited theme parks in North America. Now 'The Bat' features your standard mix of speed, rolls and loops, with one major difference: halfway through the ride, on a steep incline, the carts come to a complete stop before being released to travel back down the same track, but only this time in reverse.
That's sort of what Wednesday night's game felt like; with an opportunity to win at home and to take control of the series with a 3-1 lead, the Bruins seemed to roll back into the old mode of taking the hard road, causing everyone to brace themselves for another wild ride over the course of the next 2-3 games.
It's all very familiar, this taking it to the limit. Boston's playoff fate has been determined in Game 7's every year all the way back to 2008. They had to do it 3 times en route to the Cup in 2011, and barely escaped a similar situation this year against the Toronto Maple Leafs.
Of course, even after their subsequent success against the New York Rangers and the Pittsburgh Penguins, nobody thought that Boston would be able to roll over the Hawks with similar ease; the common perception was that this series was destined to go 6 or 7 from the start, with the present scenario being the most likely of all. Sure, the Final COULD be over as early as Monday night in Boston, with the notion of winning the Cup on home ice this time being quite tantalizing. But while Toronto caused all kinds of match up problems for the Bruins, Chicago is proving to be without question their toughest opponent, validating the fact that a long series was in everyone's forecast coming into the Stanley Cup Final.
The oddity here is the path taken to get this point point, with both teams showing flashes of dominance on one hand and incompetence on the other, with all kinds of reasons for everyone involved to feel some mix of relief and regret up to this point.
Yes, Boston has yet to lose in regulation since Game 6 in Toronto, and can take solace in the fact that, despite some atrocious defence in Game 4 and at other points along the way, Chicago has still required 4 periods of overtime to beat them twice. And at the same time, one just has to go back to 2011 to recall a best 2 of 3 without home ice advantage scenario, and that seemed to work out OK for the Bruins.
While the temptation (on both sides) is to look back at the first four games of this series and ask "what could have been?", the reality is that this series is both painfully and wonderfully far from over, and, from a hockey perspective, it's a ride that we're all fortunate to be on. With 1 day left in Spring, Bruins and Hawks fans have as many as 3 games left to sweat through, and that's not something to be taken for granted, no matter what the eventual outcome.
Game 5 goes Saturday night in Chicago. Look out for all kinds of "pivotal" language heading into that one.
Follow Ian on Twitter for more hockey updates and commentary.