After making a monumental trade involving Phil Kessel, the Toronto Maple Leafs made their second signing of the day by inking P.A. Parenteau to a one-year contract.
From MTL to TOR: @MapleLeafs sign F P-A Parenteau to a one-year contract. #FAF pic.twitter.com/fvncxsVunt

— SportsCentre (@SportsCentre) July 1, 2015
Parenteau spent last season with the Montreal Canadiens, only playing 56 games as he was a regular healthy scratch. That was an odd choice concerning the problems that the Habs had scoring. It continued into the playoffs. Now, Parenteau leaves the Habs and will get to experience the Leafs-Habs rivalry from the other side.
Now, Parenteau comes nowhere close to the skill that Kessel has, but don't be surprised to see him on the second-line, maybe even the first-line to give the Leafs some offense next season. With Kessel gone, the Leafs will need to replace at least some of that offense, even during a rebuild.
Parenteau has been bouncing around recently, never playing more than two seasons with a team. He came into his own playing with the New York Islanders, playing alongside John Tavares. After moving to the Colorado Avalanche in 2012, he could never reclaim the offense that he had with the Islanders, never matching the point totals. That didn't change much in Montreal this past season as his point totals of decreased each season since he left the Islanders.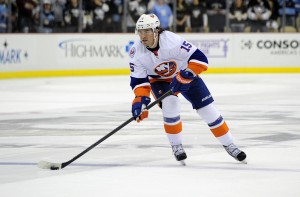 This could be a signing that ends up like the ones that Mike Santorelli and Daniel Winnik signed last season. The Leafs could very well hope that Parenteau gets back some of his offensive flair back, and then trade him at the trade deadline for a draft pick. During this rebuild, Toronto will be the home of reclamation projects and this signing definitely looks like that type of situation.
Follow all of Wednesday's free agent signings with The Hockey Writers' Free Agent Tracker.
RELATED: Phil Kessel Traded
[catlist categorypage="yes" numberposts=3 excludeposts=this]
Toronto Maple Leafs Writer At The Hockey Writers.