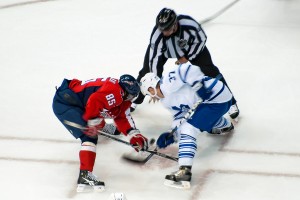 The heart, hustle and hard work of Toronto Maple Leafs forward Tim Brent has paid off.
Brent, 27, is the Maple Leafs' Bill Masterton Trophy nominee. The award is given annually to the player who best exemplifies perseverance, sportsmanship and dedication to hockey.
In 79 games this season, Brent has recorded eight goals and 12 assists for a total of 20 points. However, statistics don't matter when it comes to the Masterton award, and that is why Brent has been nominated.
Going into the 2010-2011 campaign, Brent had just 19 NHL games under his belt. After playing in the final game of the 2009-2010 season for the Leafs, Brent managed to crack the roster out of training camp. He didn't disappoint.
In the 79 games Brent has played in, he has shown great leadership and that he is willing to put everything on the line if that means helping his team to victory.
For example, he came up with three huge shot blocks─first on Jeff Skinner, then on two booming shots from Eric Staal─while down two men against the Carolina Hurricanes on February 3rd. Tired as a dog, Brent then sprawled across the ice and cleared the defensive zone. The Leafs were ahead 1-0 at the time of that great shift from Brent, and they went on to win the game 3-0.
It's those kinds of things teams need from their lesser-lights to be successful. While the Leafs didn't exactly have a banner year, they managed to improve on their 2009-2010 campaign by a large margin. They even made a legitimate second half playoff push that came up just short.
To go along with his great on-ice play, Brent made regular visits to the Hospital for Sick Children during the season.
One player from each NHL team is nominated for the award, as chosen by the Professional Hockey Writers Association chapter for that city. At the end of the season, the PHWA will hold a vote of the entire association to determine the winner.
Follow me on Twitter @LukasHardonk for more Maple Leafs coverage, including news, rumours, updates and opinion.