*For all the latest prospect and draft news follow me on Twitter: Brian Huddle
Please "Click Here" for "Notes Up Front" and the "Legend" forvarious topics covered below in my "Live Updated" NHL 2011 Draft Preview article.

Matt Puempel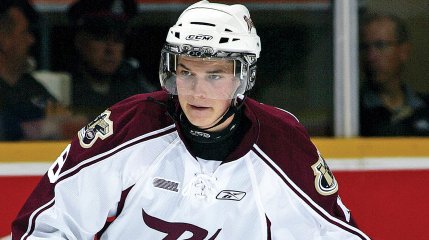 Born: Essex, Ontario
DOB: January 24, 1993
Height: 6'o"
Weight: 190 lbs
Position: Left Wing
Shoots: Left
NHL Draft Eligibility: 2011
One-Timer:
No stranger to the limelight, Puempel was drafted 6th Overall in the 2009 OHL Priority Draft, committing to play with the Peterborough Petes. Coming from the Sun County Panthers, Puempel came into the Ontario Hockey League with a storm, scoring 33 goals in his first season.
Though he missed a chunk of his second season with Peterborough, he continued where he left off with another 34 goals.
With all the makings of a top goal scorer at the NHL Level, Puempel shows signs of being a wildcard who could be taken much higher than most expect. His pure skill and hands are a desirable to any scout or GM in the National Hockey League.
Top Prospects Game: Was held pointless.
Statistics: 55 GP – 34 G – 35 A
Scout's Honor:
"He is dangerous with the puck and has an excellent shot," Edwards said. "He has the ability to make highly skilled passes through traffic and can make his linemates better. His goals are skilled goals."

"I think Matt just needs to continue to find a complete game and he made great strides in that direction," Peterborough coach Mike Pelino told NHL.com. "I think throughout his whole youth, he was such a natural scorer. This year we've got him killing penalties and playing in key defensive situations, primarily to give him the opportunity to develop in those areas. As he continues to round out his complete game, he'll continue to be that much more effective."
(NHL.com)

Bio/Interview(s)/Link(s):
· NHL.Com – Scouts: Despite Hip, Puempel Remains Top Prospect

· TrueHockey.com – Featuring Peterborough's Matt Puempel

International Tournaments
Played for Team Ontario at the Under 17's- scored 2 goals and 5 points in 6 games ta the tournament en route to a Silver Medal
ETA = 2-3 yrs
Risk-Reward Analysis:
Risk = 1.5/5   Reward = 4.0/5
NHL Potential:
Top Line Goal Scoring Winger
Strengths:
*See "One Timer" section above.
Effort less skater, with a great initial stride
Strong core strength
Excellent release on shot
Soft hands
Above average vision
Agile
Flaws/Aspects He Needs To Work On:
Poor defensive game
Injury problems with hip
Fantasy Hockey Potential: Offensive = 8.0/10   Defensive = 6.5/10
NHL Player(s) Comparison:
– At his best:
Video(s):
Off The Iron (Interesting Notes):
OHL Rookie of the Year in 2009-10
CHL Rookie of the Year in 2009-10
THW's The Next Ones prospect profile template design architect: Chris Ralph
This document is the intellectual property of Brian Huddle and cannot be used or duplicated in any way without expressed written consent. Any use of this document without the expressed written consent of Brian Huddle will result in public exposure and legal prosecution.
An NHL Draft and Prospect Junkie. I'm an avid follower of the CHL, and my primary focus is on scouting and player development of prospects through all leagues. I work for a prospects focused site and my work can be seen in the Future Considerations Draft Guide (http://futureconsiderations.ca/)
Check me out on Twitter as well: @BrianHuddle