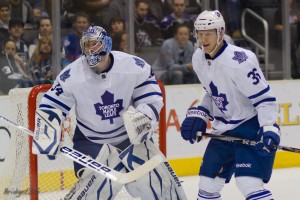 It was only a matter of time before the Maple Leafs' dreams of post-season play came to an end. Too much poor play in the season's first half guaranteed it. Though the reality of another season without a chance at a championship is lamentable, Leaf fans have been treated to some very good hockey from their team. There is reason for some hope that the playoff drought could come to an end soon.
In fairness, the second-half performance of the Toronto team this season is partly attributable to players playing at the top of their skill level. Even optimistic Leaf fans know that James Reimer is a rookie at the NHL level, Mikhail Grabovski is a decent 2nd line centre but not the answer as top man, and Darryl Boyce and Joey Crabb are probably not regular NHLers. But before writing the Leafs off for 2011-12, a deeper look suggests it's not all an illusion.
Start with the numbers. Since January 1, 2011, the Maple Leafs are 24-14-7, good for 55 points and a 0.611 point percentage. With only 1 game remaining in the season, it guarantees that over the last 45+ games, the team will be over .500. Compare that to previous records post-January 1. In 2009-10, the team was 16-20-5 (0.451); in 2008-09, 19-19-7 (0.500); and in 2007-08, 21-16-3 (0.563). The 2010-11 version of the team was able to gain significantly more points over a similar number of games. It's marked improvement, and reason the Leafs were mathematically alive in the playoff chase until the final week. Perhaps even better news is though they are 10-5-5 at the Air Canada Centre, the Buds managed an impressive 14-9-2 record on the road, something uncommon for a Toronto team. In 2009-10 for example, the Leafs were 5-11-4 away from home after January 1, 10-9-2 the season prior to that.
That's not to say the Leafs are now a perennial contender. But, half a season is a fair sample size, incorporating a number of situations. Enough to say this is less a little hot streak than a pattern of improved play.
There were, of course, disappointing performances in this stretch; a bad 5-1 loss to the Coyotes;  a horrific 7-0 whitewash against an undermanned Rangers team; 2 losses to the Lightning; a Carey Price shutout in Montreal; a 4-0 blank against Florida. But, the Leafs were able to throw a monkey or 2 off their backs where division rivals Boston and Buffalo were concerned.
Against the Bruins, from the start of the 2006-07 season until the end of the 2009-10 season, the Leafs were 9-15-4, allowing Boston 5+ goals 7 times, while scoring 2 or less on 17 occasions. In 2010-11, Toronto was 4-2-0, including winning the last 3 matchups. Shut out once by the B's, the Leafs trimmed Boston's goals total to 14 in the 6 games. Even former Bruin Phil Kessel was finally able to break through against his old team, getting 2 goals and 3 assists over the last 3 contests.
The Buffalo Sabres have also caused the Leafs all kinds of trouble, Toronto was 8-16-4 over the same 2006-10 period against their rival from down the QEW, including allowing Buffalo 5+ goals 9 times, and scoring 2 or fewer 15 times. However, this season, the Leafs managed a 3-2-1 record to win the season series. Importantly, Toronto was able to solve goalie Ryan Miller (who has absolutely dominated the Leafs over his career), winning 3 times against him in a month.
Individually, many players stood out with better than expected performances. Again, when a team misses the playoffs, it is fair to say that the team was not as good as they should have been. But consider the following…
Nik Kulemin has 30 goals and 57 points, eclipsing previous highs of 16 goals and 36 points…
Mikhail Grabosvki needs a goal in the final game to join Kulemin and Kessel and give the Leafs 3-30 goal scorers, something achieved by only Anaheim this season…
Clarke MacArthur tailed off as the season wore on, but his 21 goals and 65 points are career highs…
Luke Schenn shook off a shaky sophmore season and showed he's matured into a top-4 defender, a solid shutdown player, leading NHL defencemen in hits and having over 150 blocked shots to his credit…
Dion Phaneuf improved significantly in the second half of the season. He scored 7 goals and brought his +/- back up to near even…
Carl Gunnarsson and Keith Aulie have played capably, playing 20-or-so minutes per game, and rounding out a defense corps that is young and improving…
James Reimer provided stability in the net, with a 20-9-5 record and 0.922 save percentage…
Colby Armstrong missed over 30 games due to injury, but managed 8 goals and 23 points…
Mike Komisarek and Brett Lebda were noticeable for how poor their play was compared to compared to their play with previous teams.
All that said, none of this matters if the momentum is not carried over next season. Without a doubt, the Maple Leafs must make the playoffs in 2012, anything less will put into question how effective this latest rebuild is. Ignoring for a minute the work of past regimes, it has been 40 months since John Ferguson Jr. was relieved as GM, and 29 since Brian Burke was hired. Burke has acquired some draft picks and prospects, but the fact is that the roster ending this season is predominantly Burke's. Yes, Kulemin, Reimer and Gunnarsson are draft picks from JFJ's era, and Fletcher traded for Grabovski, but in fact no current Leaf was on the roster at the close of 2007-08. This is legitimately Brian Burke's team, and almost 3 years in, a playoff berth is has to be expected by now. There is still work to be done by Burke and coach Ron Wilson to reach that goal.
In net, management cannot repeat the same mistake as this past season, not properly evaluating the talent available. Reimer was rated as low as 4th on the depth chart, but showed in the last half of the season he likely could have started with the Leafs. Dependent upon what transpires over the summer, a number of scenarios could occur. Reimer will have to be re-signed, and a decision made as to whether he is going to handle being a full-time NHL goalie. If JS Giguere's groin surgery is successful, is his value as a teacher enough to warrant bringing him back as a (much cheaper) veteran back-up? Does the free agent market hold a better option? And what is to be done with Jonas Gustavsson, who crumbled under the pressure in net?
On the defense, Schenn and Gunnarsson need to be signed. Phaneuf and Aulie are in place, rounded out the top 4. Burke will need vast improvement from Komisarek and Lebda, both signed for next year. Or will Simon Gysbers, Korbinian Holzer or highly touted Jake Gardiner make an impression at training camp?
Up front is where the most chance for change lies, and probably the most uncertainty. Perhaps there is enough scoring on board but it needs consistency. Kessel (31), Kulemin (30) and Grabovski (29) led the team. If he is re-signed, MacArthur (21) will need to repeat that performance. Joffrey Lupul (9 goals in 27 Leaf games) will also have to show he is going to be able to contribute. That suggests 3-30 goal guys, and 2-20 goal guys. From there, Burke will look to add an impact forward, such as Brad Richards, either through free agency or trade to try to push Kessel to 40 and add another 20-25.. Or, have Tyler Bozak (14 goals) or Nazem Kadri shown enough to suggest they can be that missing player? And tonight, prospect Joe Colborne (15 points in 19 Marlie games) gets into his first NHL contest… can he impress next training camp?
From a coaching standpoint, Ron Wilson has missed the playoffs for the 3rd straight season. While he can be credited with success over the last half season, the fact is that he will be on a short leash next year. History shows that prolonged losing streaks in the first half cannot be overcome with a strong second half. It simply cannot happen again next year, and without doubt the coaching will take the heat if it does happen. Further, he will need to find ways to get the special teams out of the bottom third in the standings, let alone the bottom sixth which is where they have resided all year.
The last half of the 2010-11 season shows that for the Leafs, there is real potential to be a playoff team. Leaf fans should indeed be optimistic about the possibilities. The task is far from complete, there are still additions that need to be made. And 2011-12 will be the make-or-break season that tells us whether Brian Burke's talent evaluations are accurate or whether he's gambled too often. If the players cannot repay his trust in them with performances similar to this season, Leaf Nation will call for Burke's replacement sooner than later.
A graphic designer and production artist by trade, Mark is a long-time hockey fan. He was a Maple Leafs contributor to TheHockeyWriters.com for over 2 years, and has written for other websites. You can follow him on Twitter @MarkAscione