It's been a long time since the Toronto Maple Leafs have had a quality prospect pool. Previous management groups were all about winning and would trade prospects and draft picks for players well past their prime. Thankfully, that has changed under the Brendan Shanahan regime. The Leafs now have big and stable prospect pool, one of the reasons they were able to take some more risks with the 2017 Draft.
The Leafs used their previous three first round picks to take Auston Matthews, Mitch Marner and William Nylander. Those three now form the young forward core of the Maple Leafs and they are an inspiration to the Leafs' younger prospects. The problem for these prospects (though a good one for the Leafs) is that as the Leafs become a better team, it will be harder to crack the lineup. However, that means with a year or two more of development, they should be more than ready when a roster spot opens down the line. Those spots should open up when the Leafs' young trio are all of their entry-level deals as the Leafs will need cheap contracts to offset the big contracts the Leafs will have.
Here are the four prospects that top the Leafs depth chart.
Timothy Liljegren
Well, this one is obvious. After the 2016 NHL Entry Draft, the top two prospects for this year's edition were Nolan Patrick and Timothy Liljegren. While Patrick's injury didn't cause him to fall, Liljegren's bout with mono had a huge impact on his season. He played with four different teams last season and that is not good for any player as you can't get settled. It's even worse for a young player as it hurts their development. This is why he will be returning to Sweden for one more season.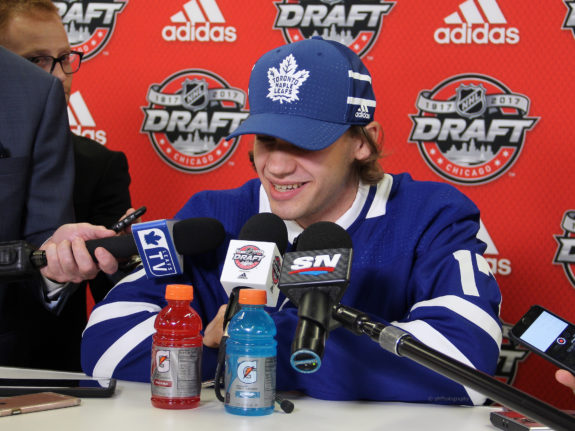 While he was drafted by the Niagara Ice Dogs in the CHL Import Draft, it's better for him to play against players older than him rather than players his age. That's why Matthews chose to play in Switzerland for his draft year, he wanted to make himself a better player. That's what Liljegren will be doing this season and the Leafs will be the better for that. Even if he wows everyone at camp, the Leafs have other defensemen that are ready to make the jump, so it pays even more for Liljegren to stay in Sweden.
The Leafs have something special in Liljegren. Just look at who he wants to model himself after.
"I liked Lidstrom for sure and tried to learn things from his game and I like to watch Erik Karlsson now in Ottawa… That's the type of player I want to be."
Sure, everyone wants to be like some of the best NHLers. Here's the thing, even if he doesn't reach the heights that those two did, becoming even close to the players they are is still great for the Leafs. Also, he should be motivated to reach his potential with his fall in the draft. No matter what he says about not caring about his fall, it has to eat him at least a bit. That motivation had to help Jakob Chychrun last season and it should help Liljegren this year.
Kasperi Kapanen
While being one of the Leafs top prospects, Kapanen is downright one of the unluckiest.
Since being acquired from the Pittsburgh Penguins in the Phil Kessel deal (which seems like ages ago), Kapanen has been playing with the Toronto Marlies for the most part. In his rookie season with Marlies, he was lower on the depth chart with the Marlies' pretty stacked roster. He still managed to come out of the season with nine goals and 25 points in 44 games. After getting called up to the Leafs in late February of 2016, he returned to the Marlies for their playoff run with eight points in seven games.
In his second season with the Marlies, he emerged as one of their best players. Fighting through some injury troubles early in the season, he had 18 goals and 43 points in 43 games before he was called up to the Leafs late in the season. His first NHL goal was a pretty big one as it tied the game late in the third period in a game that saw the Leafs clinch a playoff berth. Making it even better was the fact that it was against his former team.
He then went on to be an important part of their short playoff run, even though he was playing on the fourth line. Just to one-up his first regular season goal, he scored in double-overtime to give the Leafs the victory in Game 2.
Now, the thing is that Kapanen looked like he would be a part of the Maple Leafs roster based on his play last season. However, that all changed when the Leafs signed Patrick Marleau. With the Leafs' depth on the wings, there isn't that much room for him. A player like Josh Leivo has to be put on waivers to be sent down. That is not a problem with the young Finn, making him the most likely player to be sent down at the end of training camp.
If a trade doesn't happen in the coming months, Kapenen will have to ply his trade for the Marlies once again.
Jeremy Bracco
"He's a talented guy… One of those few players who's faster with the puck than without it… He can really make plays. I like to see him when he's got the puck and he's cruising around the offensive zone. He sees the ice, he thinks real well. He's gonna have to get stronger for sure. We have a lot of talented guys up front in Toronto — it's going to be tough for everybody."
Those words are from head coach Mike Babcock about Bracco. You think Kapanen will have a tough time cracking the lineup. It will be even harder for Bracco to make the jump.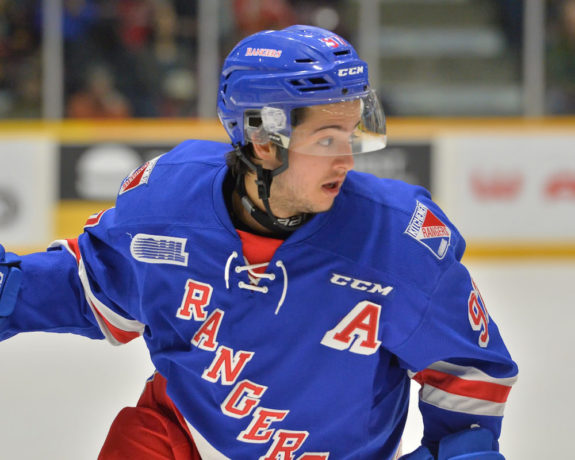 The year 2017 has been a great one for Bracco. He started it with winning a gold medal with Team USA at the 2017 World Juniors, scoring three goals and totaling five points in seven games. He then was part of the Memorial Cup-winning Windsor Spitfires in which he was named the MVP of the championship game. He had a total of three goals and eight points in Widndor's four games.
While still eligible for one more season in the OHL, it is likely that he will move on to the Marlies for this upcoming season. Hopefully his skills will translate into the professional game seamlessly.
Travis Dermott
The 2015 Draft could turn out to be a pretty good one for the Maple Leafs. They got Marner at fourth overall and Bracco at 61st overall. In between those two, the Leafs took Dermott at 34th.
There was once a worry that the points that Dermott got in the 2014-15 season (45) were because he was playing on the same team as Connor McDavid. He proved that wrong with a 43-point season in 2015-16. He then moved to the Toronto Marlies after the season ended, but only saw action in one playoff game.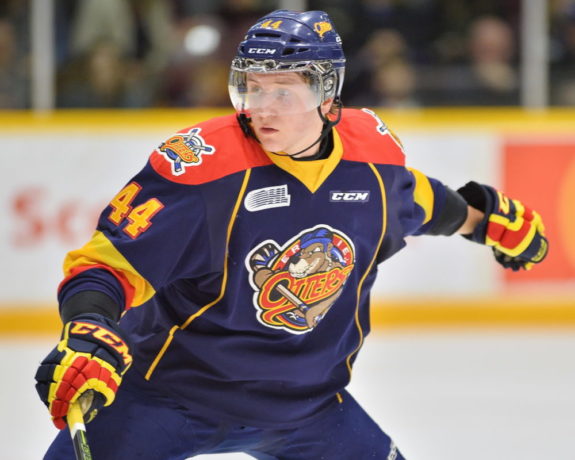 Moving up to the Marlies full-time last season, he didn't disappoint. Playing in 59 games, he had six goals and 24 points. That has led some to believe that he is ready to make the jump to the Leafs as early as next season. Justin Bourne, former video coach of the Marlies, had this to say about Dermott's chances.
"It's a tough one for me because I'm torn. I haven't seen any of our defensemen graduate the way that I have seen, over the past two years, a number of forwards go up… Just seeing him at our level, there were times when some of the higher-ups in the organization were calling him the best 20-year-old defenseman in the American league.

"He is another guy who is having a great season and suffered a tough injury. He had a high-ankle sprain and missed a couple of months, and that kind of slowed him down and took him a while to get back to speed. After he found his stride after about 15 games in the American league, he is just so elusive. When he goes back on a puck to retrieve a dump-in, forwards coming in to hit him can't touch him. He's just like Michael Vick in the pocket back there. He's very exciting and I think Maple Leafs fans should be real excited about his potential. I think he'll make the team. I like him a lot."
Honorable Mentions
The Leafs are in a much better situation then they were under past regimes. It was actually pretty hard to narrow it down to four. Other Leafs prospects that deserve a mention are Andreas Johnsson, Adam Brooks, Martins Dzierkals, Carl Grundstrom, Dmytro Timashov Andrew Nielsen, Rinat Valiev, Eemeli Rasanen and Joseph Woll.
Toronto Maple Leafs Writer At The Hockey Writers.