When you have one of the deepest prospect pools in the NHL, it's no easy task narrowing that pool down to the four best.
That, however, is the Winnipeg Jets' perfect problem. There are any number of talented prospects who could appear on this list. I'd venture to say you could leave the Jets' best prospect off this list (I nearly did, and I'll explain why in a moment) and still have a list to make other teams jealous.
As it stands, there was a clear-cut duo at the top, but beyond the first two places, the waters grew murkier. It's a testament to Winnipeg's depth that there were many players who might have occupied spots three and four.
The Jets cap situation may make signing all of this promising talent difficult, but that's a question for a later date. For now, they've got a lot of young talent both with the team and in the system.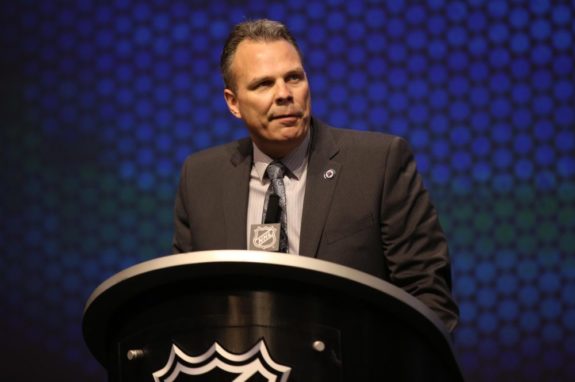 So, without further ado, I present the Jets top four prospects for 2017. Enjoy, Jets fans. It's quite the list.
1) Kyle Connor
The hardest part of this decision was whether to include Connor on this list after 20 games of NHL experience. By the strictest official criteria, however, he's still a prospect, and eligible for the Calder Trophy in 2017-18.
It's a good thing he's still eligible, because the Shelby Township, Michigan, native is a likely contender for it. A year older and wiser than when he debuted in the NHL, and with a tremendous AHL campaign under his belt, Connor is primed for a big year.
Connor had a tough start to his pro career. He looked lost at times in the NHL, was scratched often by the end of the first half, and got demoted to the AHL. Even there he found little success at first, looking a bit like a boy amongst men.
It's hard to say exactly when things clicked, but click they did. Connor laid waste to the AHL in his time there, showing off the skills that made him such a highly touted prospect to begin with. His wrist shot terrorized AHL goalies much as it had goalies in the NCAA in his incredible freshman season at Michigan.
His play earned him a recall to the Jets at the end of the year, and in his first game back not only did he earn high praise from head coach Paul Maurice he also scored on a sweet give-and-go with Adam Lowry that showed off his speed and shot all in one.
With the Jets season wrapped up, Connor went back to the Manitoba Moose and did what he'd been doing almost since he arrived – he filled the scoresheet.
The potential on Connor is massive. His skating, shot and hands are all above any other prospect in the Jets organization, and his strength has come along by leaps and bounds.
By any measure, both future potential and present standing, he is the Jets top prospect.
2) Jack Roslovic
The second of the top-tier duo for the Jets, Roslovic may not have had Connor's spectacular AHL season, but he was the more consistent forward and represented the Moose at the AHL All-Star Game. He led the team in scoring, edging out Connor by the narrowest of margins.
Roslovic also has one other thing Connor doesn't (and will never have) – a World Junior gold medal, earned in January for the United States. Connor's season was up and down, but Roslovic's had a steady upward trajectory filled with milestones.
Those milestones included his first NHL game in front of his friends and family in Columbus. While it wasn't as successful as Connor's recall, it was a taste of the big leagues for a player who is sure to earn more NHL time soon.
Roslovic may not be as dynamic as Connor, but it's closer than you might think. Like Connor, his speed and shot are above the levels of most prospects. He lacks Connor's explosiveness but might have better hockey sense.
Jack Roslovic led the Moose in scoring with 48 points in 2016-17. Take a closer look at his year "By the Numbers." #GoMooseGo pic.twitter.com/xqCkiQAh0w

— Manitoba Moose (@ManitobaMoose) June 6, 2017
Roslovic has exceeded expectations at every level since his draft year. He was supposed to be a second rounder. The Jets made him a first. He was supposed to spend four years in college. He stayed just one before turning pro.
Rookie pros are supposed to have a tough time transitioning to the AHL. Roslovic was his team's leading scorer and often their best player as a rookie.
Will he exceed expectations by making the Jets out of camp? Maybe. It would be unwise to bet against him. At any rate, he's the second best prospect in the Jets system.
3) Kristian Vesalainen
The prospect on this list with the hardest name to spell also has the hardest future to predict. He's the youngest and had by the far the most up-and-down season.
Some say Vesalainen's future is as a third liner with skill. Others say his play at the U18s, the only time he spent against his peers all season, is more indicative of his future. It's hard to shrug off the fact that the last two U18 MVPs before Vesalainen won this year have been Auston Matthews and Clayton Keller.
Vesalainen is not going to be in North America anytime soon, as he's headed back to Finland for the coming season. He cites a desire to put on weight and strength, but he's already 209 pounds, so getting stronger could make him an absolute beast.
His hands and shot were on display at the U18s in a way they never really were in Frolunda, and the Jets were immediately drawn to that. Cheveldayoff hinted that Vesalainen would have been a target had the Jets still held the 13th pick. By all accounts, he was supposed to go higher in the draft than he did.
The Jets can afford to be patient with Vesalainen as they have a talented forward core already and there's no need to rush him. He can develop at his own pace.
When that pace will take him to the NHL remains to be seen, but he currently sits as the Jets third best prospect.
4) Logan Stanley
This last slot was the hardest to fill. I gave consideration to Brenden Lemieux, whose potential I still see as high despite a tough first pro season, and Tucker Poolman, who's coming off a tremendous final year at UND.
On the basis of who's the better player right now, Poolman would likely have carried it. Potential has to be taken into account with prospects, however, and Stanley's potential is the highest of any remaining prospect in the system.
Although Stanley's season was even more marred by injury than Lemieux, he still showed plenty of promise. He matched his 2015-16 offensive output despite playing just 35 games and showed off some physicality.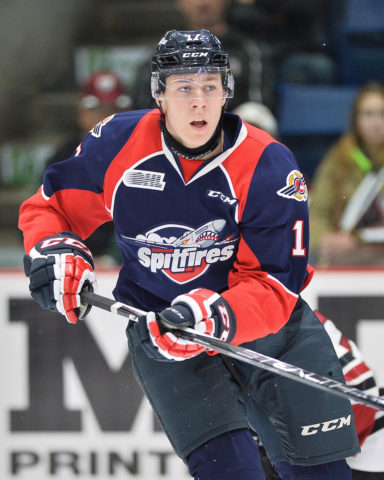 His season may have been cut short, but it was enough to earn him an invite to Canada's WJC camp. That would be a huge test of Stanley's ability, as the international game and the way it's called aren't always easy on hard-hitting defensive defensemen.
The towering defender is a long way from the NHL, likely the longest of any prospect on this list. After his junior career is over, AHL seasoning almost certainly awaits, and from there the Jets will need to bring him along slowly and patiently.
Stanley has the potential to be well worth that patience. Tall defensemen don't turn into stars right away (Tyler Myers notwithstanding); how many years did it take Zdeno Chara to round into form?
It's unreasonable to expect Stanley to be the next Chara, but the physical tools to be a strong defenseman for years in the NHL are all there and his offensive tools are coming along nicely. Stanley is the best defenseman in the Jets prospect pool, and the fourth best prospect overall.