Saturday's matchup between the Boston Bruins and Arizona Coyotes is shaping up to be more than just a hockey game.
This will be the final game for both clubs before Monday's trade deadline. Boston holds the final wild card spot with the Florida Panthers and Philadelphia Flyers lurking in the distance. Their wish list includes a top-six forward and a defenseman capable of playing top-four minutes. The Bruins are shaping up to be buyers at this year's deadline having placed injured center David Krejci on long-term injured reserve, clearing his $5.25 million cap hit off the books. With almost $7 million in cap space to use, general manager Peter Chiarelli is expected to bolster his club for the stretch run.
In their first season as the "Arizona" Coyotes, the club has recently plummeted to the bottom of the NHL standings. They have lost eight straight games and nine of their last 10. Arizona can potentially finish the season with a coveted top-two pick in this summer's draft featuring studs Connor McDavid and Jack Eichel. GM Don Maloney will be keen to rebuild his Coyotes for the future by shopping his current assets. Two players that have garnered interest around the league are defenseman Keith Yandle and center Antoine Vermette. Chiarelli will get a first-hand look at both players at TD Garden to see what the buzz is all about.
@DarrenDreger Yeah. No doubt. 3-years at $5M+ is a tough sell. I've been hearing it comes down to CHI/BOS for Vermette. Never a dull moment

— Joe Haggerty (@HackswithHaggs) February 27, 2015
The 32-year-old Vermette is one of the most coveted forwards at this year's deadline. His 35 points (13 goals, 22 assists) rank second on a club that only generates an average of 2.14 goals-per-game, second-worst in the NHL. Vermette leads all Coyotes forwards in time-on-ice per game (19:01) and fares well in the face-off dot. The six-foot-one-inch center ranks seventh in face-off percentage (56.2) and third in face-off wins this season (766), trailing only Bruins star Patrice Bergeron (822) and Flyers captain Claude Giroux (829).
Vermette has struggled of late however, having only scored twice in his last 11 games. Regardless of his struggles, many GMs around the league covet the Quebec native for his dominance in the face-off dot and adding depth at the center position. The recent injury to Krejci's has made Boston a potential destination for Vermette's services as they look to fill the void left by their first-line playmaker.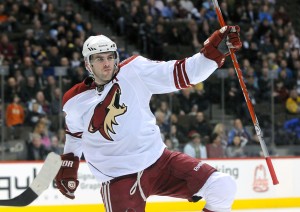 Bruins fans have long dreamt about the possibility of Keith Yandle suiting up in the Black and Gold. This season, it could be a dream come true. The 28-year-old defenseman leads the 'Yotes with 40 points (four goals, 36 assists) this season while averaging 23:57 of ice time per game. He may have the worst plus/minus in the league (-32), but Yandle is a proven commodity on the power-play. The 28-year-old leads all defenseman with 26 points on the man advantage while averaging 4:27 of ice time when the Coyotes are a man up.
His contributions alongside fellow defenseman Oliver Ekman-Larsson have played a major role in Arizona's power-play success this season (21.7%; fifth in NHL). Yandle is the prototypical power-play quarterback who moves the puck well, creating opportunities for his teammates. The Bruins rank 22nd with a 17.1% success rate on the man advantage this year, yet have the fewest power-play opportunities in the league (146). Adding a player of Yandle's caliber would improve those numbers with his power-play prowess. It would be a grand homecoming for the Milton, MA native to don his hometown colors of the Black and Gold if Chiarelli can strike a deal for Yandle.
Acquiring both players would be ideal for Chiarelli as it solves his two pressing needs. It is likely to cost the Bruins GM a package including a combination of a roster player, prospects, and/or draft picks. The draft picks acquired as part of the Johnny Boychuk trade before the season could be in play. Chiarelli hinted at that in his press conference back in October saying, "I look at this a little bit globally, like this may be one in a series of two or three steps throughout the course of the year." Vermette will be a free agent in the summer while Yandle has one more year left on his current deal at a $5.25 million cap hit. It will take a lot more than draft picks to get a deal done between the two sides with prospects like Alexander Khokhlachev, Seth Griffith, and Ryan Spooner, all promising young forwards, in Boston's system. Chiarelli may have to part with a piece of his future to help this season's squad.
TD Garden will play host to a showcase of potential trade partners on Saturday night. Peter Chiarelli and Don Maloney will be there to exchange ideas and trade proposals as the 3pm Monday deadline draws closer.
Joe is a writer covering the Boston Bruins. He is a lifelong native of Massachusetts and is currently a content writer/manager for a newsletter at a Human Services Agency. Joe can be found on Twitter: @JoeCherryTHW