The Pittsburgh Penguins, specifically general manager Jim Rutherford, made it abundantly clear that he was looking to add a defenseman prior to the March 1 trade deadline. He did just that when he grabbed Ron Hainsey from the Carolina Hurricanes in exchange for a 2017 second-round pick and 26-year old prospect forward Danny Kristo.
And Rutherford may not be done tweaking his roster.
The Penguins will be without defenseman Olli Maatta for what looks like the remainder of the regular season. On Thursday last week, Pittsburgh announced that Trevor Daley had undergone knee surgery and would miss six weeks, which means he's likely out of the lineup until the postseason as well. According to Rutherford, he still believes both individuals can return prior to the playoffs but chances seem slim at this point. The silver lining with this situation? A lot of cap space becomes available just in time to add the defensive depth Rutherford is in search of.
The key word in that last sentence is 'depth'.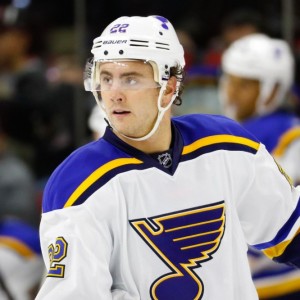 Reports ran wild on Monday evening that the Penguins and Washington Capitals were in a tight race for St. Louis Blues defenseman Kevin Shattenkirk. Washington ultimately ante'd up but truth be told, there was no race. Pittsburgh and St. Louis talked, but they never came close due to the steep asking price for Shattenkirk. Pittsburgh — not necessarily in need of another defenseman of that caliber — wasn't willing to part with the picks Blues' general manager Doug Armstrong was asking for.
[irp]
Don't Expect a Blockbuster
In a recent interview with 93.7 The Fan in Pittsburgh, Rutherford was his honest, candid self. Aside from essentially describing Hainsey as a player — then acquiring him just two days later — he also noted that he's happy with this forward group but would continue sniffing around for options on the blue line. After the Hainsey deal was announced, he went on to admit that he may add another defenseman who can provide more depth at a position the Penguins have suffered an abundance of injuries this season.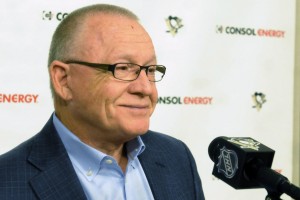 In other words, if you're expecting a deal similar to Kevin Shattenkirk in terms of being a blockbuster, you're likely in for a disappointing deadline.
Names like Dmitry Kulikov, Cody Franson, and Kyle Quincey stand out as possibilities. Johnny Oduya has been mentioned as well. Are any of those players better than Pittsburgh's current top-six when everyone is healthy? Maybe, maybe not. But remember the important part of this conversation is depth. And there's some potential here. Keep in mind, Rutherford also said if someone is out there that can offer some physicality but still fit the Penguins' system, he'll go get them. Brendan Smith in Detroit seemed like a possibility, but the New York Rangers scooped him up.
So, who does that leave for Pittsburgh? There's no need to speculate. Eric Fehr was placed on waivers to create roster flexibility and more cap space, so at this point, stay tuned. It seems Rutherford is certainly up to something.
Marc-Andre Fleury's Final Day?
Rutherford has said all season that he prefers to keep both Fleury and current starter, Matt Murray. Despite the upcoming expansion draft and the risks that come with that sort of event, the Penguins want Fleury in town for another playoff run. They needed three goalies throughout the postseason last spring, so it's understandable they'd want insurance between the pipes. So, ideally, they'll head into the playoffs with the best backup in the league.
And since we mentioned how candid Rutherford is — his honesty is sometimes surprising but always welcome — it's important that he reiterated his desire that Fleury remains a Penguin just a few short days ago. He's content dealing with expansion drafts and cap issues in the offseason and he no longer needs to move Flower to clear cap space at the deadline. As long as either Maatta or Daley hit long-term injured reserve, of course.
Does that mean he's staying in Pittsburgh?
There are a couple things to consider. First, teams were permitted to begin discussing whether or not a player is willing to waive his no-movement clause in January, which means Fleury and the Penguins may already have an agreement in place. That would explain Rutherford's lack of urgency, and the fact that he doesn't seem concerned about losing Murray at the expansion draft. Second, the decision ultimately falls on Fleury himself. The Penguins certainly want to keep him but if he requests that a move in the next 24 hours, Rutherford will attempt to accommodate him. The recent Ben Bishop trade tells us there isn't a very big market for goaltenders out there — especially when they carry a $5.75 million cap hit for another two years — but there's always a deal to be made.
[irp]
Was Fleury upset that he didn't start Pittsburgh's recent Stadium Series matchup? Is he ready to move on, or is he content standing by in case the Penguins need him on their way to a title defense? The wait is almost over and thankfully, in roughly 24 hours, we'll know where he'll play for at least the next four month