Trading a number one defenseman is a dangerous proposition. The rewards, if the trading team plays their cards right, can set a team up for years to come. A bad return on a number one defenseman, however, can sink a team perhaps for just as long, and certainly just as quickly. This high-risk/high-reward game is the one Kevin Cheveldayoff will draw cards in if he decides trading Dustin Byfuglien is in the best interests of his team.
So, if trading Dustin Byfuglien is ultimately the route Kevin Cheveldayoff wants to take the Winnipeg Jets, what might he expect to get in return? Buff's value is a divisive issue among hockey fans both inside and outside Winnipeg. While some, myself included, see him as a true number one defenseman, others see him as a defensive liability. Both viewpoints are widely held and have evidence to back them, so where does that leave the Jets?
The Parameters
Dustin Byfuglien's value to his team was discussed in part one and the potential suitors haven't changed from part 2. Before the return is put forth and debated, however, there are some last-minute details to cover.
1: The Winnipeg Jets will not get as much for Dustin Byfuglien as they otherwise could, simply because he's in a contract year. While he's still a valuable player, the uncertainty of his UFA status will drive his value down. If draft picks are involved in a deal, they will almost certainly be conditional upon Byfuglien's re-signing.
2:While Byfuglien's contract doesn't include a full No Trade Clause (NTC), he is allowed to submit a list of five teams to which he will not accept a trade each year. It can be assumed he will not allow himself to be traded to Edmonton, which unfortunately rules out one of the suitors right away. This is not an unreasonable assumption as many players would scratch Edmonton  from a list of trade partners if given a chance to do so. However, for the sake of argument, this article will include a potential trade with the Oilers.
3:Lastly, Winnipeg's initial asking price is likely the same thing most teams ask for when trading a top-tier player: a roster player, a top prospect, and a pick. Some will say this is a steep price to pay for Byfuglien, but that has become standard operating procedure for teams, even when trading less-talented defensemen than Dustin Byfuglien. As a refresher, here's an example of what teams have paid to land a top defenseman before now.
With that out of the way, let's look at what the Jets might expect as a return for trading Dustin Byfuglien.
The Proposals
Anaheim: Rickard Rakell, Jacob Larsson, and a conditional second round pick (becomes a first if Byfuglien re-signs, or if the Ducks reach the Stanley Cup Finals)
Much as I'd love to see Nick Ritchie or Shea Theodore as part of the return, those two are untouchable. As for Rakell, he's not going to take the league by storm overnight, but he can step into the Jets top nine and contribute, possibly hitting the top six later on. He could be a big part of the Jets future while at the same time giving them depth and skill in the present. Larsson is a left handed defensemen the Jets system is short on, and gives the team another blue chip prospect. As for Anaheim, they likely won't have room for Larsson for some time; their top four is set for years to come with Sami Vatanen, Hampus Lindholm, Theodore, and Cam Fowler. The second rounder likely becomes a first, as Anaheim's chances of making the finals, already excellent, go up with the addition of Byfuglien. Trading Dustin Byfuglien to a conference foe is a risk the Jets will just have to run to get this package.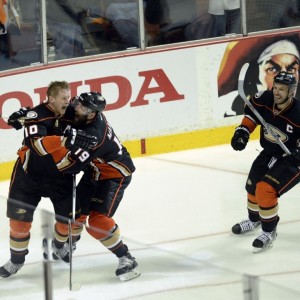 Boston Bruins: Brad Marchand and Jakub Zboril
There's no draft pick in this package because the return is high without one. The rumours of Brad Marchand going to Winnipeg go as far back as the old Evander Kane rumours, and Boston is in a tight spot with the cap, so they'll need to give some salary back for this to work. As for Zboril, a top four of Trouba and Myers on the right with Morrissey and Zboril on the left could be an absolute terror to play against. If the Jets end up trading Dustin Byfuglien to Boston they will likely insist Zboril be involved. It's a lot to give up, but the prize is a defenseman who instantly makes the Bruins better, and more intimidating. Besides, Don Sweeney has shown he's not afraid of bizarre deals.
Buffalo Sabres: Matt Moulson, Nicolas Deslauriers, and a 3rd round pick.
Moulson gives the Jets help right away in their top six, while Deslauriers, an underrated checker who hits hard and fights willingly, will step into the bottom six. The Jets will have to hope Moulson rediscovers his scoring touch in Winnipeg the way former Sabre Drew Stafford did. Buffalo has some interesting defensive prospects, but after trading Nikita Zadorov earlier this summer, they're unlikely to part with Jake McCabe. If trading Dustin Byfuglien to Buffalo if part of the plan, Jets fans will have to content themselves with the third rounder.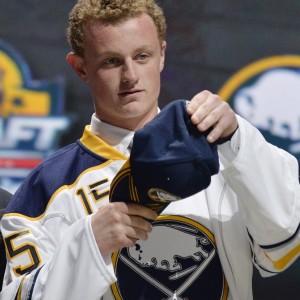 Edmonton Oilers: Leon Draisaitl (trade includes Winnipeg first rounder)
This one is going to get some interesting reactions I'm sure, but hear me out. Draisaitl is stuck in what you might call the Jordan Staal situation. He has two excellent centermen ahead of him, and is relegated to third line duty. The possibility of his trade has been brought up before on this site and among the industry's elite. Make no mistake, Connor McDavid and Ryan Nugent-Hopkins are the top two centres in Edmonton, and will be for years. Byfuglien instantly makes the Oilers better, and Draisaitl gets to go to a team where he has a chance to flourish.
This one's a moot point, however. As mentioned above, it's highly unlikely Byfuglien would agree to go to Edmonton. If he does, the Jets may need to throw in a first round pick as insurance against him signing elsewhere.
Florida Panthers: Brandon Pirri, Vince Trochek, and a 4th round pick.
Neither Pirri nor Trochek is among Florida's untouchables, but both could be contributors in the top nine right away. Trochek may be buried as part of a numbers game in Florida, but he does have a sniper's skill set, as does Pirri. Both players allow the Jets to address some deficiencies up front and give their young players a little more time to grow, while at the same time not locking them in with aging veterans with bad contracts. Byfuglien, meanwhile, gives Florida a top four of himself, Aaron Ekblad, Erik Gudbranson and Dmitry Kulikov. While Florida does have talented defenders in the pipeline with Ian McCoshen and Mike Matheson on the way, among others, this allows the young, skilled players in the Florida Panthers prospect pool a little more time to grow, and to be brought up alongside a talented group of defenders who can show them the way.
Ottawa Senators: Clarke MacArthur, Thomas Chabot, and a conditional 3rd round pick (becomes a second round pick if Byfuglien re-signs).
I agonized a bit over this one. MacArthur will help the Jets out in the top six right away, but on his own is a meagre return for trading Dustin Byfuglien. Perhaps the greatest prize in this deal is LHD Thomas Chabot, who shot up the draft rankings last year. It's a lot to give up, but Byfuglien is a lot to land, and a defense core featuring both Dustin Byfuglien and Erik Karlsson is one to be feared on many levels. Ottawa addresses a long standing need, and trading Dustin Byfuglien out of the conference is obviously preferable for the Jets. MacArthur fills a top six or top nine role in Winnipeg, while Chabot gives them another building block on the back end. As for Ottawa, a team looking to build off last season's playoff push, a big defender like Byfuglien is exactly what they need to help them take the next step.
So that's it for my series on trading Dustin Byfuglien, my first ever for The Hockey Writers. Whether you've found my proposals crazy or brilliant, it's been fun presenting them to you, and I hope you've enjoyed the first of what I hope will be many pieces from me. Up next: The Jets young stars are in Penticton for the annual rookie tournament this week, and I'll have breakdown and analysis for you starting on Friday.
A long time hockey fan and player from Winnipeg, Manitoba. Play-by-play man with the SJHL's Estevan Bruins. Graduate of Red River College's Creative Communications program with a major in journalism. Former PxP man for the University of Manitoba Bisons. Lover of all things Jets and Avs related and always looking for a good hockey debate.