Anyone who watches the NHL Network's NHL Tonight regularly might have seen their segment on Halloween called "Trick or Treat". In this segment there was a statement given from current stories in the NHL. Kevin Weekes and Jamie McLennan, network analysts, had to say if in their opinion the statement was a trick or a treat. A treat would mean that the information is true and will continue this season while a trick means that the trend will likely stop. Let's play a little Trick or Treat on the first month of the season for Tampa Bay.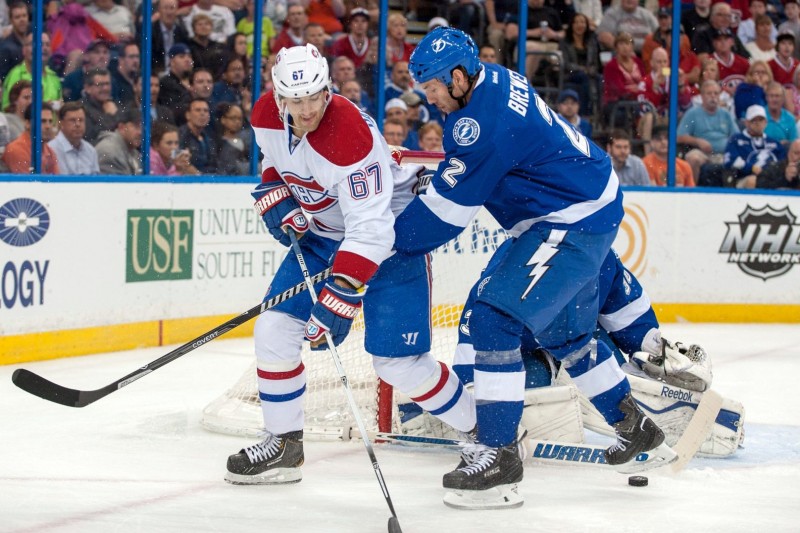 The Lightning's 8-3-1 record in October/Early November- Treat
The Lightning's 8-3-1 start to the season is no fluke. Impressively they did not miss a beat after their star defenseman Victor Hedman went down with injury. Steven Stamkos is back and healthy and leads a potent Lightning offense that has been getting scoring from every line this year. They appear to have the best offense in the Eastern Conference of any team outside of Pittsburgh on the short season so far. The Lightning are second in the NHL in goals per game (3.50). The rookies have contributed in Jonathan Drouin and Vladislav Namestnikov, and the sophomores have been elite. Ondrej Palat and Tyler Johnson look scary good so far this season. Nikita Kucherov also has significantly elevated his game this season and is scoring at almost a point-per-game pace. Their defense has been anchored by Stralman who is playing elite level defense, and Ben Bishop has been as solid as any goalie in the league in net. This trend will continue as I am a big believer in what the Lightning have going right now.
Anton Stralman will continue at this scoring pace and put up 60 plus points- Trick
This one has to be a trick for me. Stralman is playing the best hockey of his career, but has never put up numbers like this in his career. He is going to cool off at some point, and will likely get less power play time on the first unit once Hedman is back in the lineup. Stralman was brought to Tampa Bay to be a puck-moving defenseman, play solid defense, and kill penalties. He may get looks on the power play still, but I expect him to settle in and cool down slightly offensively  over the course of the 82 game season. I would say Stralman is good for 40-50 points this year which would be a career high.
Jonathan Drouin will be a regular on the 4th line this season- Trick
Drouin was recently demoted to the 4th line after bursting onto the scene a few weeks ago on the Western Canada Road Trip. The reason he was demoted was because he has to learn to play away from the puck at the NHL level still. The coaching staff wants to ease Drouin into the NHL and said that he was only seeing 1st line minutes because of the injuries they had at forward to players such as Ryan Callahan and Alex Killorn. I see Drouin sticking with the team this year and this demotion being a temporary move. He's too skilled to be on the 4th line. The Lightning offense is good enough where if Jon Cooper can find Drouin a spot on the top 9 forwards he has a chance to produce offensively. I am not predicting a Calder Trophy, but he is so skilled and has the hockey sense to play at this level. Watching him early on I can't help but think that he reminds me of another young #27 in the NHL. I am talking about Alex Galchenyuk of the Montreal Canadiens. Although Galchenyuk plays center and Drouin wing, they are similar hockey players to me in the way they skate, see the ice, and distribute the puck. Both were drafted 3rd overall in back to back years (2012, 2013).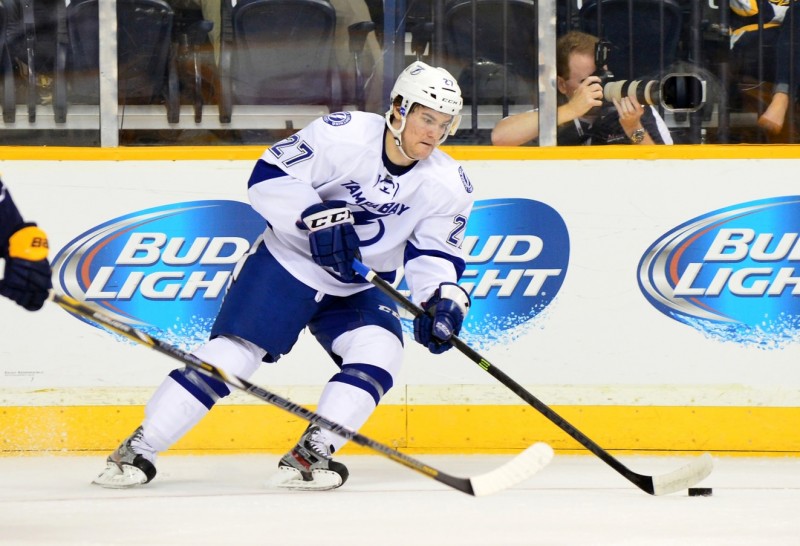 Steven Stamkos will lead the NHL in goals- Treat
Stammer is three behind Corey Perry's 11 goals for the league lead currently. I think Stamkos will eventually pass Perry and the two snipers will finish 1 and 2 respectively in goals this season. Two of the best pure snipers in the league can shoot the puck from a lot of different angles and be successful. Perry can rip a slapshot far side off of the rush or snipe from anymore in the offensive zone. Stamkos has that heavy one-timer on the power play where teams know it is coming and still can't stop it. Both players have great linemates to play with as well. Perry has Getzlaf to dish him the puck and Stamkos currently has Filppula.I'm going to say Stamkos scores 56 to Perry's 52.
I am a 2015 graduate of Montclair State University in New Jersey. I have coached ice hockey at the high school level for two seasons here in NJ. I will be covering the Toronto Maple Leafs moving forward for The Hockey Writers.